CONTEST
This contest ended on December 24, 2018.
Win a $50 CAD WestJet eGift Card
CONTEST RULES:
Subscribe to our blog. Please click on the Subscribe button in the bottom right of the screen or follow this link to subscribe.
Invite your friends to like our Facebook Page.
Share this contest with your friends

. Do so either on social media or via email.
OPTIONAL:
Answer a knowledge-testing question on our Facebook page. Beginning on December 2, 2018 and ending on the last day of the contest, we will post a question every few days just for fun. You can answer if you like.
Like our Facebook Page if you are interested in learning more about travel, expat life and interesting people.
HOW TO INVITE YOUR FRIENDS TO LIKE OUR FACEBOOK PAGE:
On Desktop: go to our Facebook Page. On the right under Community, click on Invite Your Friends to Like This Page. You then select anyone who you think might be interested in the topic of travel.
On Your Phone: go to our Facebook Page. From the menu that says Home, Posts, Photos, etc – scroll to the right until you see Community. Click on Community. Under the number of Total Likes & Total Follows, click on Invite your Friends to like this Page. You then select anyone who you think might be interested in the topic of travel.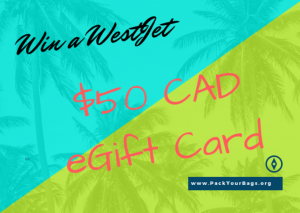 THE PRIZE:
The prize will be a $50 CAD eGift card from WestJet.

Odds of winning depend on how many people participate in the contest.

If for any reason, WestJet discontinues their eGift card program by the time we announce the winner, PackYourBags.org will choose another prize equal to $50 CAD.
HOW THE WINNER WILL BE CHOSEN:
The winner must be subscribed to our blog.

The winner will be someone who will promote this contest vigorously and encourage their friends to participate in this contest.

If there are several candidates with the above mentioned merits, they will be picked at random.
IN ORDER TO CLAIM YOUR PRIZE:
You must be at least 18 years of age to participate in this contest.

You must provide us with an email address from which you can claim the WestJet eGift card. The gift card will be sent electronically to the email address you provide. Your email address will not be published. But it will be used by WestJet to deliver the prize.
By accepting the prize, you give your consent to PackYourBags.org to announce your name as the winner of the contest on our Facebook Page.
OTHER IMPORTANT INFO:
This contest is being organized and run by PackYourBags.org – a travel blog run by a travel blogging family: Bea, Pete & Kas.
No purchase of any kind is expected by participants. And PackYourBags.org does not sell anything.

The contest begins the moment it is posted on our Facebook Page on December 1, 2018.

The contest will end on January 15, 2019 at midnight CST.

We reserve the right to end the contest early or to extend it to no later than January 31, 2019 if we deem it necessary. If we do end early or extend the contest, we will announce so on our Facebook Page.
The winner will be announced the day after the closing of the contest on our Facebook Page.
By subscribing to our blog, you agree to receive blog posts via email from our blog PackYourBags.org. We write an average of one blog post per week. The topics are travel, expat life & interesting people we meet along the way. We do not sell anything. We keep all email addresses safe and we do not share them with any third parties. We only store them for the purpose of emailing you our blog posts. You may unsubscribe at any time.
This contest is being run by and fully funded by PackYourBags.org. This contest is in no way sponsored, endorsed or administered by or associated with any third party.
You will not hold PackYourBags.org responsible for how you use your eGift card or the consequences of said use.

This contest is void where prohibited.
Now, enough rules! Let's play nice and have some fun! Happy Holiday Season!
Bea, Pete & Kas (the Traveling Family from PackYourBags.org)