Hello from Nova Scotia!
Hello from Nova Scotia! We are so pleased that one of our first travel blogs is set in our home country of Canada!!! We are currently visiting our family in Halifax and are enjoying lovely October weather. Nova Scotia is one of our favourite Canadian provinces (although we still have a couple to discover). So I guess, so far, Nova Scotia is one of our favourites. Why?
It is by the Atlantic ocean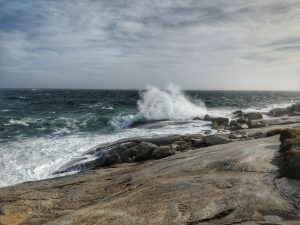 The coast is so absolutely gorgeous, it takes your breath away. We've been here during three different seasons, and by far, fall is the most beautiful. Yesterday, we hiked along the Crystal Crescent Beach. The mix of sand, rocks and waves combined with bright fall colours and vibrant evergreens, was so breathtaking, I can't even describe how alive and peaceful we felt at that place. If you've ever tried to meditate and were not able to clear your thoughts, let me tell you, this beach in the fall, almost devoid of people, with the sound of crashing waves, it'll get you there effortlessly.
Hiking Trails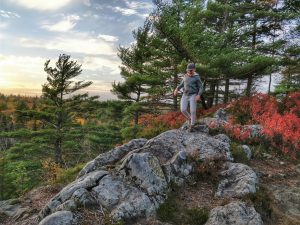 Our second reason is that if you live in Halifax, not only are you super close to the beaches, but also you have so many hiking trails in and around Halifax. Honestly, sometimes when you're in this city, you forget you are in a city. We've even heard stories of people (you know who you are) getting lost on the urban hiking trails. We have not experienced this level of nature in any other Canadian city we have visited. Half the time you feel like you are in a forest, not in an urban setting.
Architecture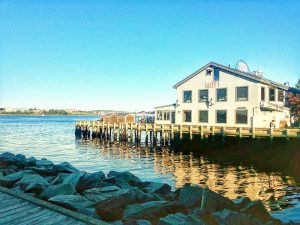 Third, we absolutely adore the unique mix of styles of architecture in Halifax. At once, you feel like you are in Scotland, France, England, Germany and Canada. I am no architect so my short description of the style is cozy eye-candy. Does that make sense? Probably not. Just check out our photos.  They will do more justice than my description here.
Seafood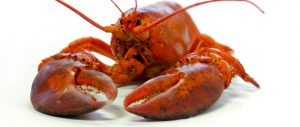 What better place to taste it, then freshly caught in the ocean, almost right outside your restaurant? We have a few favourite places where we love to indulge our penchant for amazing food. Check out our favourite spots to eat here.
Nice People
And last but not least. Have you've heard about Canadians being nice? Well, it's true. We are all nice (and modest too). But here in Nova Scotia, the people are not just nice, they are also zen. I think I know why. It's the perfect combo of nature and city plus the amazing food. Honestly, what more do you need?
Hello from Nova Scotia? Have you been to this Atlantic province? Or perhaps you're lucky enough to live here? 
Fair winds and following seas!
BPK