A Weekend in Paris
Do you know what I like about returning to a place I've been to before? That you can skip all the main tourist attractions. Take a city like Paris, one of the most visited places on the planet. When you think of Paris, sights like the Eiffel Tower, the Louvre and the Notre Dame, come to mind. If it's your first time in the City of Light, you have to take obligatory selfies in front of these Paris icons or your friends won't believe you were there. But if you've visited before, you can now search out new and perhaps more unique ways to spend your time in this amazing city. The possibilities are endless when you're not limited by a strict must see list. I recently spent a weekend in Paris in the company of long-time Parisians. The result was a weekend to remember.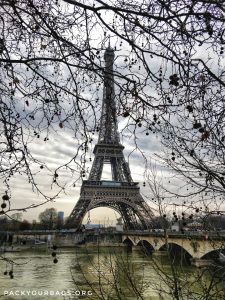 It was my third time in this city and I have to say, it was my favourite visit thus far. My sole purpose for this weekend in Paris was an art exhibition at the Louis Vuitton Foundation. Everything else was decided on the spot as our group meandered through the city. We mostly just walked around and visited places as we happened upon them. I have to say, I quite enjoyed being shown around Paris by my friends. There is nothing better than seeing a city through the eyes of another, especially a local. We strolled through streets I had walked before, but now an anecdote, a memory, or an interesting story, shed a new light on a familiar place. Below is a random concoction of things we did. Perhaps they will give you an idea of what to do in Paris next time.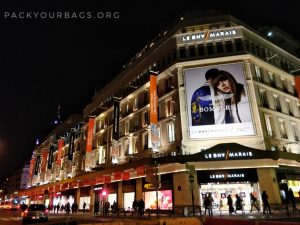 But first, let me introduce the crew:
Matilde – my lovely Argentine friend, ex-Parisienne of many years, smart and witty with a zest for life like no other. She is a bona fide weekend in Paris expert.
José Luis – a Parisian and an architect and a great friend of Matilde's from her Paris years. He became our impromptu guide to secret corners of Paris. We couldn't have asked for a better guide to our weekend in Paris. Check out his fabulous Instagram account, all about the beauty of Paris.
Margot – a friend and an artist that I admire a lot. She's on the left in the photo below. Check out her amazing art on this Instagram account. And if you want to find out more about Margot and her art, please read my interview with her.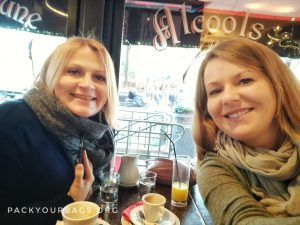 Bea – that's me, the author of this blog and a member of a three-person traveling family. For photos of our family's crazy adventures, see our Instagram account.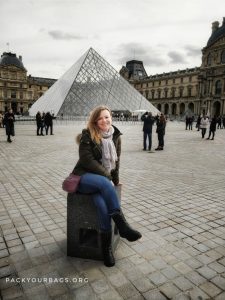 Here are the places we visited and things we did during our weekend in Paris: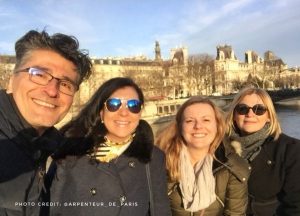 Louis Vuitton Foundation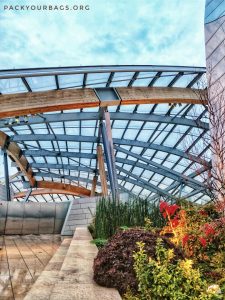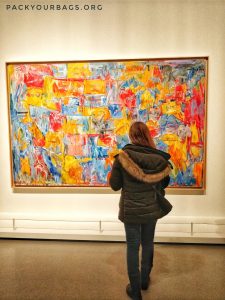 This was the main reason why Matilde and I were on this trip.  There was an art expo at the Louis Vuitton Foundation entitled "Being Modern: MoMa in Paris." This museum only opened in 2014 and I feel that it should be on a must-see list for any art lover. Not only should you visit this place because of the art displayed but also because the building is a piece of art itself. No weekend in Paris can be complete without visiting this amazing place. See my post about this amazing exhibition.
Lunch at the Foyer de la Madeleine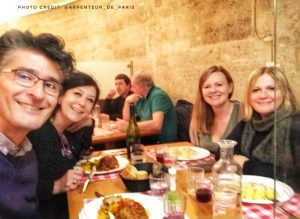 How often do you get to eat lunch and support a good cause? Not every day. So why not stop by this lovely establishment open for lunch only from 11:45 AM till 2:00 PM. It is not a restaurant nor a cantine, but rather a "restaurant associatif" run by volunteers for a good cause. This place is a Paris institution in existence since the first half of the 19th century. It was established by empress Eugenie to help the needy of Paris eat a decent meal at a low cost. Today, people from all walks of life eat here in a convivial atmosphere.
In order to be able to enjoy this lovely lunch, you need to purchase an annual membership for 7 euros and the lunch sets you back only 9 euros. It is a generous portion of traditional French fare. Wine and coffee are extra. Your membership fee goes towards running the place and helping the needy. The Foyer de la Madeleine is located in on the side of l'Eglise de la Madeleine. Our crew of four enjoyed a pleasant and hearty meal here. This place is definitely a different way to do a weekend in Paris.
Coffee at the Louvre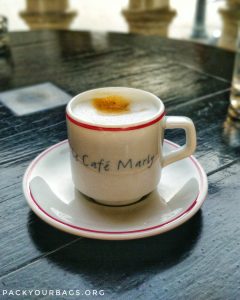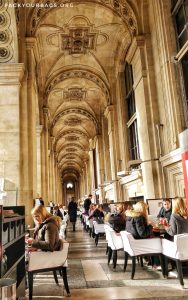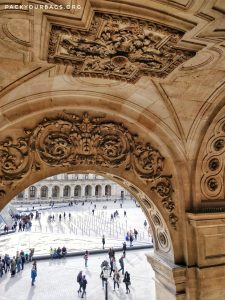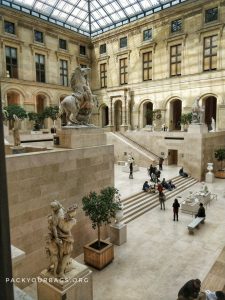 Why have coffee at a regular coffee shop when you can just have one at the Louvre? Yes, you'll pay more than usual, but it will be a coffee with a view of the Louvre pyramid. And inside the coffee shop, you can glimpse some of the art displays. And this way the coffee pays for itself. It's a great stop after a walk through the Jardin des Tuileries. 
Jardin du Luxembourg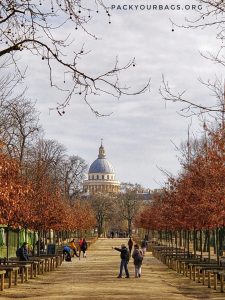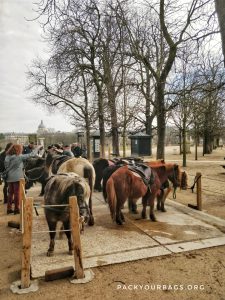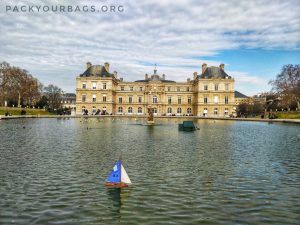 The Luxembourg Garden was built in the 17th century by Maria de Medici, the widow of Henry IV. On its grounds, you can also visit the Luxembourg Palace, built as a copy of Maria's childhood home in Florence, the Palazzo Pitti. The park stretches over 23 hectares and is a perfect place to relax or to have a picnic. Admission to the grounds is free. There are several activities for children: playgrounds, donkey rides, boat floats and a puppet theatre. If you wish to have an elegant lunch, there is a restaurant on the grounds. Oh, and don't miss the replica of the model of the Statue of Liberty.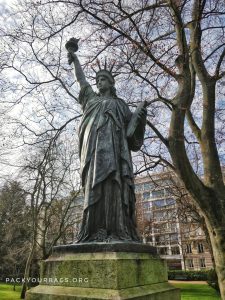 Dinner at Le Train Bleu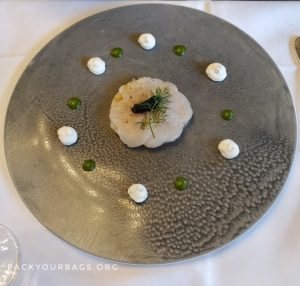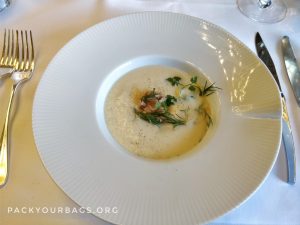 This restaurant located in the Gare de Lyon is a Paris institution and you must eat here at least once in your lifetime. Originally created in 1901, it was designated with the honour of "monument historique" in 1972. The food is quite good and although a bit pricey, it is very much worth it. You can enjoy a delicious meal while taking in the ornate art all around you. This majestic decor pays homage to different regions of France and it has been created by several well-known French artists. At least seven movies have been filmed here including Mr Bean's Holiday in 2007. So next time you're in Paris, make a reservation and enjoy this unique Paris experience. And if you happen to be catching a train at Gare de Lyon, then you really cannot miss it. Bon appetit!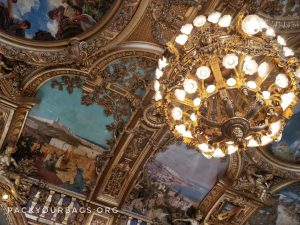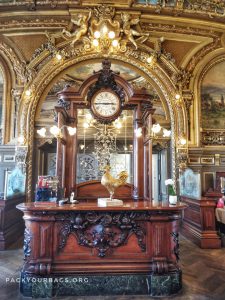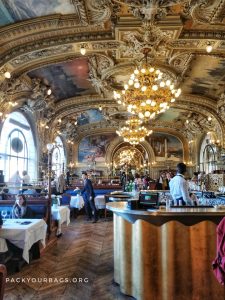 And don't forget to just go for a walk around Paris without a goal in mind. Best trips happen when you don't over-plan them. Get lost in a neighbourhood you've never been to. Sip a coffee at a cafe with a great view. Talk to some strangers. Just take in the vibe of the city. You never know what amazing new discoveries you might make.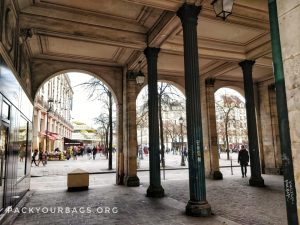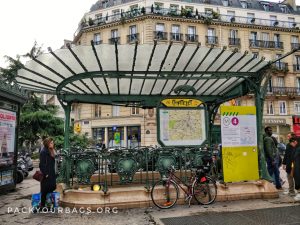 Have you been to Paris? What is your favourite thing to see or do there?
À bientôt!
BPK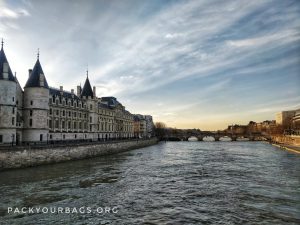 See our other Paris blogs: