Are you thinking of visiting Switzerland with kids? We love traveling with our son and we have visited this alpine country with him a few years ago. Switzerland is a veritable gem bursting at the seams with amazing nature and beautiful cities. But if you have limited time, how could you possibly know where to begin exploring?
Well, I hope to have solved this dilemma for you. I reached out to a fellow blogger, Augusta, who is Swiss. Along with other local moms, Augusta runs a family travel blog called MiniMeExplorer. Their blog is chock full of information about family travel with a focus on Switzerland with kids. Without further ado, I give the floor to Augusta.
Switzerland with Kids
My name is Augusta and I'm Swiss, born and bred. I live in Ticino, the Italian-speaking canton of Switzerland. Let me tell you about it in a nutshell. Ticino is filled with snow-capped mountains, palm trees, Italian food and language, and add to that Swiss efficiency.
My family have been living here for generations, so I'm Swiss down to the bone. And I have a secret to share with you about the Swiss. Living surrounded by mountains, we don't necessarily seek out alpine landscapes when we travel around our own country.
Do not make the mistake, however, to think that we don't love mountains. We do, big time! The truth is that most Swiss families own a cottage in the mountains, usually under a 90-minute drive from home.
How shocked would you be if I told you that I have never seen the Matterhorn? And while I visited St. Moritz a few times I never actually liked it. Also, Grindelwald seemed to me like a big tourist trap. And, no – I'm not really planning on riding the Glacier Express. Neither are my friends.
So what do Swiss people like? I asked a few friends – those who have young kids – and we have come up with this list of our top 10 beloved Swiss places.
10 places beloved by Swiss families:
1 – Basel
Not many people think of Basel as their main destination when visiting Switzerland with kids, as it is so un-Swiss. Why do I say that? Well, there's not a mountain in sight in the surrounding area, the landscape is flat and boring. What you will find here, however, is plenty of amazing museums – and most of them are kid-friendly. I highly recommend for families to visit the Tinguely Museum. Jean Tinguely was an avant-guard Swiss sculptor, famous for his artistic perfomances and his kinetic machines. You can see these in this museum and they are a big hit among children of all ages. Some of these machines can be activated by pushing a button, others kids can climb onto. Perfect for curious children!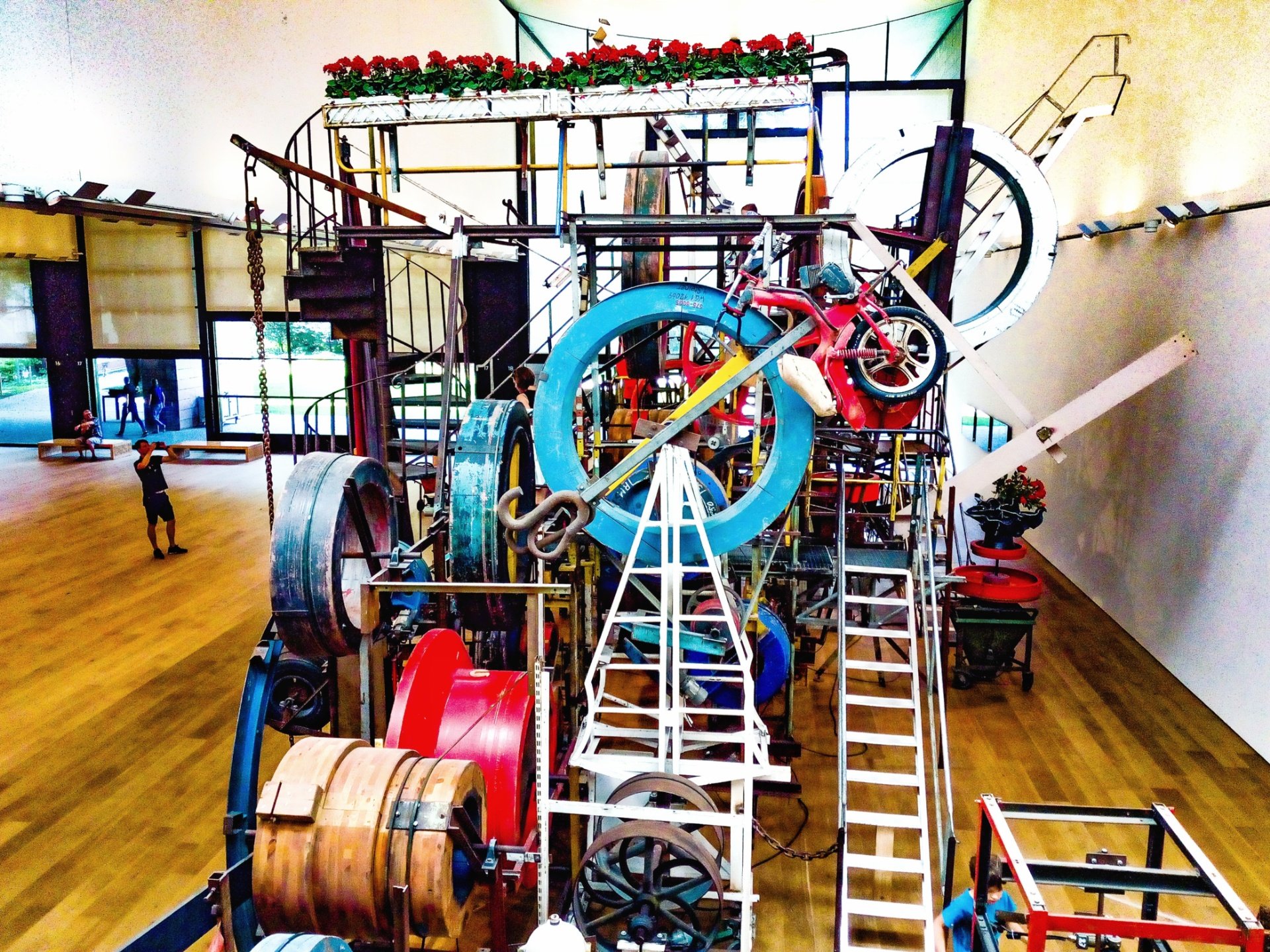 2 – Bellinzona
Why choose one Swiss castle when you can have three? Bellinzona, in the Italian-speaking area of Switzerland, is home to three UNESCO-listed castles: Castelgrande, Montebello and Sasso Corbaro. Montebello is the most amazing of the three, with its ancient draw-bridge and merlons. Medieval walls connect the castles, and you can walk on them.
In addition to castles, another highlight I should mention has to do with food. You can sign up for a salami-making class in one of the castles. A butcher will share with you all his tips and tricks and once you're done it is time to part with your salami… It will be placed in a special cellar and left there to age for a few months. Once the sausage is aged to perfection, it will then be shipped to your home. As you can see, there are many different reasons to come to Bellinzona when you visit Switzerland with kids.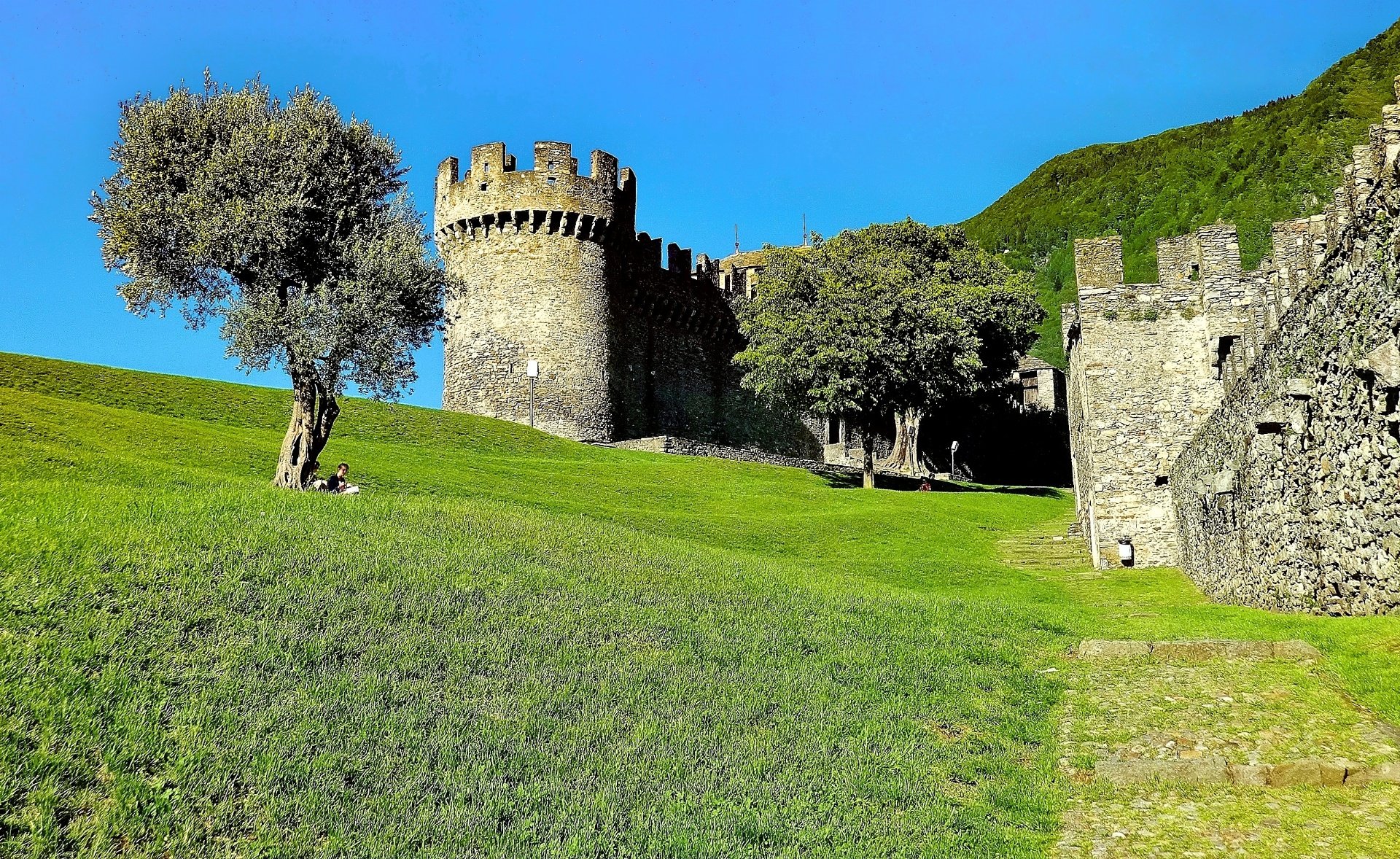 3 – Bern
How about a hike not far from the city? Nothing strenuous, no incline, no mountains… but I can guarantee amazing landscapes. I'm thinking of Meiringen, the place where the fictional Sherlock Holmes met his end, falling off a cliff in front of a waterfall. Here you can combine the sight of a majestic waterfall (Reichenbach Falls) and a 1.5 km hike along the Aare river gorge, with its narrow passages and suspended platforms. After the hike, if you are hungry, you can have a merengue or two. In fact, they were invented in Meiringen, hence the name. I bet you didn't know that!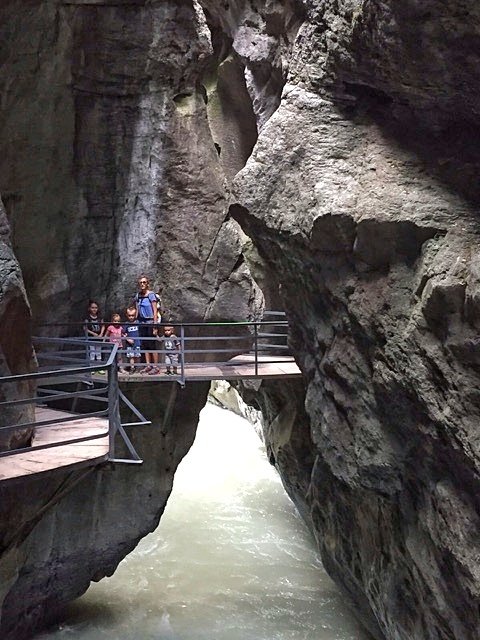 4 – Viamala
Another great point to add to your Switzerland with kids itinerary is Viamala. Viamala is not a town or city but a road in the Grisons area, close to the town of Thusis. Viamala means Bad Path. Its ominous name refers to a narrow and dangerous Roman mule track which ran right by a deep gorge. In fact, in the past, many travelers had lost their lives on this path. It is now a destination in its own right. You can descend deep into the gorge by using stairs, concrete walkways, tunnels and by walking under natural overhangs. The best part of it is the fascinating scavenger hunt for kids aged 7-12. Please note that it is not accessible with strollers.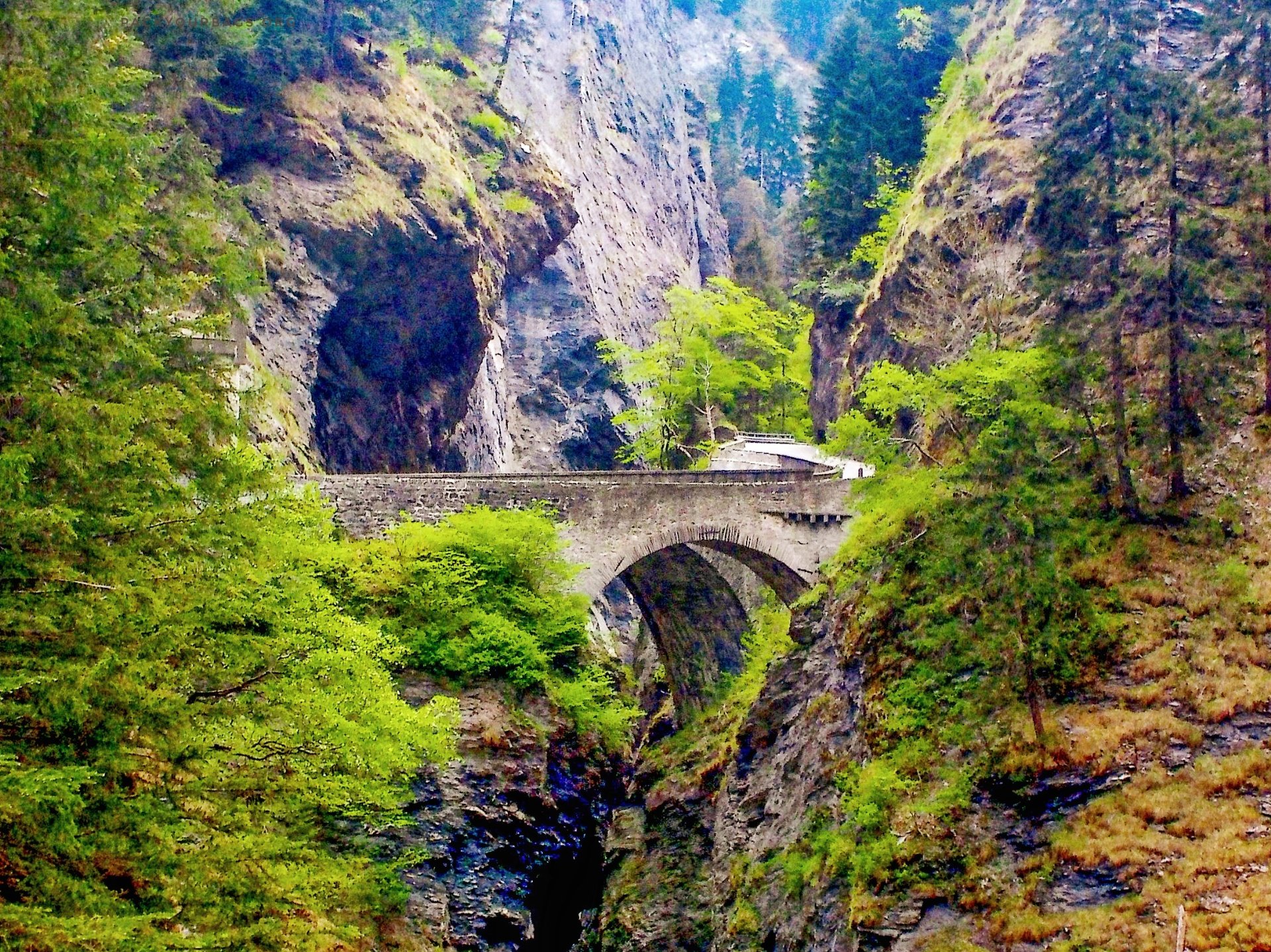 5 – Lucerne
Everyone loves Lucerne, and for good reason. In the first place, there's an incredibly well-preserved medieval centre with an ancient wooden covered bridge. There is also an impressive Dying Lion Monument, a Glacier Garden and a mirror labyrinth. However, our favourite thing in Lucerne, is the amazing Swiss Museum of Transport, which happens to be the country's most-visited museum. It is highly interactive and you can learn all you possibly need to know about mobility and transport – be it road, rail, water or air. There's also a planetarium and a section dedicated to space travel (my son's favourite).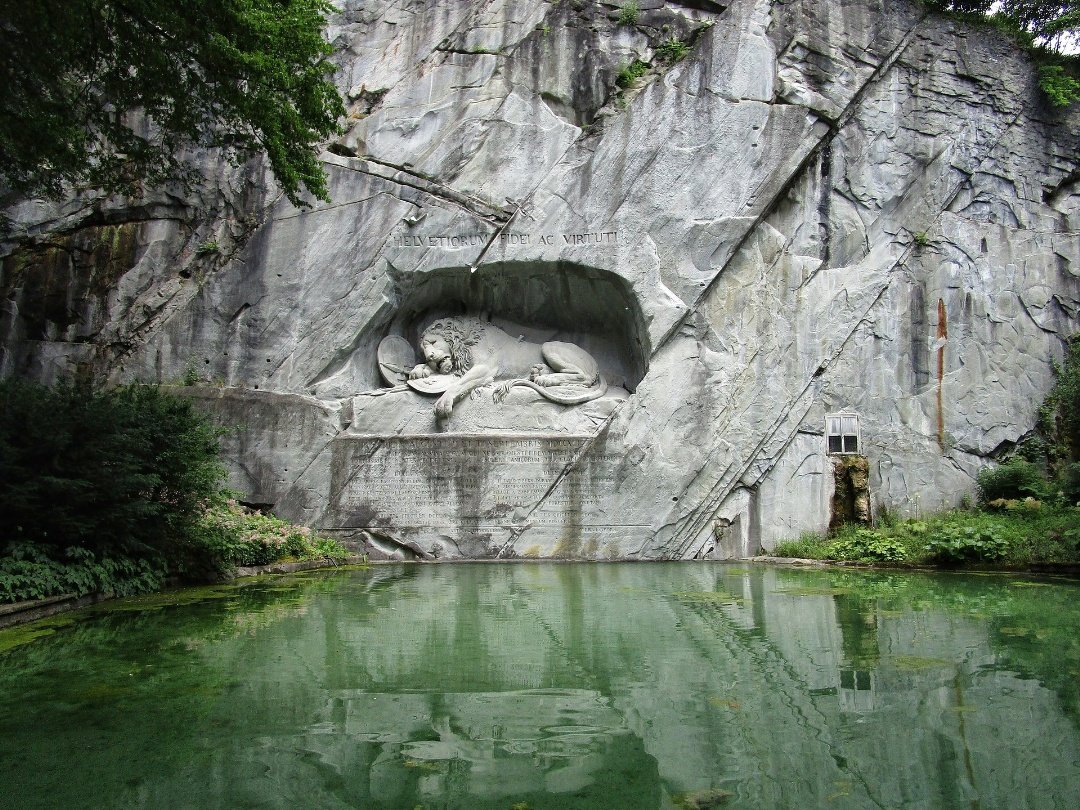 6 – St. Gallen
If you are planning a holiday to Switzerland with kids, you cannot miss this place. Just about 20 minutes away from the medieval city of St. Gallen, there's a perfect place to learn a very important Swiss craft: the art of chocolate–making. In the village of Flawil you can visit the Maestrani chocolate factory and museum. You should sign up online (and beforehand) for one of their delicious workshops. We chose the one which allows you to create and decorate your very own chocolate bar. It was a big hit with my son! By the way: their chocolate is delicious!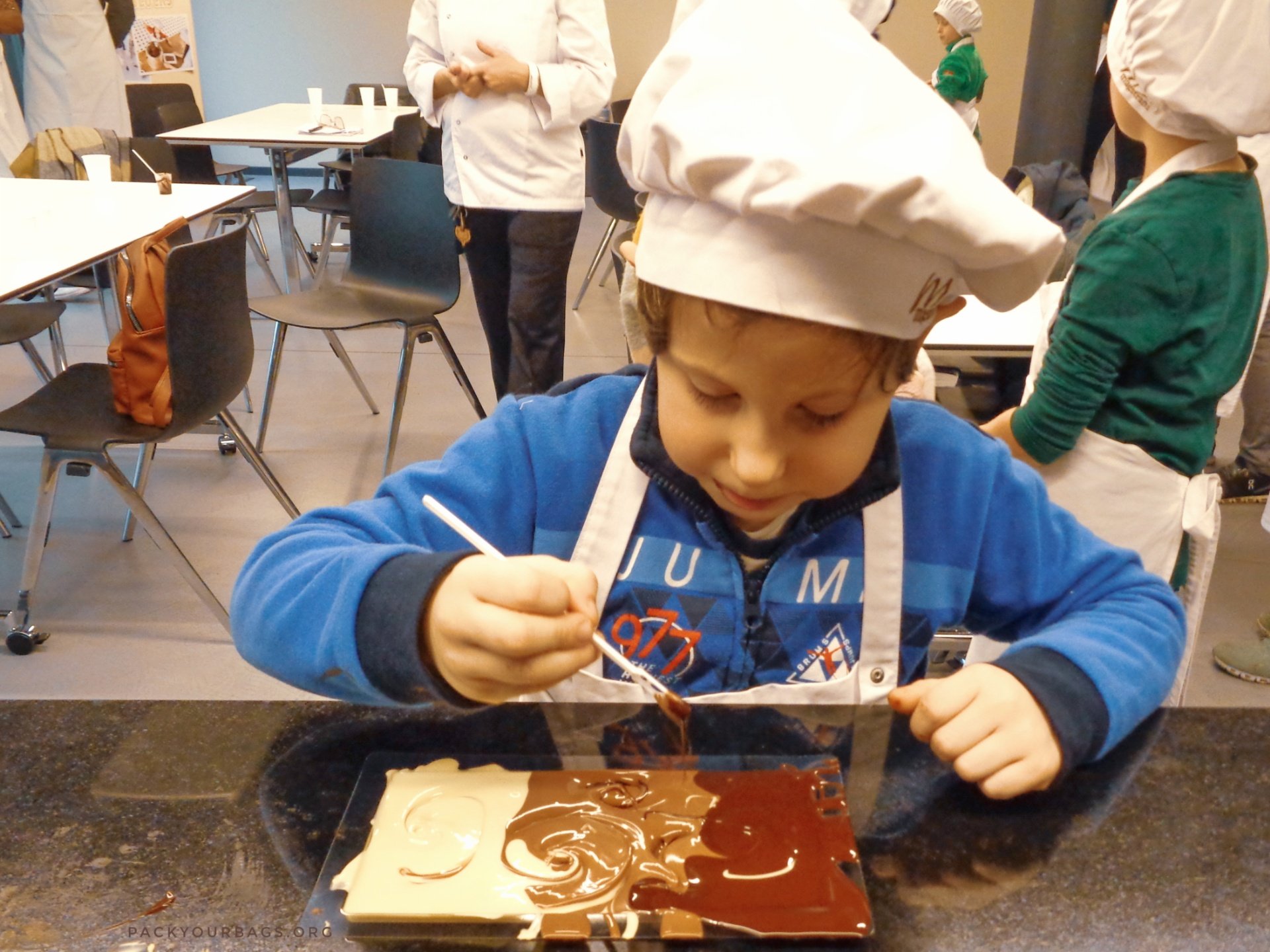 7 – Furka Ice Cave
Well, the name says it all. While I have not yet taken my son there, it is one of my fondest childhood memories. You will find it by driving on the Furka Pass road, near the Belvedere Hotel, at an altitude of about 2 400 metres above sea level. This cave is man-made and it is "cut" every year inside the Rhone glacier. I will never forget the sight of it: a long deep blue ice tunnel that ends with an equally blue ice grotto. You can only visit this place in the summer, though – as the road is closed in winter.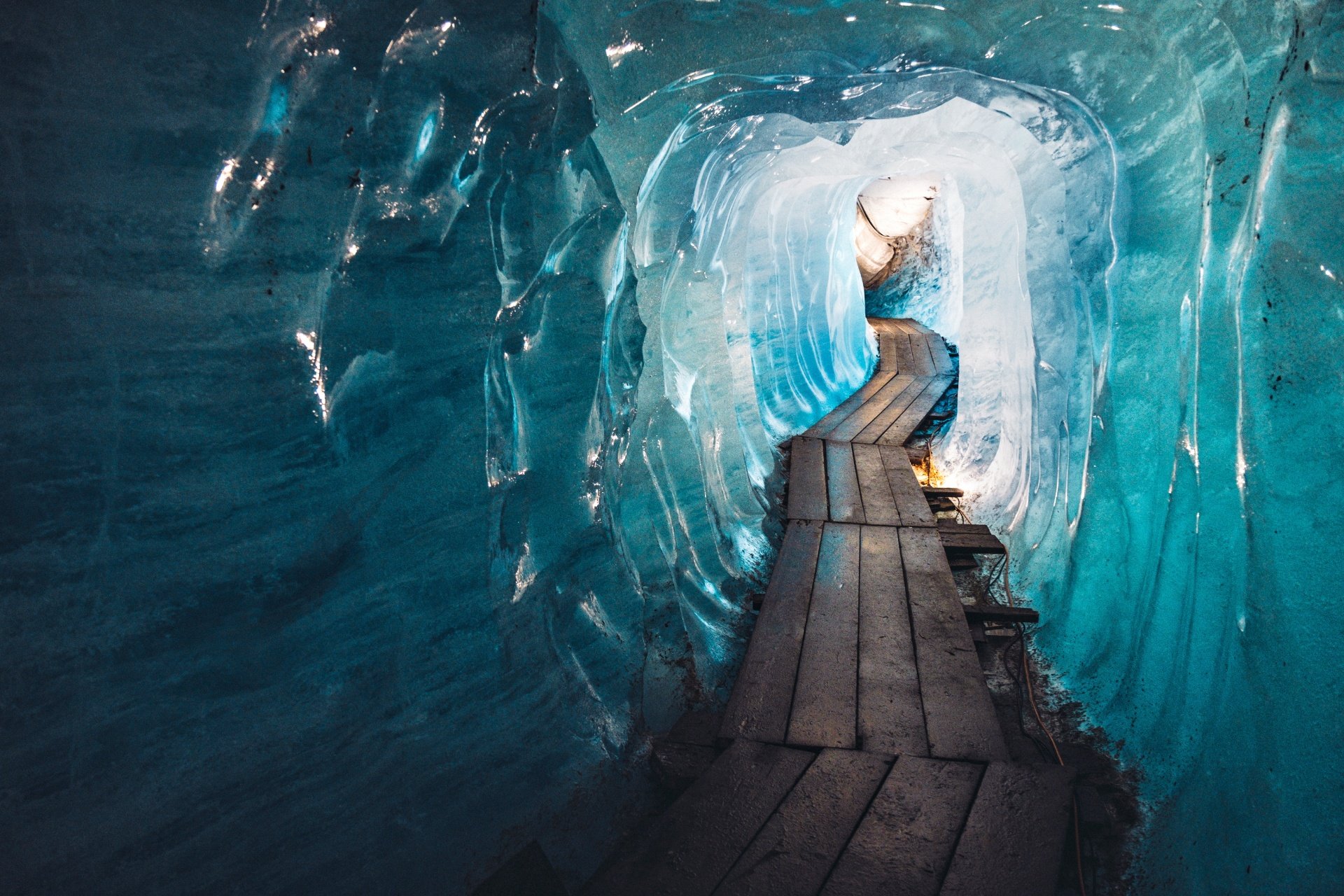 8 – Lausanne
Don't miss this city when visiting Switzerland with kids. Lausanne lies in the French-speaking area of Switzerland and is our fourth largest city and home to the International Olympic Committee as well as the Olympic Museum. My suggestion, however, has nothing to do with sports. But it does have to do with water. I am referring to the brand new sweetwater aquarium in Lausanne. Why visit this place? The reason is simple: it is the largest sweetwater aquarium in Europe, with over 10 000 fish, reptiles and amphibians and even… Komodo dragons! And pay special attention to the architecture: the building is covered with tiny glittering tiles which look like fish scales. It's truly spellbinding.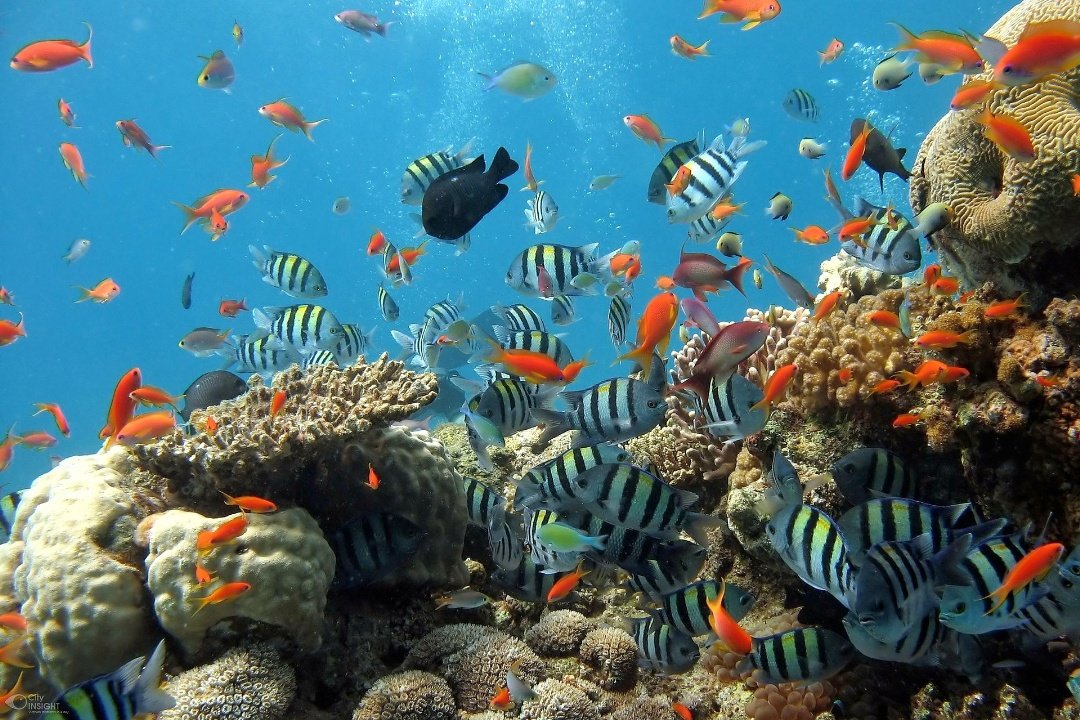 9 – Zurich
Zurich is our largest city and it has really a lot to offer, so it is always difficult to pick a single sight to recommend… First, I must mention my son's very favourite thing. It is the FIFA World Football Museum. This museum is perfect for everyone, even if you are not crazy over football. In fact, we especially loved the interactive upper floor. When we were there, we each received a card with the name of a footballer. Then, we could test our football skills in many different "positions". It is fun to watch adults acting like kids. Furthermore, another gem in Zurich is the old Urania Observatory. Here, there are free guided tours for kids on the first Saturday of the month (in German only, though). As you can see, Zurich is a must-visit when you come to Switzerland with kids – be they big or small.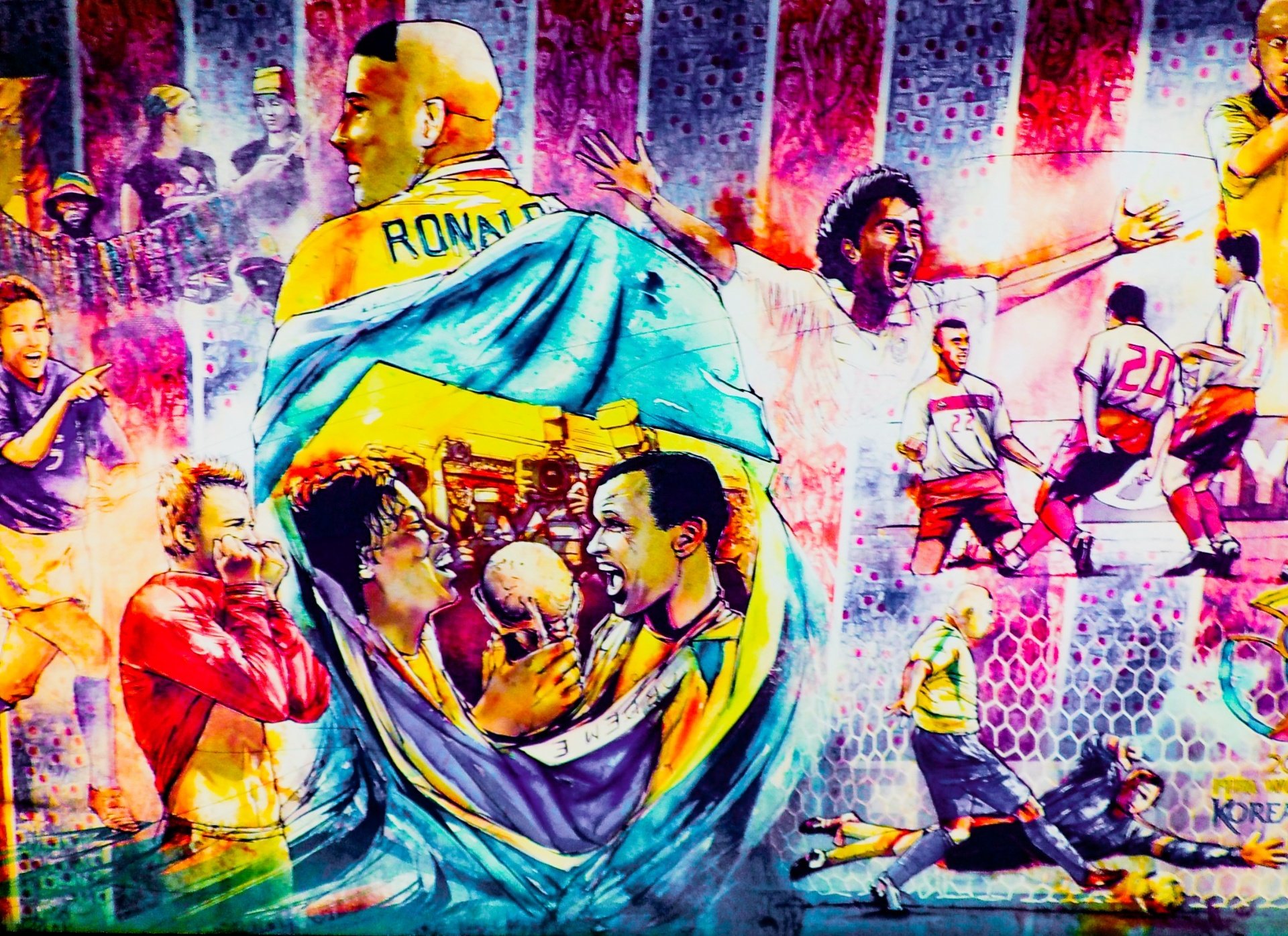 10 – Stoos
The tiny car-free village of Stoos, in Canton Schwyz, is a perfect destination for every season: hiking in summer, skiing in winter. Getting there is part of the fun, as you will be riding the steepest funicular in the world, and the cabins look like huge beer barrels. So definitely expect amazing mountain landscapes and views. My favourite time to visit is in late spring, where we enjoy walking the experience trail along the Teufböni Moor. It is full of surprises and activities for children. There is even a scavenger hunt there, too.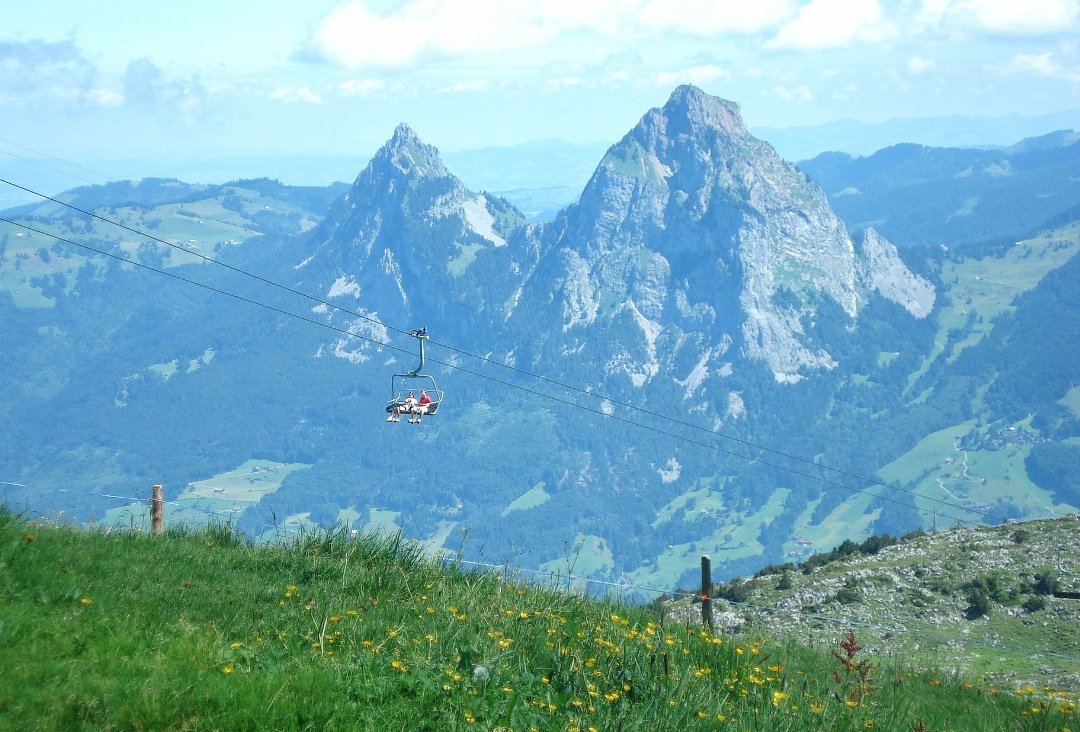 The above list of ten places come highly recommended by me and my friends for a perfect experience in Switzerland with kids. This way you can enjoy our country like a local.
Augusta
Final Word about Switzerland with Kids
I want to give sincere thanks to Augusta for putting together this great list of top ten places preferred by Swiss families. There is nothing better than a recommendation by a local. So when you plan your holiday to Switzerland with kids, take into consideration Augusta's and her friends' great ideas listed above. And if you know anyone who's planning a family holiday in this alpine country, please share this post with them. If you have any questions for Augusta, please ask them in comments below.
Buon viaggio!
Pin It!