We came for the ruins of Carthage but we stayed for the doors of Tunisia.
We have a million reasons why we travel. And sometimes we travel to see beautiful architecture. For a long time, we have wanted to see the ancient Punic and Roman ruins of Carthage. And recently, our dream came true as our traveling family finally visited Tunisia.
But while we were pining for ruins of ancient civilizations, we were in no way prepared for the breathtaking beauty of the architecture of this small North African country. The fact is, we fell under the spell of the beautiful doors of Tunisia. So much so, that on the last day of our trip, the only things I photographed were doorways.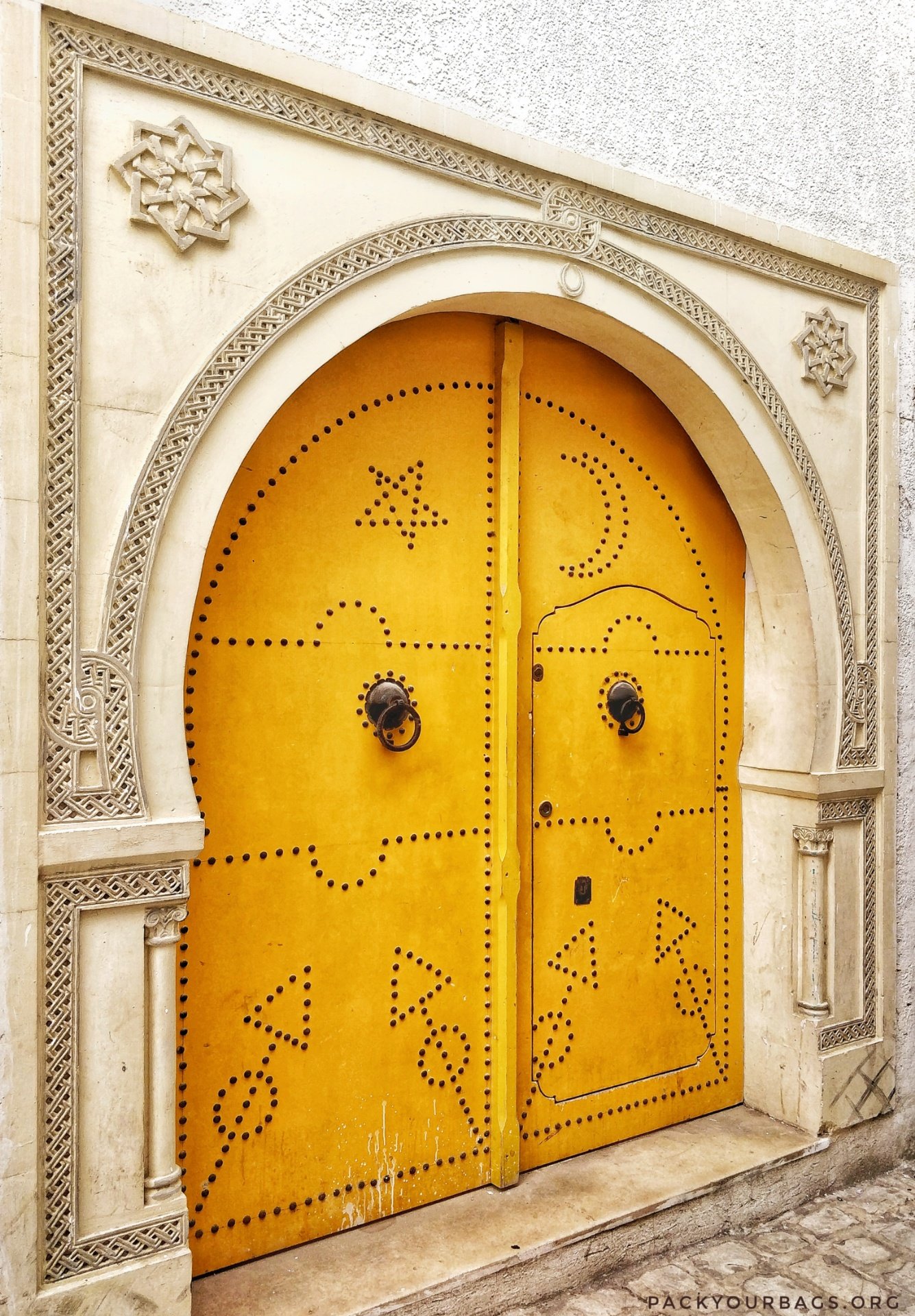 The Doors of Tunisia
What is so special about the doors of Tunisia?
First of all, they are noticeable right away. They quickly drew us in because of their vivid colours. Blue and yellow dominate as the colours of choice on the doors in the capital region of Tunisia. But we saw a few other colours as well. Often, the walls of buildings are white and the splash of colour on the doors immediately attracts the eye.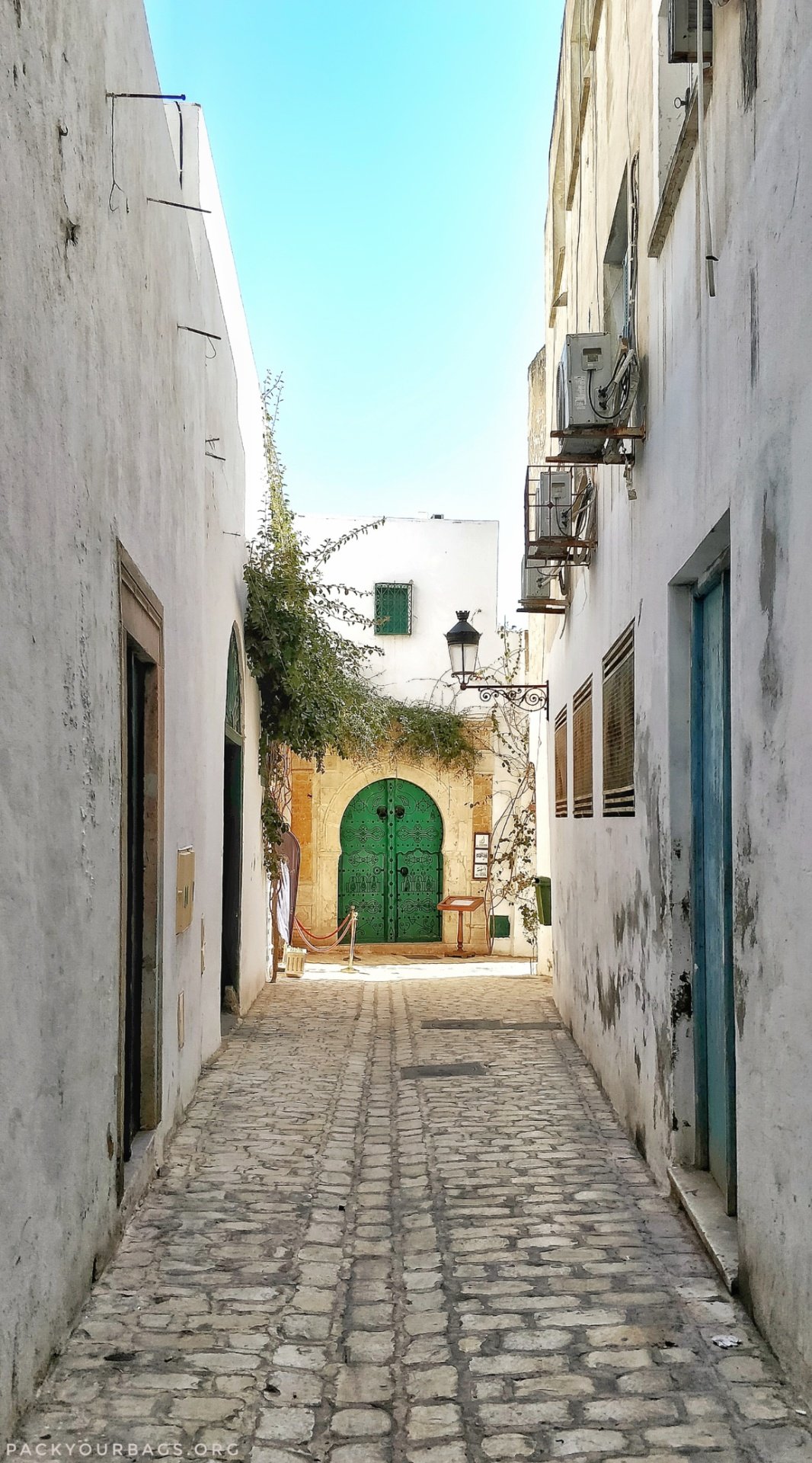 One of the first things we noticed about Tunisian doors was their shape. Most (but not all) of these doors are arched on top. On rare occasion, we would find a door with the arch painted in black and white blocs reminiscent of nemes – the striped headdress of the pharaohs of ancient Egypt and a symbol of power, just like in the photo below.
Next, we noticed their size. Often, the bigger doorways had two large doors, but within one of those two there was a smaller door. This, of course, is done for practical reasons. Imagine, having to unlatch the giant doors each time you wanted to come and go. The smaller "door-within-a-door" is obviously used more frequently. However, we found plenty of regular sized doors and they were just as colourful and intriguing as their larger counterparts.
Islamic decor
Another aspect of the doors of Tunisia that we noticed was their decor. Most of the doors we found were decorated with either patterns, florals or geometric shapes. We never happened upon graphic representations of human figures, as is customary with most Islamic art. Why is that?
According to many Islamic scholars, representing human figures in art is a form of idolatry or "worship of idols" and therefore forbidden by the Quran. For this reason, shapes and patterns are what is most often found in decorations and art in the Islamic world. But don't think for a minute that this restriction makes the art somehow lesser. In fact, the opposite is true. The shapes are intricate, whimsical and rich in symbolism.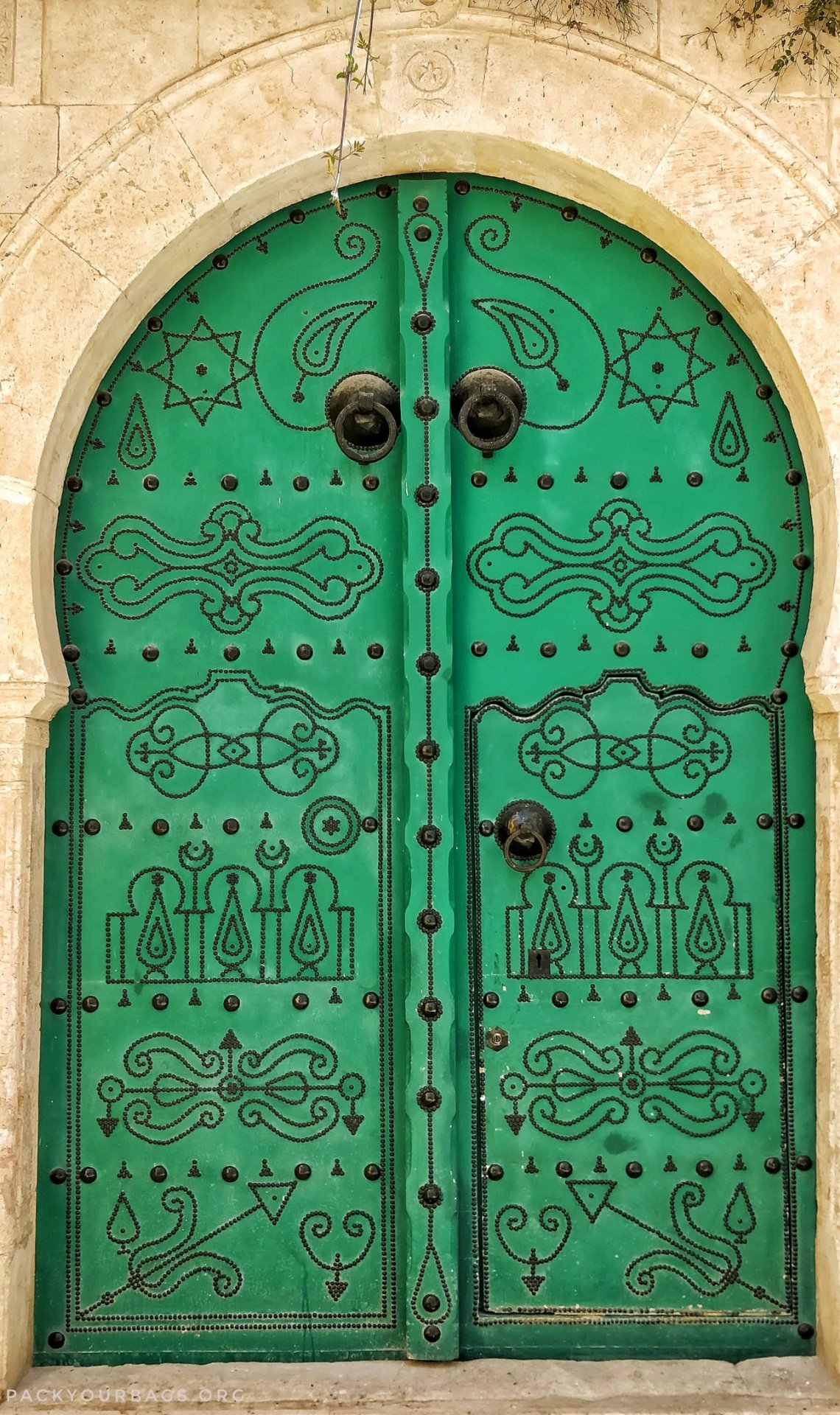 Ancient symbols
Because origins of Tunisia reach further back in history than the beginning of Islam, you may find some human elements in Tunisian art and decorations. One such example is the symbol of hamsa (also written as khamsa). This ideogram, sometimes found on the doors of Tunisia, is profuse throughout North African cultures.
The hamsa is represented by a human hand. In fact, it shows the palm of the right hand with the thumb and the small finger protruding to the sides. The palm itself has a human eye in the middle of it. This symbol is an amulet meant to ward off the effects of the evil eye. This type of amulet is prevalent in the Berber culture and the Maghreb region and especially so in Tunisia. The hamsa is believed to have originated in the city of Carthage, originally a Phoenician settlement founded in the 9th century BC.
You can see an example of the hamsa on the two blue doors below.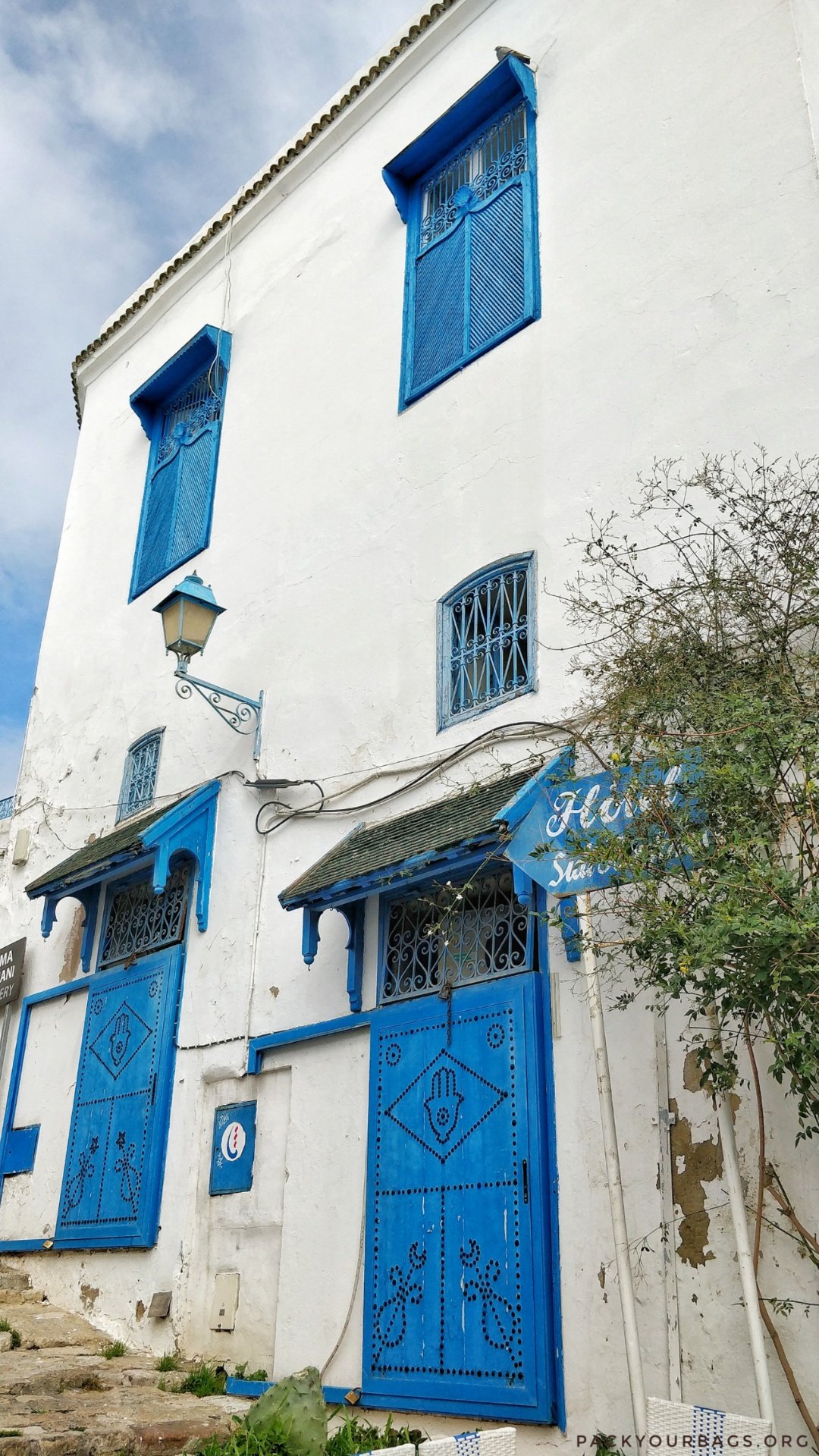 And I would be remiss if I did not mention another symbol unrelated to the Islamic tradition and frequently found in Tunisia. I am talking about the sign of the goddess Tanit. This symbol, much like the hamsa, is linked to the ancient city of Carthage and the Punic Civilization.
The symbol of Tanit is a triangle with the base on the bottom, two branches on the top going out to the sides and a disc on top. It is very similar to the ancient Egyptian anse or ankh cross. One interpretation of this sign is that it represents a human figure with arms raised in prayer. It is also believed to be a symbol of life. The keyhole in the photo below possibly shows a variation of this representation.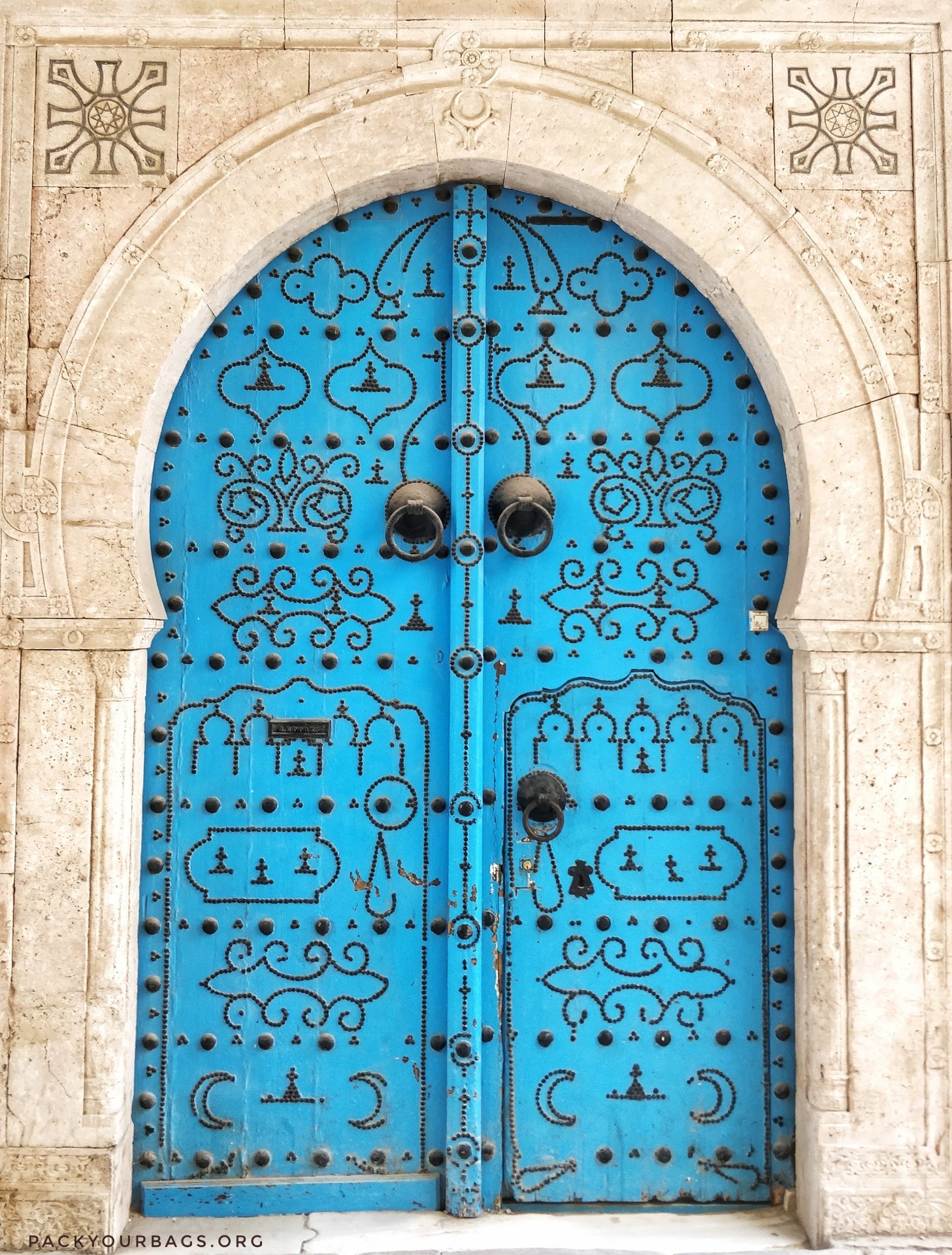 Doors of Tunisia – Photo Essay
We also noticed how well the doors were made, especially some of the larger ones. It was obvious to us that the artisans who made them had put a lot of skill and love into them. The doors of Tunisia are often made of wood which is then reinforced with metal. The shapes and patterns we saw on the doors of Tunisia were usually formed using metal studs. Thanks to this technique, the pattern lasts for a long time. To keep the door beautiful the owner of such a door might just need to refresh it with a coat of paint once in a while. 
However, some of the doors we came upon were showing signs of distress and even disrepair. But despite that and perhaps because of it, they seemed full of character and we could see glimpses of their previous glory. I was very much drawn to these less than perfect doors of Tunisia, wondering what stories they would tell us if they could talk …
Doors of Tunisia in the capital region
The capital region of this North African country is teeming with these architectural marvels. Each city or town seems to have its own aesthetic. The capital city of Tunis, for example, has doors in many different colours. In fact, the photos of doors other than blue and yellow in this article are mostly from Tunis. And here we found all sorts of doors: big, small, well maintained, and ones that had seen better days. So if you only have one day in the capital, just go and lose yourself in the streets of old Tunis and you'll be able to see a great variety of doors.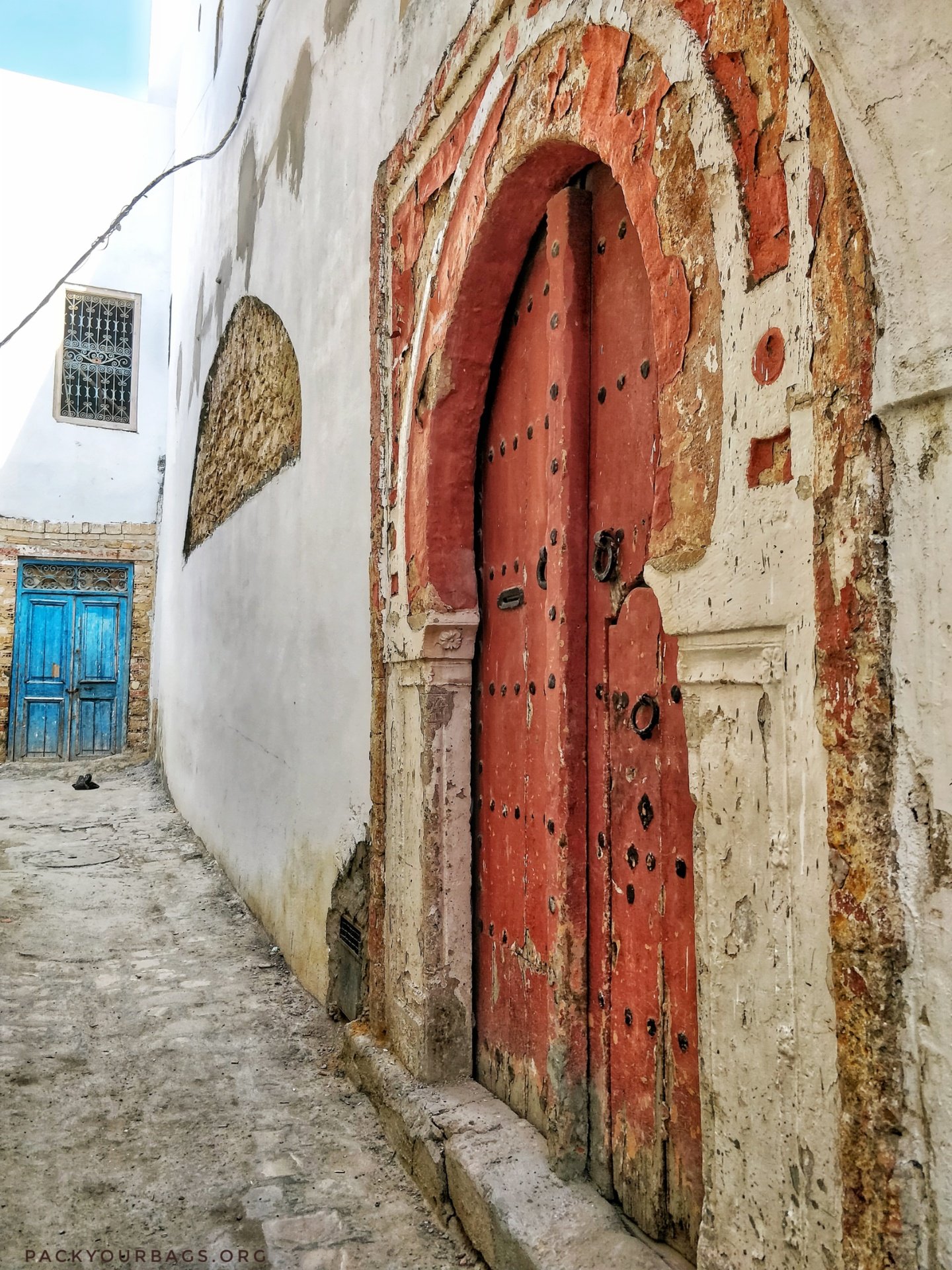 If you want to see mostly blue doors, and occasionally vivid yellow, the artists' town of Sidi Bou Said is a place to visit. In fact, that is where we stayed during our visit to Tunisia. The mostly white and blue aesthetic reminded us of the Greek island of Santorini which we visited a few years ago.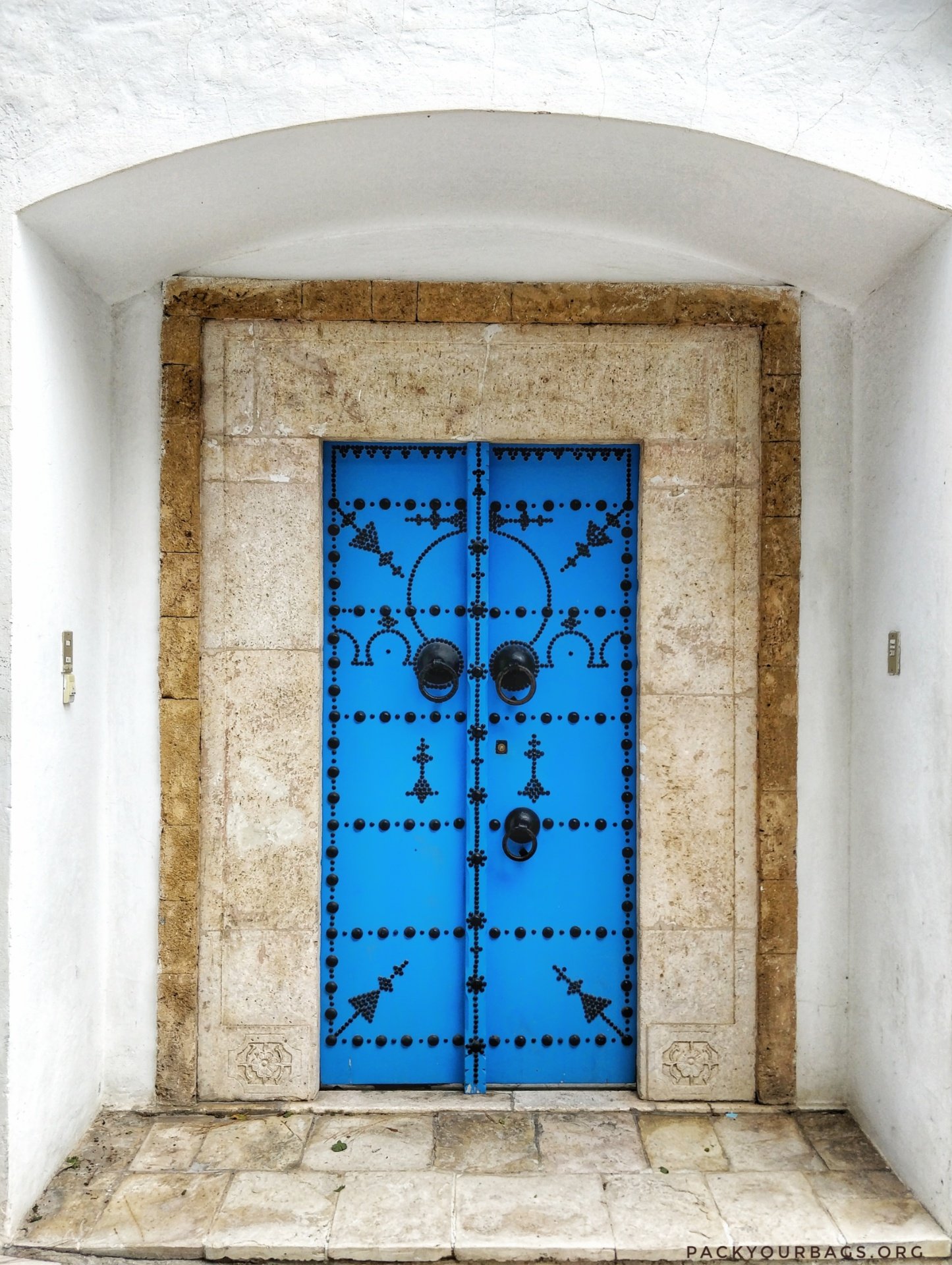 And in Carthage, we found a lot of white, with an occasional blue. But no matter where we were, we always sought out the medina or the historical centre of the city or town. That is where old architecture is plentiful.
We truly fell under the spell of these beautiful doors. In the photo below you can see that we were so happy to be in Tunisia, that sometimes we broke into a happy dance. Ha ha!
Final Word on Tunisian Doors
In short, the doors of Tunisia are a sight to behold. When we were planning our trip, we were focused on the ancient ruins in the Carthage area, something that had been on our bucket list for a very long time. Not until we arrived in Sidi Bou Said, did we realize how fabulous and decorative the doors of Tunisia truly were. Although, as you can see in the photo below, we did get a hint of things to come at the Marseille airport in France before boarding our flight to Tunis.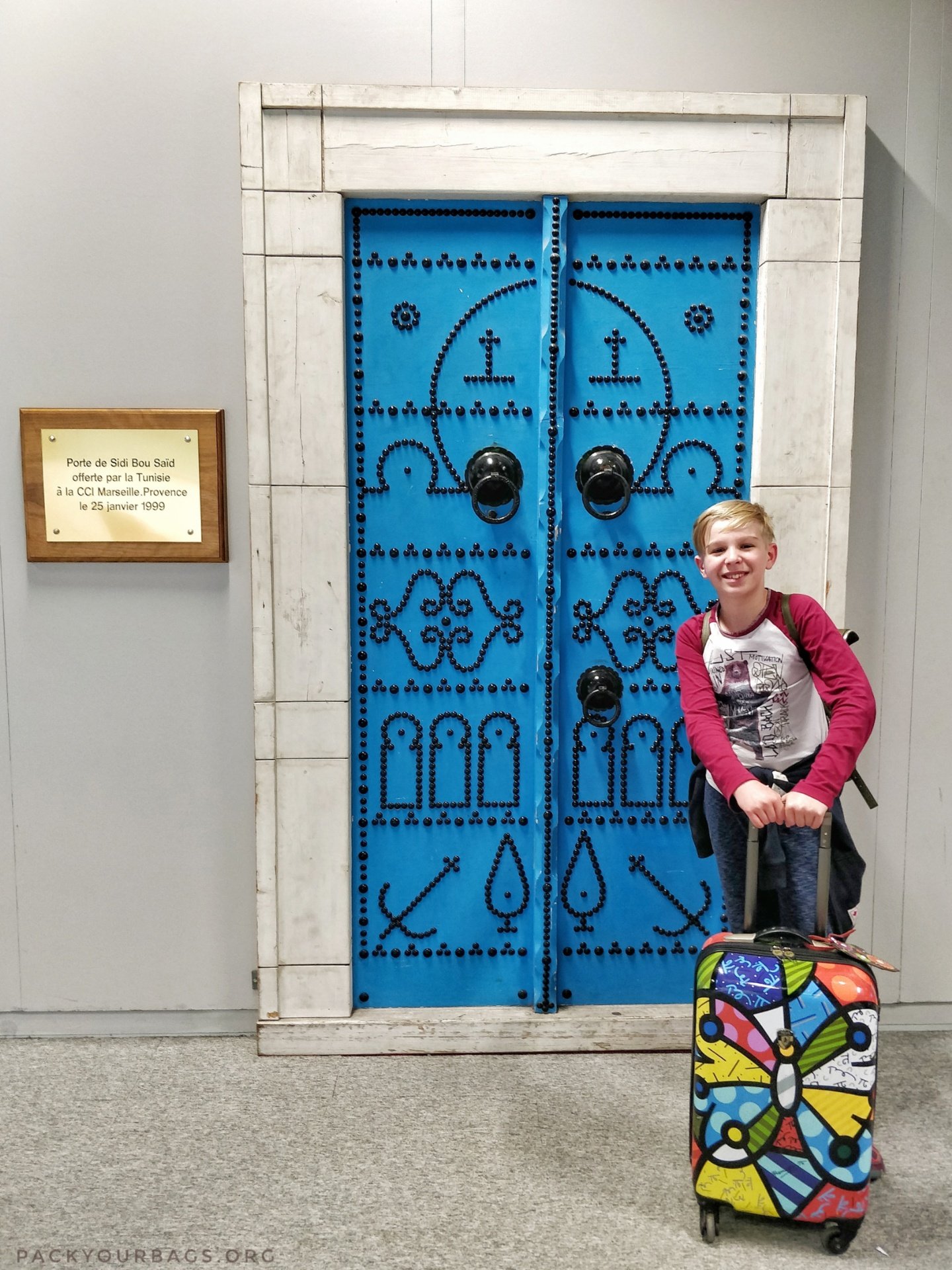 Thank you for reading. I hope you enjoyed our photo essay on Tunisian doors. What do you think of them? I know I would love one like it as my front door! Have you been to Tunisia before? Would you visit just to see these gorgeous beauties first hand? Let us know in comments below.
Shukran!
Pin It!