Have you ever felt an itch to travel abroad for a good cause? If you are like me and have always wanted to take some real action to help others, then you've come to the right place. Recently I have finally mustered enough courage to take a volunteering trip abroad. And this is how I prepared for it.
The first time I ever felt a strong pull to travel in order to volunteer for a good cause was a few years ago soon after we had moved to Europe. All I could see in the news were stories of migrants risking life and limb to cross the Mediterranean in rubber dinghies. Or walking a treacherous path towards Germany, sometimes for weeks. Their stories were filled with obstacles, danger and often intolerance by others. But there were also stories that moved me deeply. They were stories of people helping, like this inspiring woman who organized a civil march for Aleppo to draw attention to the difficulties and indignities faced by people fleeing war and persecution. Stories like these spoke to me.
Your reason for traveling to volunteer might be completely different from mine. Perhaps you want to use your skills on an environmental project. Or maybe you have medical training and wish to help others access medical care. Or perhaps you want to teach English or dig a well for clean drinking water in a remote village. No matter the type of volunteering trip you are interested in, one thing is certain: preparation is key.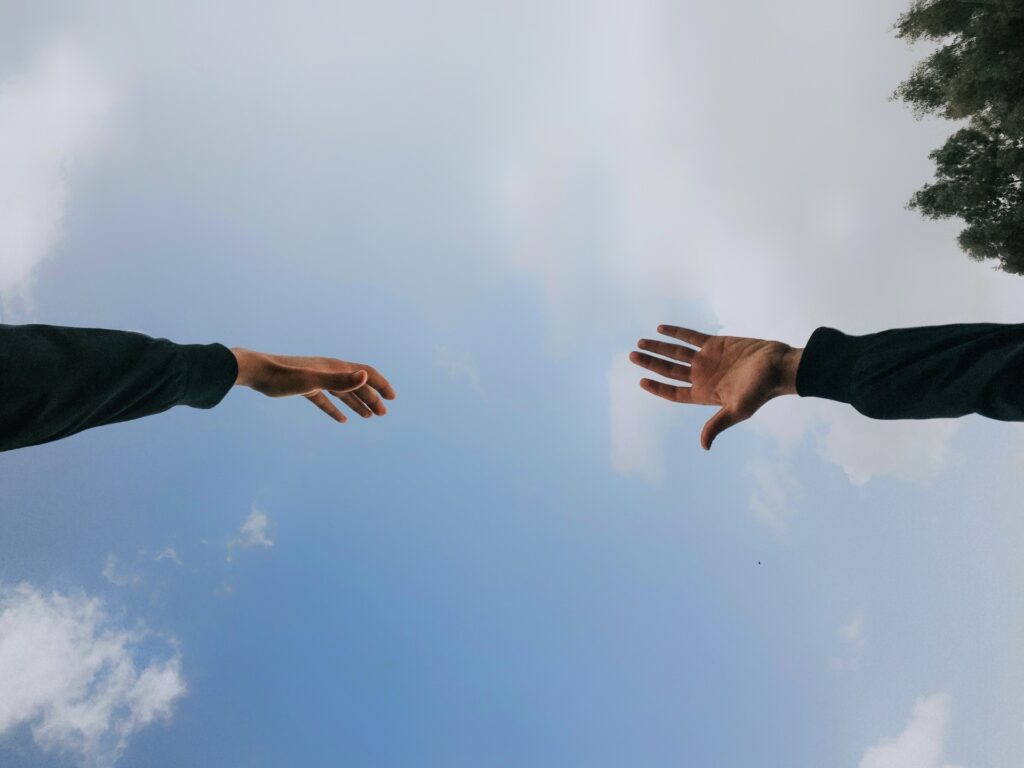 Below are the components of a successful and fulfilling volunteering trip:
Research The Right Volunteering Trip For You
Like with anything important in life, taking a volunteering trip abroad requires some research. This is the first and most important step of your preparation.
Ask yourself why you want to travel to volunteer
Begin by asking yourself some honest questions and doing some soul searching. Why do you want to volunteer abroad? What is your motivation? Is it so you can look good on social media? If so then forget it. This type of travel is not right for you.
Or perhaps the right volunteering opportunity for you is in your community. Do you really need to travel to a foreign country in order to be of help?
Or do you have some skills lacking in the place where you want to travel to volunteer? If you determine that your motivations are selfless and you are truly wanting to be of service for the sake of doing some good, then your heart is in the right place.
How to decide what kind of volunteering to do
In order to decide what kind of volunteering you are best suited for ask yourself the following questions:
Skills. What are you good at? Maybe you are good at carpentry, or taking care of kids, or dressing wounds. Look for opportunities that match your skills so that you can be useful.
Your Job. What is your profession and can you use your professional training on your volunteering trip? If you are a doctor perhaps you would be best suited to volunteer for Doctors Without Borders. Or if you are a mason or a carpenter, perhaps you could volunteer with Habitat for Humanity.
Foreign Languages: What languages do you speak? Sometimes just speaking English is enough. Perhaps a volunteering post is looking for an English teacher? But often volunteering positions abroad are best for those who also speak other languages.
Passions. What causes are close to your heart? Is it the environment? Or saving an endangered species? Or would you rather work with refugees or people displaced by natural disasters? Answering these questions will help you narrow down your choice of organizations to contact.
Time. How much time can you donate? If it's your gap year or you are retired, then you have plenty of time to donate. But if you have a full time job, you might be constrained by how much vacation time you have. Unless you can take a leave of absence from work or make a special arrangement with your employer. Or if your job is already flexible because you can work remotely or are a digital nomad. Even if you do have unlimited time, what can you handle physically and emotionally? It is probably best to start small if you have never volunteered for a prolonged period of time.
Budget. Can you afford to go on this volunteering trip? Often besides donating your time, you may also have to volunteer some of your other resources. You might have to pay for your flight to get to where you are going. Some volunteering trips are paid by the volunteer, others reimburse for some expenses.
Make contact with the right organization
Once you have narrowed down the type of volunteering you think you are best suited for, it is time to find organizations that would closely match with your desired volunteering position. This is a crucial step in the process of preparing to volunteer abroad. Partnering with the right organization can mean a difference between a rewarding experience and a harrowing one.
So how do you find the right organization? Here are some ways to find an organization that would align with your skills:
Search online. Look for volunteering positions that match your skills and interests and country you would like to volunteer in. Perhaps you already follow an organization because the work they do is close to your heart. That is how I found a perfect volunteering trip for me.
Contact local NGOs. Is there an organization in your community that is affiliated with other organizations you would like to work with? Small organizations are often a wealth of information and may point you in the right direction.
Ask friends who have volunteered. Have any of your friends volunteered abroad before? Ask them for tips on how they did it.
Once you have found organizations that look like a good fit, make sure that:
They have been around for some time.
They are a reputable organization.
Your values align with theirs.
When you have found an organization you wish to work with and the position you are interested in, you will need to complete their application process. The acceptance process can be quick or slow depending on the organization. If you are lucky enough to have been accepted, they will assign you to a volunteer project that best matches your skills. Volunteering abroad can be an incredibly rewarding experience for both the volunteers and for the communities in which they work.
Ask questions before you commit
Don't be afraid to ask as many questions as needed before you commit to a volunteering position. No question is silly. Some of the questions to ask of the organization you are interested in volunteering with are:
Will your organization expect a monetary donation besides a donation of my time and work?
How long is the time commitment expected?
Can I leave my volunteering post early? If so, under what circumstances? Would your organization assist me if I had to leave early?
Are any vaccinations required or recommended for this position?
Are there any health concerns or disease outbreaks in the area I will be volunteering? What are the best ways to protect my health?
Is the place where I will be volunteering safe? If you are a woman, an ethnic minority, or LGBTQ+ community member, ask if the area you will be working in is considered safe for you.
Where will I be sleeping? What are the sleeping arrangements like? Do I need to bring my own bedding?
Are there laundry facilities where I am going? Are they free or paid?
Is there WiFi where I will be volunteering?
Is there cell phone data coverage in the area I will be volunteering?
If you have special dietary needs, ask if the area you will be volunteering in has what you need.
Should I bring any medications?
Do I need special insurance?
Do I need a drivers licence?
What if I decide to stay longer and continue volunteering?
Will I need to provide any tax information? (this might be a requirement with some organizations that reimburse volunteers for certain expenses associated with the trip).
Can I take photos at the location of my volunteering position? Am I allowed to post them on my social media?
Will you be taking photos of me while I am volunteering? What if I do not consent to my photos being taken or posted online?
Will you reimburse me for any of my volunteering expenses? If so, which ones?
Is there a contract we need to sign?
Will I receive training for my volunteering position? When and where? How long is it?
Will I be working alone or on a team?
Who do I contact for help or guidance while volunteering? What is their contact information? Are they easily accessible?
What happens if I get sick while volunteering? Is medical care easily available? Is it free? If not, who pays for it? The volunteer or the organization?
What should I pack?
What are some of the do's and don'ts?
Prepare For Your Volunteering Trip
Now that you have done your research and been accepted as a volunteer abroad, it is time to prepare for your upcoming trip.
Book your trip
Some organizations might book the trip for you, especially if they are reimbursing you for the cost of travel but otherwise this task falls to you. Things you will need to book:
Your flight to the country where you will be volunteering
Local transport to the site where you will be volunteering
Accommodations if not provided by the organization
Your return trip home
Prepare psychologically
Do this especially if this is your first time going to volunteer abroad. Depending on what type of volunteering you will be doing, you might encounter some tough situations. My first volunteering trip was with child refugees and having once been one myself I had to prepare for triggering situations. Some of the ways to prepare psychologically for a volunteer assignment are:
Your host organization may provide training including how to deal psychologically with various situations on the ground and difficult emotions.
Speak with your psychologist about your fears before going.
Talk to friends who volunteered to find out what to expect.
Look online for other volunteers' accounts of their experiences.
Go through hypothetical and worse-case scenarios in your head and imagine how you would deal with such situations.
Start learning basic language skills
Even if your volunteering position does not require you to speak the local language, it is always a good idea to learn even a few words. You will find it helpful in your day to day interactions with local people. And even some knowledge of the local language might make your volunteering experience more fulfilling.
Some of the best ways to learn a new language are:
Duolingo is a great language learning app. There are over 35 languages to choose from and you can learn an entire language for free.
If the language you want to learn is not on Duolingo then look for teachers on YouTube.
Find someone in your community who teaches the language.
The organization you will be volunteering with might have some language learning resources for you.
What to pack for your volunteering trip
What you pack for your volunteering trip depends on several factors. Deciding on what to pack will depend on the season where you are going and on the answers you receive from the organization you will be volunteering with to all your questions.
One thing I highly recommend is using a backpack instead of a suitcase when going on a volunteering trip. You may have to walk and carrying a backpack is so much easier.
Here is an example of a packing list for a volunteering trip:
Essentials to pack for a Volunteering Trip:
Documents (passport, visa, driver's licence, health insurance, etc)
Cell phone + charger + power bank
Money, credit cards
Printed contact info for emergency situations
Glasses / sunglasses
Toiletries
Electric power converter
Pens and paper
Reusable water bottle
Clothing:
Undergarments / socks
T-shirts
Comfortable pants / sweaters
Thermal moisture absorbing clothing for cold weather locations
Sun hat
Comfortable footwear
Pajamas
Winter clothing if required
Warm outerwear if needed
Medicines:
Pain medication
Prescription medications you use + prescriptions
Basic first aid supplies
Malaria pills and antibiotics if required
Cold medication
Allergy medication
Disinfectant
Other items depending on volunteering location:
Sleeping bag
Eye cover for sleeping
Ear plugs
Laundry soap
Towel(s)
Water purification tablets
Paper map
N95 face masks
Menstrual care supplies
Books to read / Journal to write
Cup, plate, utensils, can opener
This packing list is just a guide. Pack as light as possible; preferably in a backpack.
Pin it for later: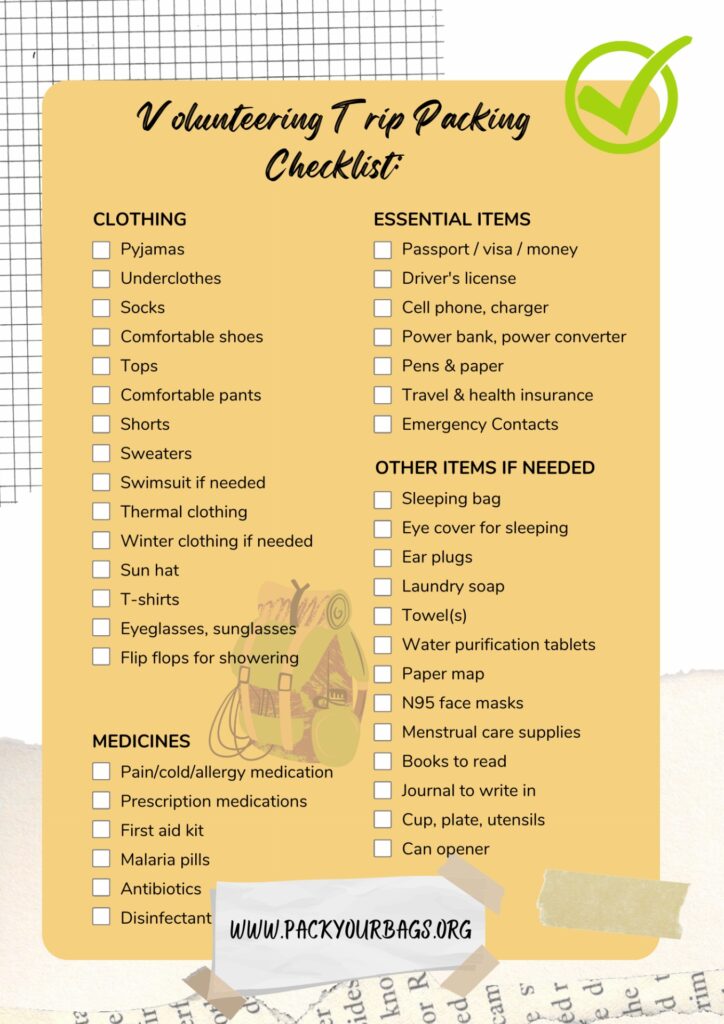 Volunteering during the pandemic
There are extra things to consider when volunteering during the pandemic or when going to a place affected by a disease outbreak. You might need to ensure that you are vaccinated against certain diseases. The place you will be volunteering at might have rules about face masks and sanitization and you will be expected to abide by them.
Your Volunteering Assignment Abroad
What to expect
No matter the amount of preparation you will likely go through a culture shock. Even if you are in a culturally similar place, the culture of the place you are volunteering at will be different than what you are used to. So prepare for an adjustment period.
Find your tribe
If you will be volunteering in a team then your tribe is ready made for you. If not, create your own tribe. Volunteering can feel overwhelming. It helps to have people around you that you can talk to and relate to.
When in doubt, ask questions. When you don't know something, ask. If you need help with something, ask. Ask, ask, ask.
Stick to the rules
Every volunteering post will have its rules. Stick to them. They are there to protect both you and those you are working with. Focus on your job and don't try to be everything to everyone.
Take care of yourself
If you overdo it and don't take care of yourself you will burn out. An exhausted volunteer is not useful to anyone. So get plenty of sleep, hydrate, eat well and take your breaks.
Don't forget to have fun
If you get the opportunity and it is safe to do so, go out and play tourist in your volunteering location. Enjoy the local culture. Meet some locals. Try the local cuisine. In short, take care of yourself. Breaks are important.
Don't feel bad if you need to come back early
Sometimes things don't go as planned. You might get sick. You might burn out. Someone might need you back at home. You might feel like you made a mistake. Your volunteering location might no longer be a safe place to be. No matter the reason, if you feel you need to leave your volunteering post early, do so and don't feel bad.
When You Are Back Home
Digest & evaluate the experience
When I finished my first volunteering trip abroad, I was in a different mindset than before I embarked on the adventure. First, I was proud of myself for having finally done it despite the fears I had felt. Second, I felt good psychologically for having contributed to a cause I felt strongly about. Third, I felt inspired by having met an entire group of people who thought like me and didn't just talk about things that were important to them. They did something about those things. I am sure I have made new friends for life through having volunteered abroad.
Talk to someone
Like me, you may feel quite positive about your volunteering trip. But there might be some negative feelings as well. You might feel like you didn't do enough. Or that you should have stayed longer. Feelings of guilt are very common. If this is something you are struggling with, you should talk to someone.
Some organizations will hold after-the-fact meetings to discuss what went well, what didn't and how that affected both the volunteers and the population being served. Even if you mostly feel positive about the experience, participate in such an evaluation meeting.
If however, this type of meeting is not available to you, then talk to other volunteers or to someone you trust. It is okay to have feelings you would not expect to have after volunteering abroad.
Keep in touch
If you enjoyed the experience of volunteering abroad with a particular organization, keep in touch with them. And keep in touch with fellow volunteers you met there. You never know what other volunteering opportunities might come up through your new network of like-minded individuals.
Plan to do it again (maybe)
After my first experience volunteering abroad, I felt that I would love to volunteer again in the future. I really enjoyed the work I did during my assignment. And after seeing first hand how well-run the organization I volunteered with was, I knew I was in good hands.
Final Word
Volunteering abroad is a great way to make a difference in communities and experience new cultures. Going on a volunteering trip abroad can be intimidating, but the right research and preparation will take away a lot of the unknowns.
If you are a first-time volunteer, it is best to volunteer with an established organization. They will be able to provide you with guidance and support. To choose the right organization for you, start by researching them online. This will help you understand what they do and what they need from volunteers.
In the end, volunteering abroad teaches you about other cultures and you get to meet people you would never meet in your day-to-day interactions. To make even a small positive difference in someone's life is a very fulfilling experience.
Pin It!