Can't decide between a vacation home rental and a hotel? When we travel we prefer to stay in vacation home rentals rather than in resorts. Why? We believe that discovering a place has several components. One, we have to visit the most important local landmarks, of course. Two, we have to taste local foods and culture. Three, we want to see how locals live. And to accomplish this, we search out vacation home rentals from local people in real neighbourhoods. Of course, Airbnb is a big part of our travels but it's not the only way we find these beauties. I like to read online publications about unusual homes and that is how we found one of the unique vacation home rentals we talk about below.
Unique Vacations Homes Rentals:
The vacation home rentals we showcase below are located in Europe and Africa. We are always on the lookout for an unusual place to stay at on our travels. Some of these houses might seem normal to you but they are unique to us. If you already live in a typical cave house on Santorini, you will not be blown away by such a house. But what's normal to some is special to others. And after having lived in Canadian suburbia for quite some time, the houses we talk about have made quite an impression on us.
Secluded cottage in the Alps, France
This was one of our favourite vacation home rentals to date. We loved it for several reasons. First, we've been living in an apartment since we've moved to France. As much as we love it, occasionally we crave staying at a big house, just like we used to have in Canada. And because we were going to spend Christmas in the Alps, we really, really wanted to have snow. So we looked for high altitude locations in the Alps. And my husband Pete really wanted a house with a fireplace for Christmas. After all, having a crackling fire in wintertime is quite a treat.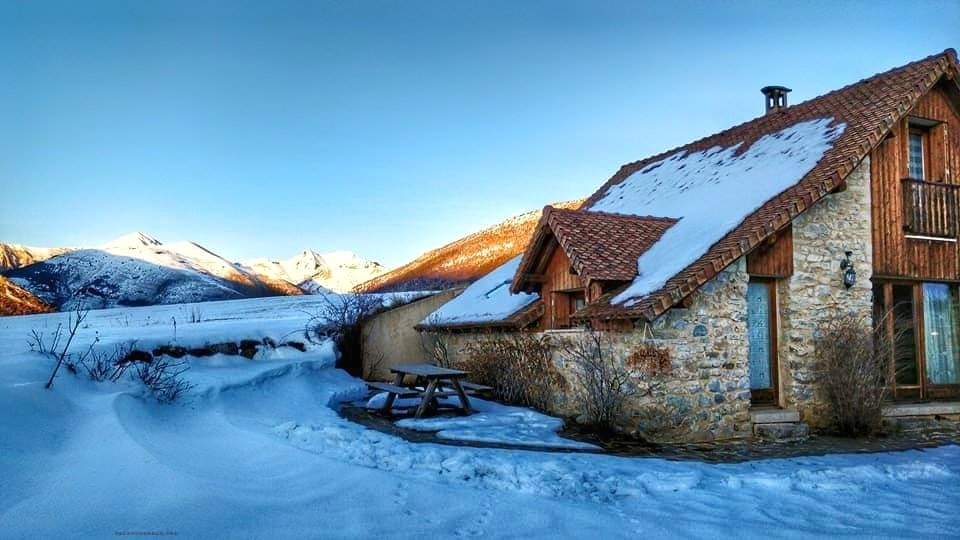 That's the house itself. But what was really special about it was that even though there were a couple other houses in the neighbourhood, there was literally no one around and we had the entire mountainside to ourselves. We could slide downhill while yelling on top of our lungs and there was no one there to hear us. For us, being isolated was special. We missed the quiet of Canada when you go into wilderness. In Europe, it's hard to find a place in nature without encountering another living soul. We found that quiet in this house.
Cave house on Santorini, Greece
This was one of the most unusual vacation home rentals we have ever stayed at. If you have been to Santorini and explored a bit inland you would have noticed a typical style of house on that island. The front of the house might look like a house you'd seen elsewhere but the back of it was dug deep inside a cave behind it. This traditional way of construction serves several purposes. One, you don't need material for every inch of your house. Most of it is deep inside the cave. And second, as we all know, caves have cooler temperatures. Santorini can get unbearably hot and having this type of natural cooling in your home is welcome, cheap and eco-friendly.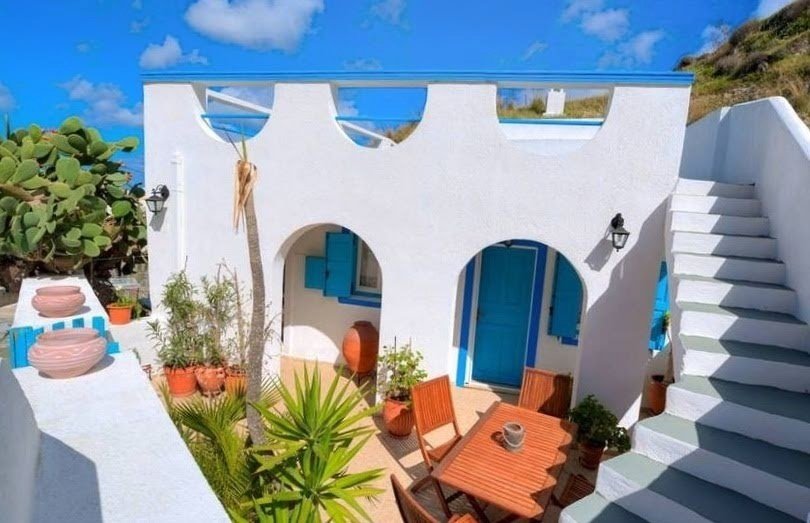 But these houses are not just functional, they are cute as a button. Painted white with blue accents, they represent the typical, world-renowned Santorini architecture. Usually, these houses also have a rooftop where you can air-dry your laundry – or in our case, sun tan. And their front patio is perfect for late dinners chased with bottles of ouzo.
If you do end up renting a house like this on Santorini, ask the owners ahead of time about ease of access. Our house was deep in a rocky village. The only way to access it was on foot or on donkey (literally). We didn't mind such an adventure, but if you have mobility issues, small kids or tons of luggage, be aware of how much you might need to walk daily to get anywhere.
Stone farmhouse on Gozo, Malta
Whenever a place has some unique architecture, we always want to experience it if possible. If we can stay in a typical house somewhere, we can get a feel for what life might be or might have been like for the locals. When we were on the island of Gozo, we stayed at one of the most beautiful vacation home rentals we ever encountered.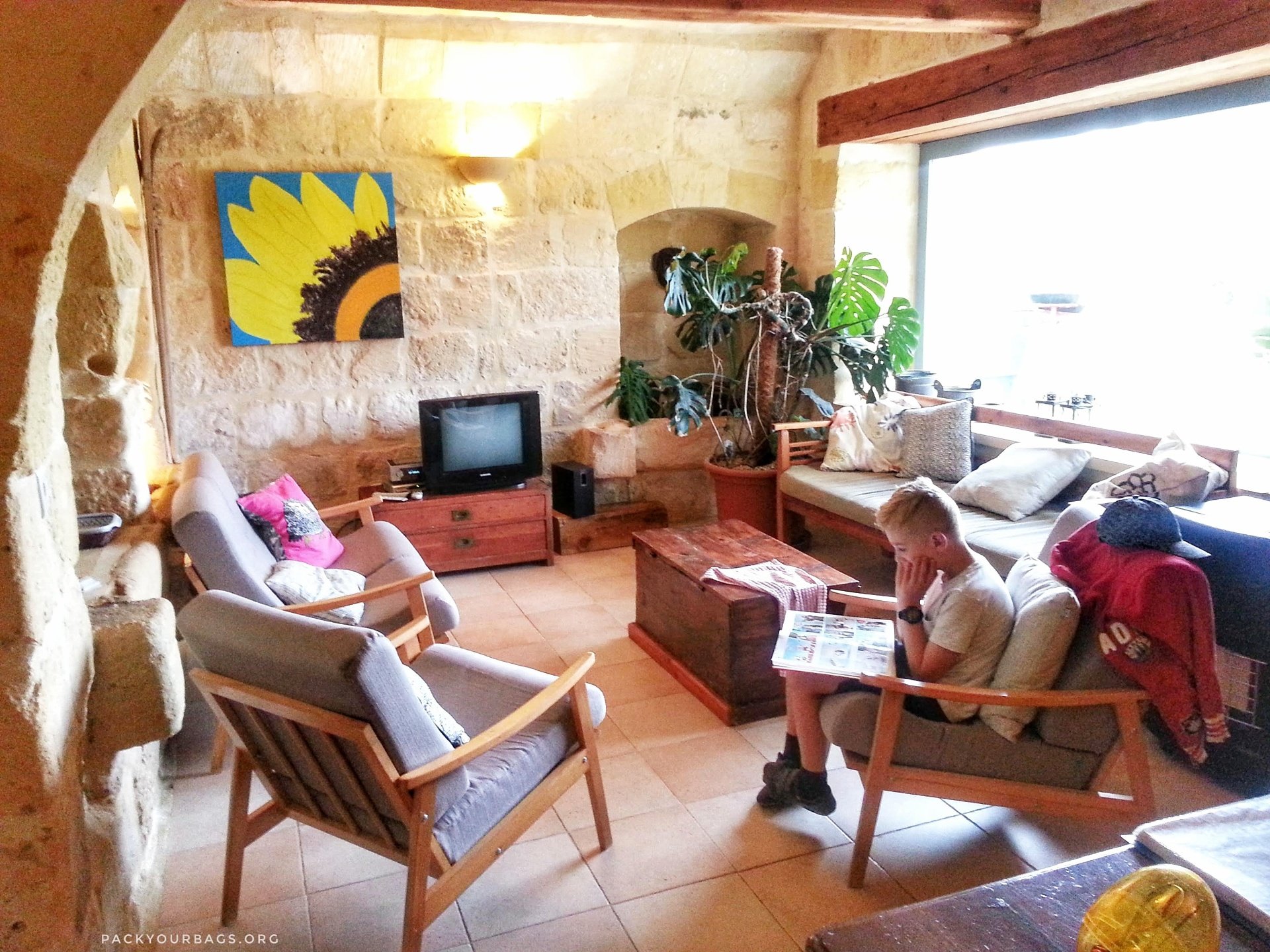 Gozo, one of the Maltese islands, is such a place. With millennia of history, it has a very specific type of traditional architecture. Structures have typically been built here with large stones. So when we found this renovated farmhouse on Gozo in a quiet village, we jumped all over this vacation home rental. Yes, it had several modern elements, like a brand new patio with a swimming pool, and a big picture window in the living room. But everything else was old bones and tradition. In fact, I would say the blending of the new and old was quite masterfully done.
Riad in Morocco
A riad definitely makes our list of unique vacation home rentals. What is a riad? A riad is a traditional Moroccan house with a central courtyard. It usually has several floors and a rooftop. It has no windows to the outside, only to the inner courtyard. You get complete privacy in such a house from outsiders. The sunlight and fresh air come in through the roof, which can be left uncovered. If you want to look onto the street, you can do so from the rooftop. Riads are often converted into hotels. The one we stayed at was converted into a little guest house and privately owned.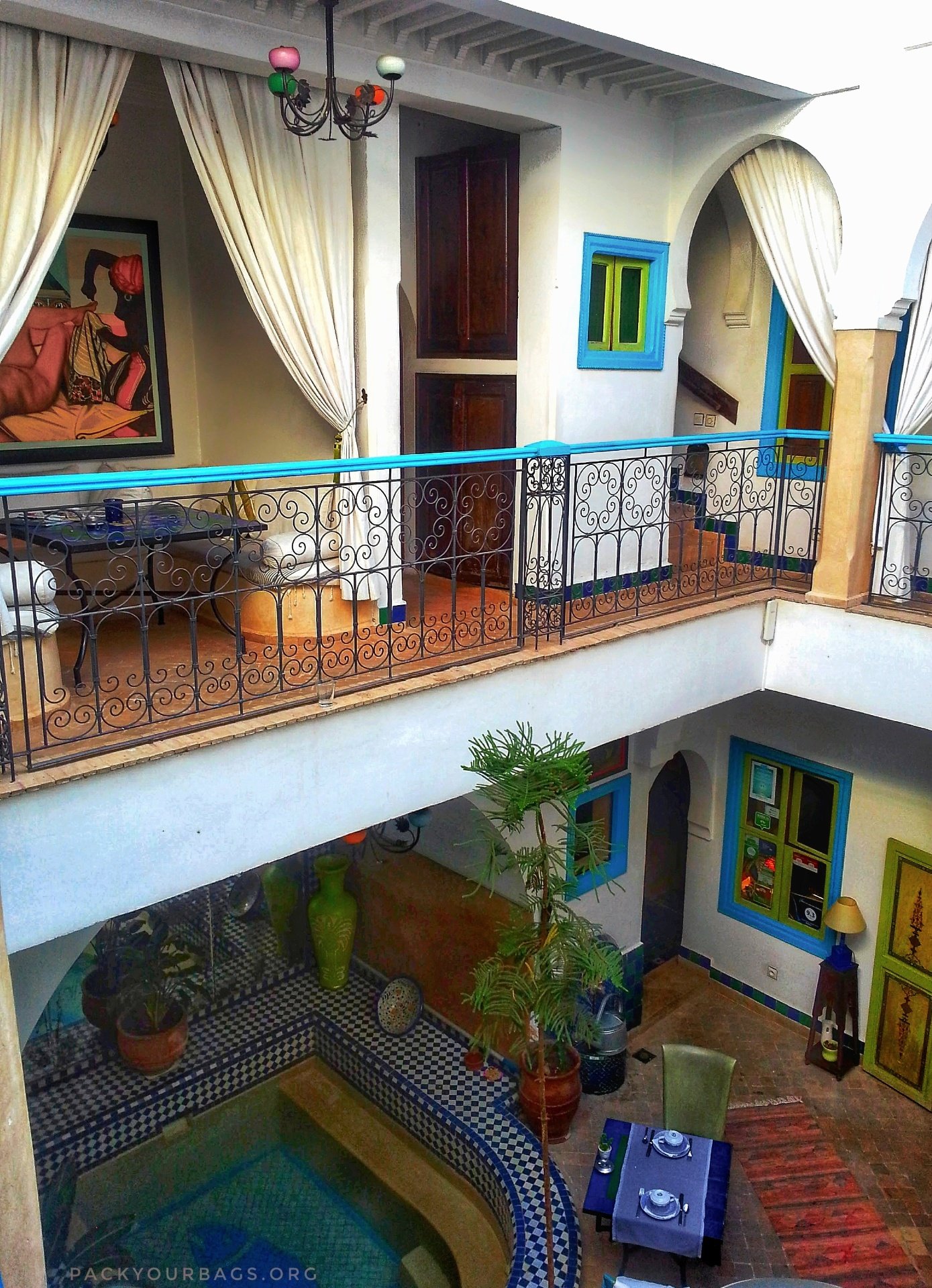 We loved it, because it is something not typically found in places we normally travel to. The decor was typically Moroccan which means lots of vibrant colours, rich hand-woven fabrics, beautifully dyed leather, water elements and greenery. The courtyard, the fountain or pool and the plants create natural cooling for the house. Essentially, your riad is your oasis in a busy medina of town.
Our riad was very quiet, but the moment we went to the rooftop, we could hear people and cars. And another reason we liked it was its location. As I said it was in the medina of Marrakech, off a narrow side street. Our neighbours were regular people. We could see kids playing outside and moms watching over them. You'd have no idea this place was a little guest house. There was no sign anywhere pointing to that fact. We felt like we were part of the neighbourhood.
Hobbit House in Poland
OK, this might have been one of the most unique vacation home rentals we ever stayed at. The house is not traditional to any culture in the world. It is the brainchild of the Polish artisan builder Mr Bogdan Pękalski. Because it was reminiscent of hobbit houses from J.R.R. Tolkien's books, he named his house Hobbitówa.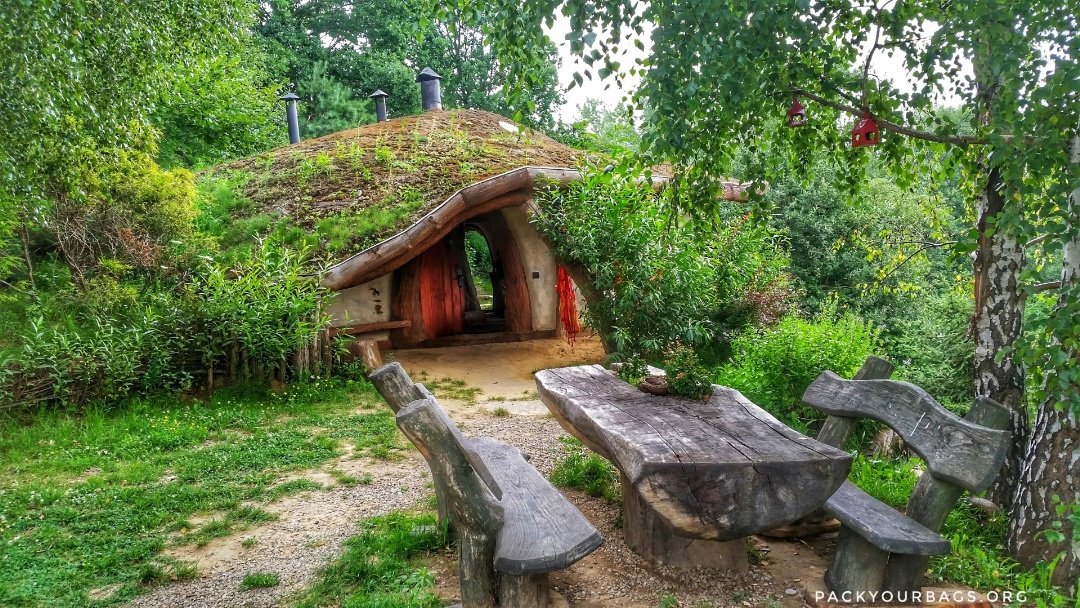 We loved this place because staying here felt like stepping into a fantasy. Every detail of the house was lovingly crafted and full of whimsy. On top of its amazingly unique architecture, the house is completely off-the-grid. We found it to be a perfect place to decompress and escape civilization for a few days. If you want to find out more about this place, I wrote an entire post just about Hobbitówa.
Farm House on Gran Canaria, Spain
When we visited Gran Canaria in 2018, we stayed at a vacation home rental in the countryside. We chose it because of the huge value we got for our money. The house was located on a lemon orchard and the owners lived in separate accommodations on the same property. There were several reasons why we loved this house. First, it was kind of a mix of living outside and inside. The reason I say that is because it only had an outdoor kitchen. We didn't mind that at all. We enjoyed cooking outside. It felt like we were camping (which we love) but only during meal times. We could eat either outside or inside the house. And we also had the entire garden to ourselves, including our own swimming pool.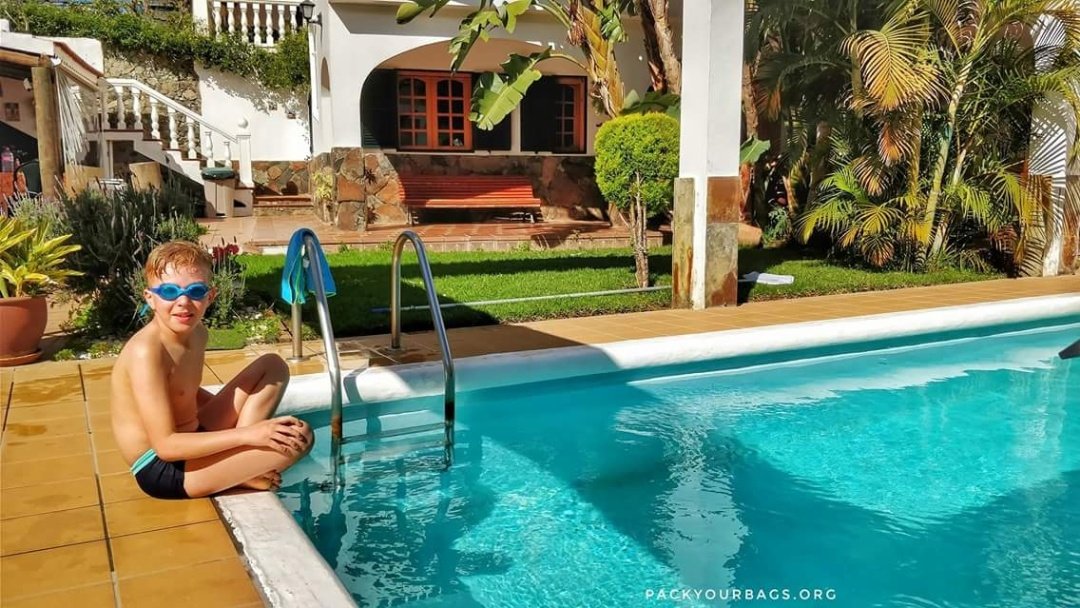 There were palm trees in the garden and lemon trees behind the house. As well, the owners kept chickens on the property and the cutest dog ever. The owners brought us fresh eggs one morning and our son Kas and the dog became the best of buds. But the reason why I included this property here is because it was such a good deal for what we got. In a nutshell, we were able to visit Canary Islands on a budget without compromising quality.
Off-the-grid farmhouse on Majorca, Spain
One of our dreams is to one day live off-the-grid. So whenever we come across energy-independent houses on our holidays, we like to book them. This way, we can learn what works and what doesn't when setting up such a home. We totally fell head over heels for this old farmhouse on the Spanish island of Majorca. It was located deep in the countryside. Furthermore, it had its own water supply and electricity came from solar panels and a power generator.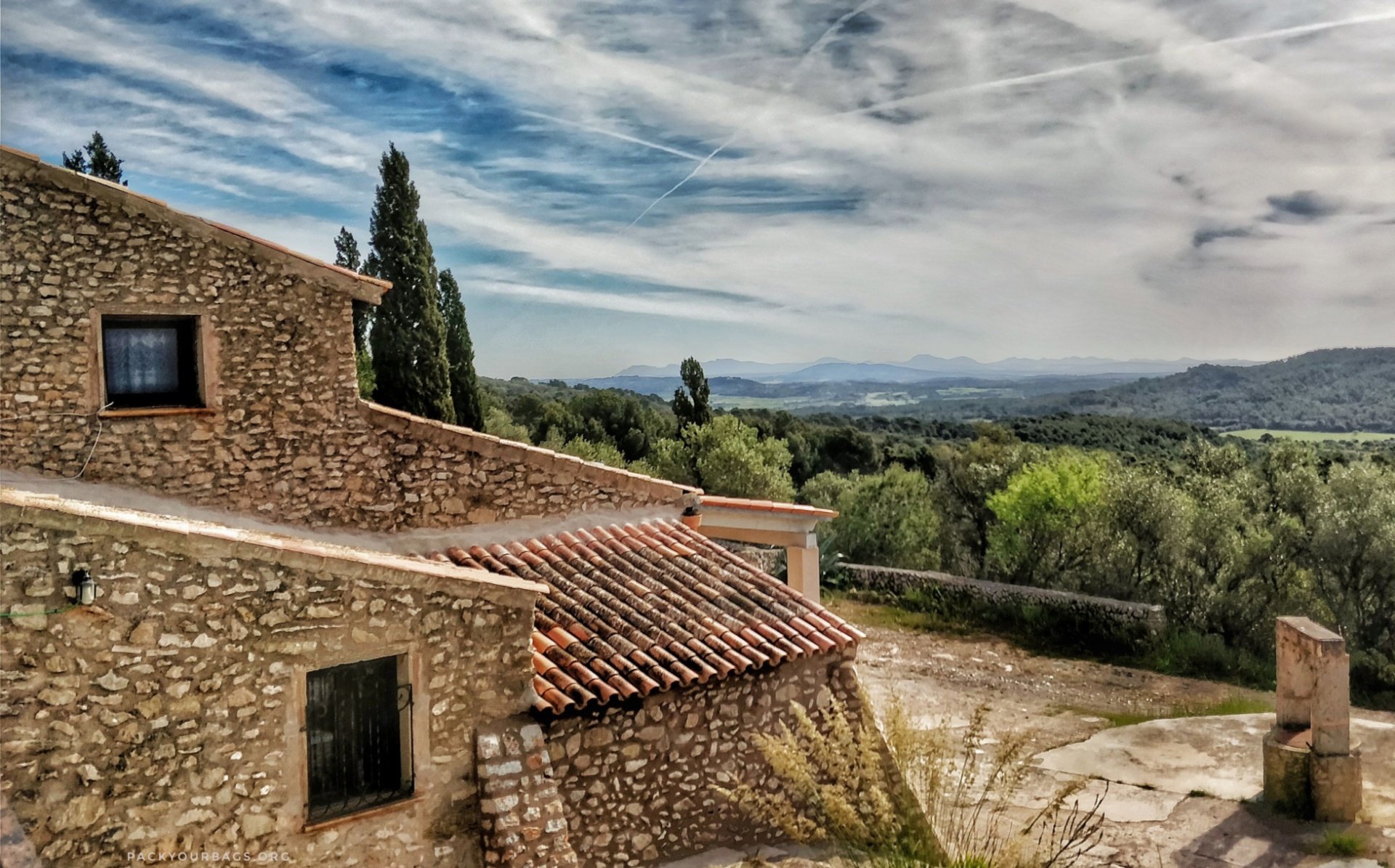 The coolest thing about this vacation home rental was its fireplace room. And I mean, the entire room was a huge fireplace. It had this giant exhaust hood taking up half the room. My firebug husband lit that baby up every night. It was like camping, except indoors, ha ha! We were there in April when nights and mornings are still a bit cool so this was a perfect way to warm up the house.
Traditional house in Tunisia
Once we dipped our toes in North Africa a few years ago, we got addicted. So recently we went back, but this time to Tunisia. If you like Moorish-style architecture, with a Greek island twist, you will love Tunisia. When we came across this charming vacation home rental in the art town of Sidi Bou Said, we had to book it. This house was positively dripping with local flavour and charm.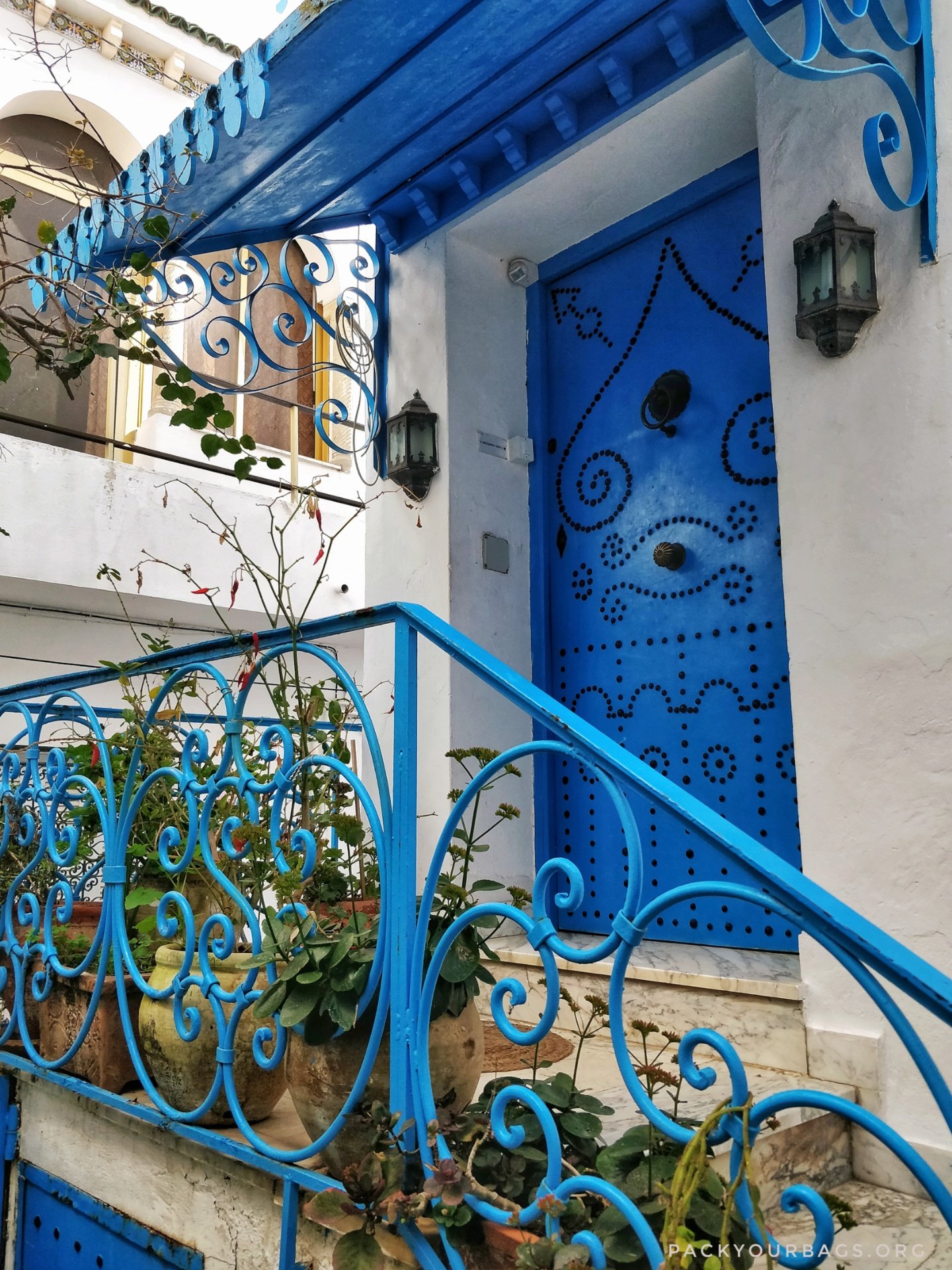 Houses in this town are white washed with blue accents and colourful doorways. The calm and clean lines of the outside are juxtaposed by the madness of decoration styles indoors. Pattern on pattern, crazy colour mixes, you name it. The interiors are such a contrast to what you see on the outside of these houses. We were so smitten with Tunisia, especially its fancy doors that we created a photo essay showcasing the amazing doors of Tunisia.
17th century apartment in Aix-en-Provence, France
This was our home base for the first few months after we moved to France. After having lived for years in our modern house in Canada, we were craving history. This vacation home rental was a perfect place for our introduction to our life in France. After living here, we got more than our fill of old architecture and history.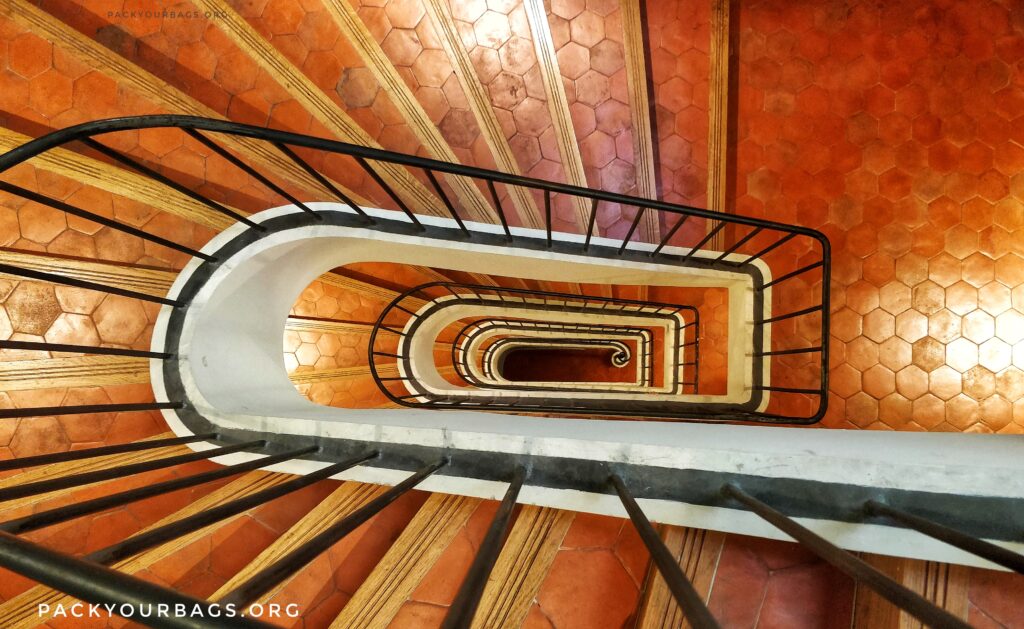 The cool features of the apartment were several. It was located in the historical centre of Aix-en-Provence near everything that matters in town: markets, street festivals, cafes, museums, you name it. Inside, it had high ceilings, big windows with glass still from the 17th century in some of of them. And the flooring was made with "tomette" which are hexagonal terracotta tiles typical of this part of France. They are very much sought after and if you plan on replacing your flooring with something else, you will easily find a buyer for your old "tomette" tiles willing to re-use them in some renovation project.
Final Word on Vacation Home Rentals
As we continue exploring the world, I am sure we will stay at many more beautiful and unique vacation home rentals. As we do so, I will keep adding those new gems we discover to this list of amazing places. So make sure you come back to this post once in a while for some fresh travel inspiration.
Where do you like to stay when traveling? What is the most unusual place you have ever stayed at on your travels? Let us know in comments below.
Happy travels!
Pin It!