I am sitting at a table in Meow Cats Cafe in Aix-en-Provence, a tiny coffee shop tucked away in one of the narrow streets of this town in the south of France. The place is full. Everyone is enjoying a coffee, a hot chocolate or a snack from the cafe's menu of home-made delicious desserts. Some guests are working on their laptops. Everything looks like in any other cafe. Except there is something different here. Meow Cats Cafe is home to five cats. Each one is different from the next. Each cat has their own unique personality. These feline residents are the ones who rule here. 
I discovered this place accidentally during the first lockdown in France. At the time, we were restricted to only one hour, one kilometre radius for our daily exercise. So I began jogging on every tiny street around our home in the historical centre of Aix-en-Provence. I had no choice. The park where I usually run was beyond that one kilometre radius.
But every downside has an upside. And mine was discovering the Meow Cats Cafe in Aix-en-Provence. Mind you, it was closed to the public at the time, as were all other coffee shops and restaurants. But I made a mental note to come back as soon as I could.
And I made good on that promise to myself. As soon as we were able to go to restaurants, I took my son to the Meow Cats Cafe for some dessert and cat watching. And we had a grand old time and left with smiles on our faces.
Who are the cats at Meow Cafe?
There are five cats living at the Meow Cats Cafe in Aix-en-Provence. The red-furred one is called Dexter and apparently holds the office of president over the other cats at the establishment. Dexter is supposedly quite a chatterbox as per the description of his personality in the cafe's menu. He loves kids.
Kida is a gray cat who has been crowned the vice-president at the cafe. Her character, as described in the menu, is that of a songstress, which refers to her propensity at meowing more than the other cats here. Kida is bossy. I am not sure how Dexter manages to rule over her.
Next is beige-coloured Opium whose role is that of a strongman solely based on this cat's size. But his character is listed as a "ball of love" so you know that you cannot judge this book by its cover. Opium is also a glutton.
Olympe is Opium's sister and her fur is a bit darker than her brother's. She's the informer and a gossip according to her description in the cafe's menu. She is very sensitive.
And last but not least, we have Fripouille (meaning scoundrel). His job description is that of a "shirker of duties" and his character is that of a great sleeper. You will most likely find him plopped somewhere, napping the day away.
What is the story behind the Meow Cats Cafe?
Besides creating delicious food, the Meow Cats Cafe's raison d'être is to serve as a foster home for cats awaiting placement in homes with cat-loving humans. The cafe has partnered with Amichatlement Votre, an organization in the town of Saint Victoret near Aix–en-Provence. Amongst other things, the organization helps place kittens in loving homes.
What type of food do they serve?
Meow is a great place for coffee, tea, hot chocolate, juices and lemonades. It's also perfect for desserts, breakfast and lunch. Meow Cats Cafe also makes amazing brunch but it is only served on Saturdays. There are two different brunch menus to choose from. Trust me, you will not need to eat for the rest of the day after their brunch!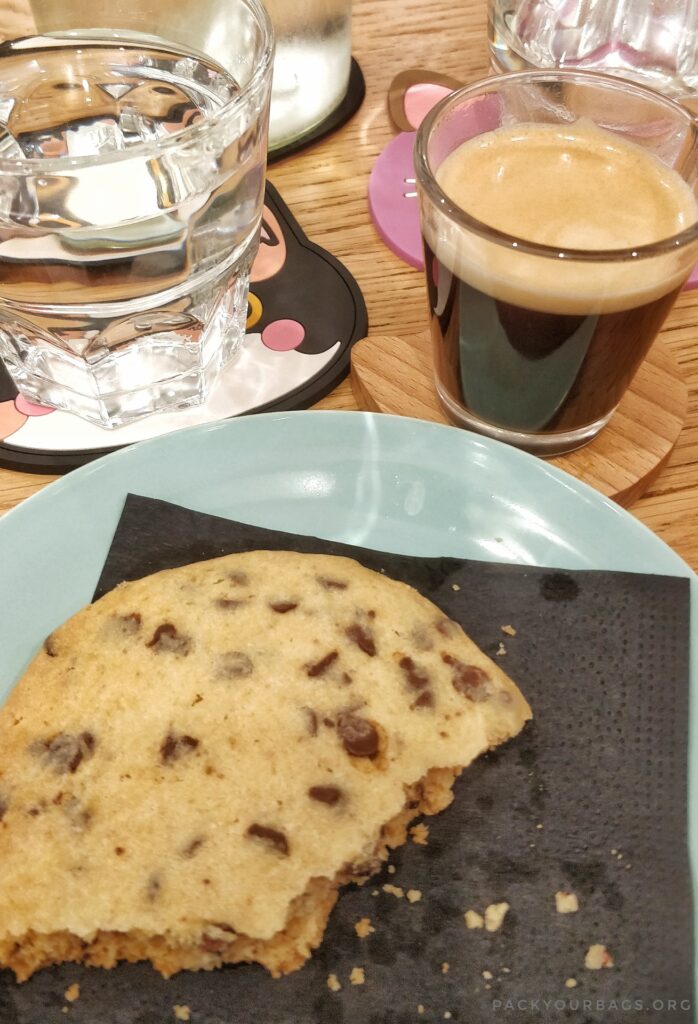 What are the rules at this cat coffee shop?
Meow Cats Cafe has rules in place to protect the well-being of the cats that live there. When you first arrive in the cafe, you will only be able to enter into the foyer. There, you wait for a minute, until one of the lovely employees of Meow opens the door for you, checks your health pass (current health rules in France in early 2022) and lets you in. When you sit down, you will be given the menu and asked to read the rules inside. Do read them and respect them. The rules ask that you do not feed the cats or that you do not pick them up or hold them. Keep your voice low and don't use flash when taking photos.
Don't worry, some of the more social and curious cats will be sure to visit you. Each time I have been there, either Dexter or Kida have paid me a visit.
Is it okay to bring kids to Meow Cats Cafe?
Kids are welcome but not if they are under six years of age.
Final Word
Meow Cats Cafe in Aix-en-Provence, France is an amazing little haven for cats and for cat lovers. It's a place with good food and great coffee. And I love that it has been created for such a great cause. It's also a perfect place for digital nomads to get some work done in a cozy company of the five cats who live at Meow. 
Pin It!