If you come to Europe in wintertime, you must visit at least one of its charming Christmas markets. And the Wroclaw Christmas Market is a great place to start. The Polish city of Wrocaw in the region of Silesia is a must see. With its millennium of turbulent history, this city will wow you. There is something here for every age group, for every taste and for every pocket.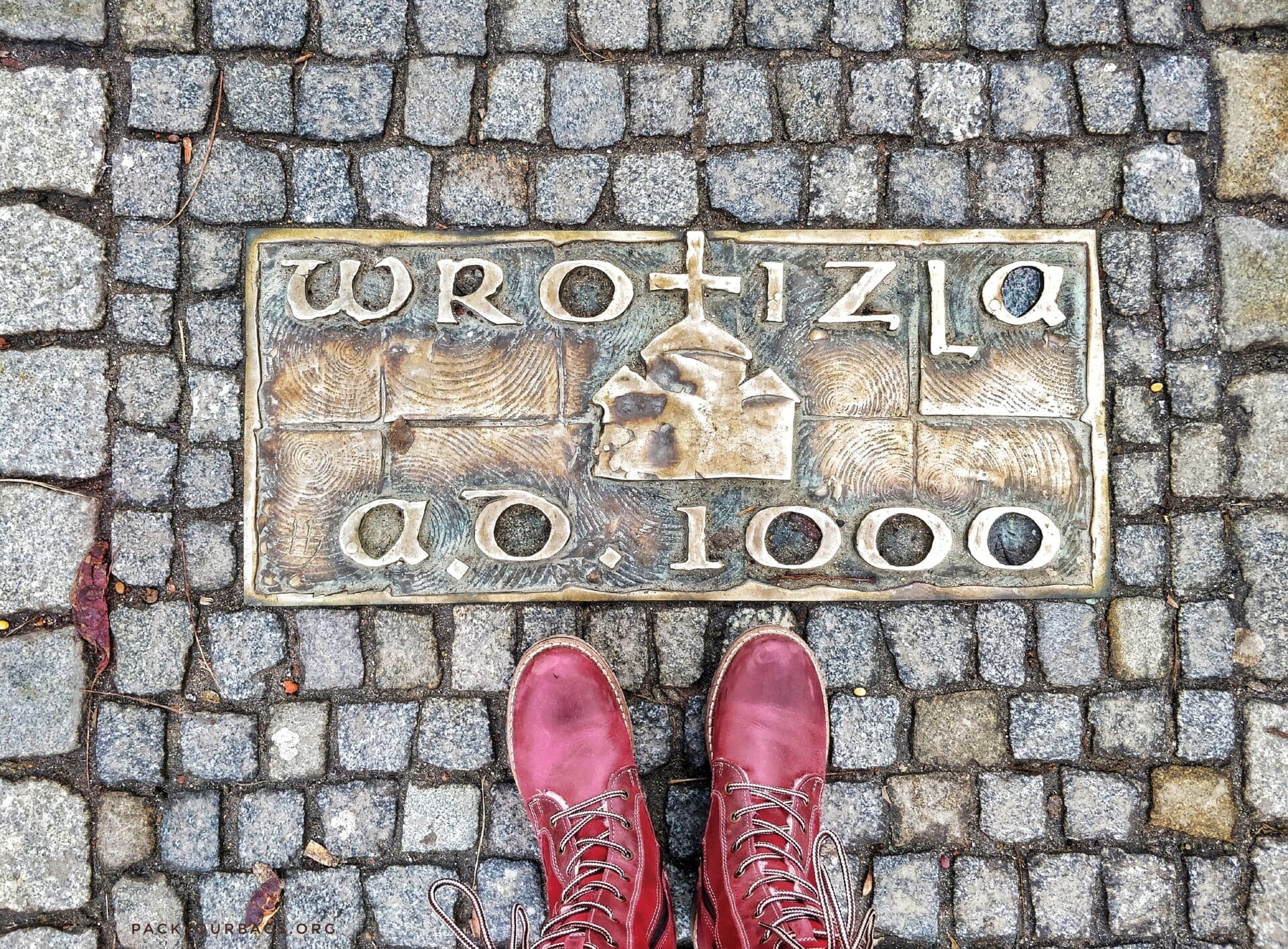 This city on the banks of River Oder was founded by a Slavic tribe named Ślężans in the 10th century and conquered soon after by the Polish king Mieszko I. Subsequently, the city changed hands between kings, princes, dukes, bishops and emperors. Because of that it has been known by many names. Besides Wroclaw, its other most recent name was Breslau in German. Today, it is a bustling university town and Poland's gaming and IT hub, often dubbed Poland's Silicon Valley.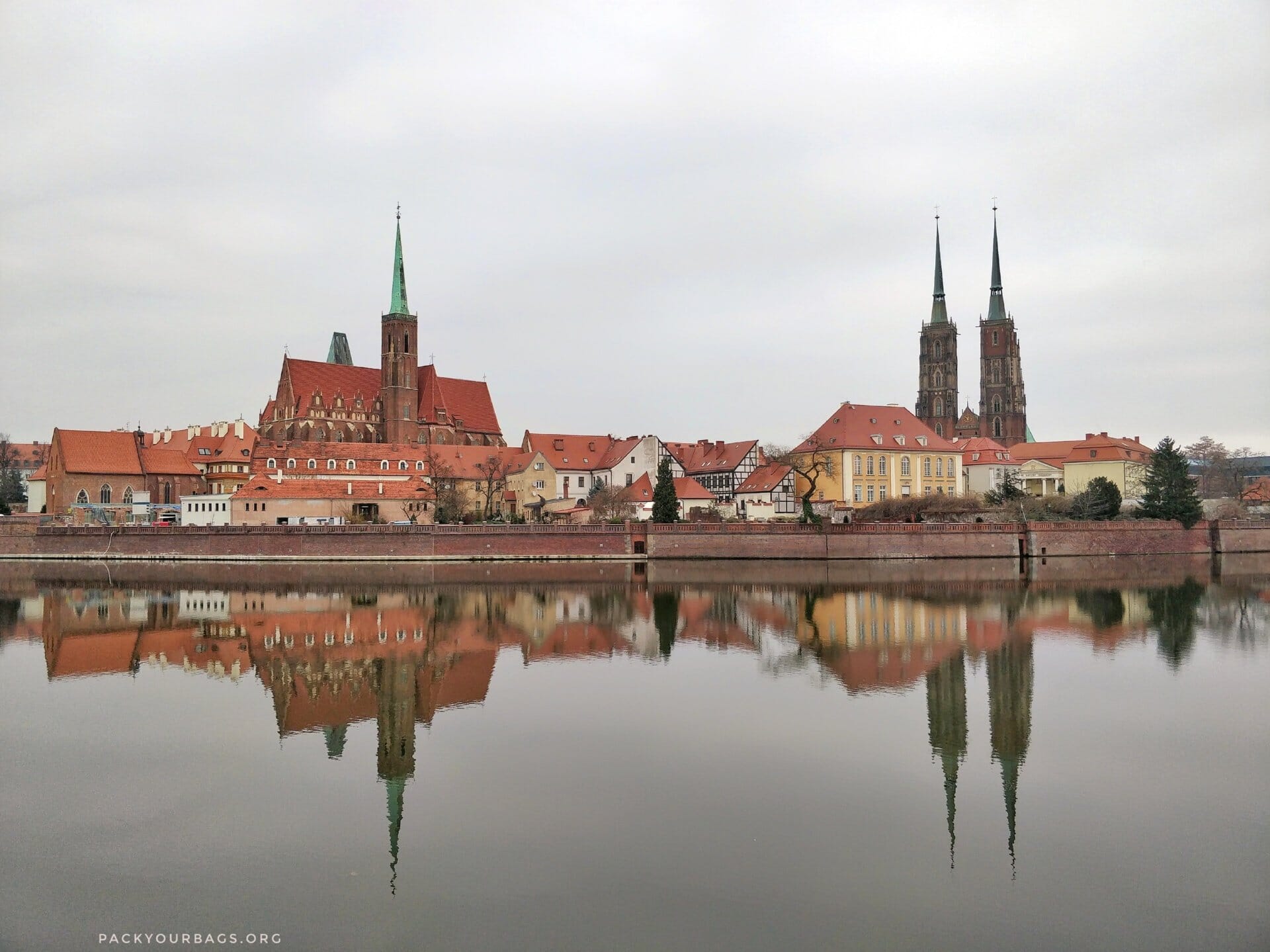 In this Wroclaw winter guide, we will tell you about: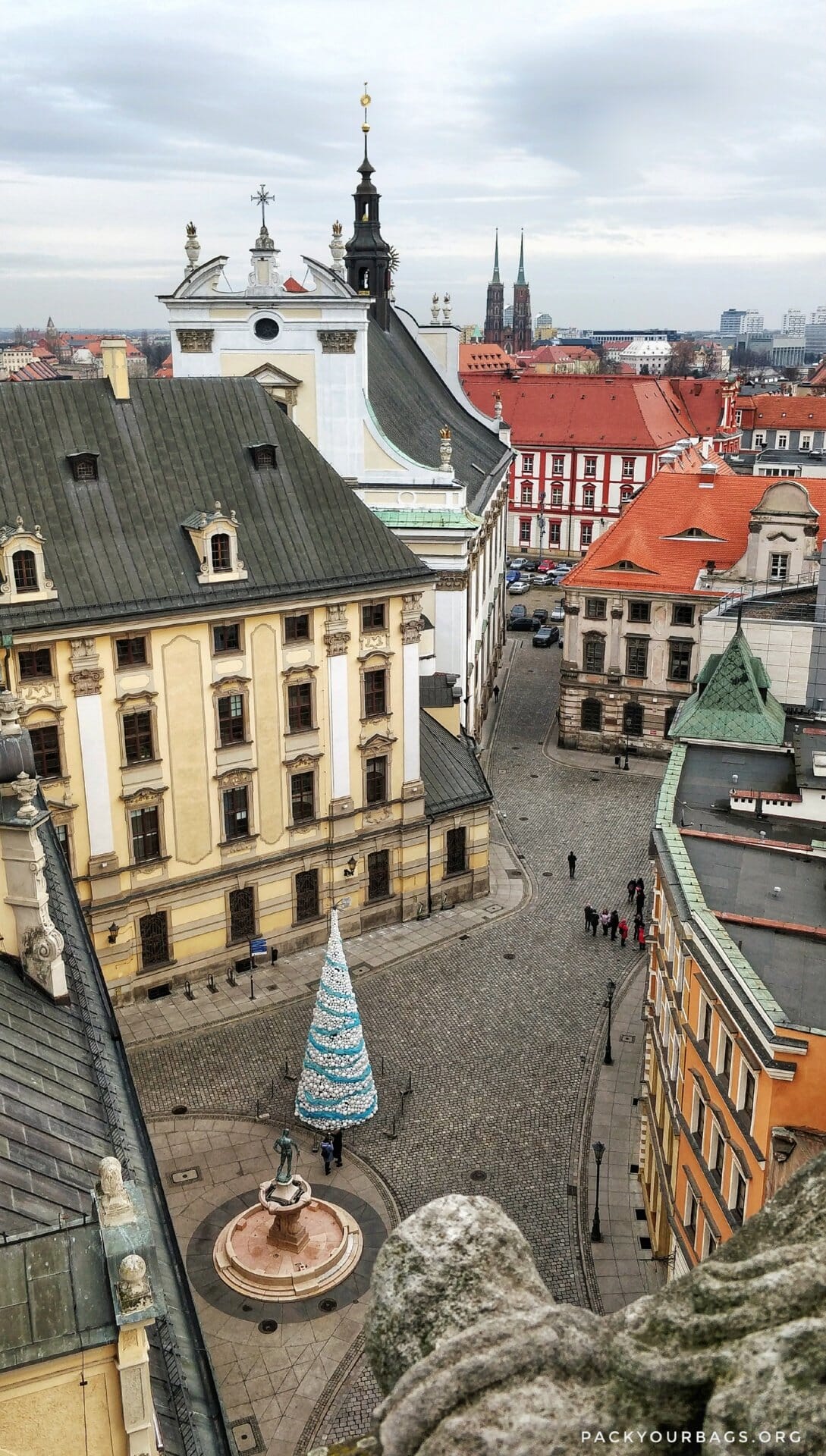 Wroclaw Christmas Market
If you visit in December (which we highly recommend), the Wroclaw Christmas Market is definitely the number one attraction. The 2022 market is running from November 18 to December 31 from 10 AM to 9 PM but it is closed on both December 24 and 25.
We were lucky enough to spend a few days in Wroclaw in December 2018 on our first visit to this happening city. The Old Town was awash with Christmas lights and decorations and the Wroclaw Christmas Market took our breath away. We have been to a few Christmas markets in Europe including in Berlin, and in our humble opinion, the Wroclaw one is the most spectacular we have seen to date.
The Wroclaw Christmas Market is located (mostly) in the main Market Square of the Old Town, but parts of it can be found in smaller squares around. You cannot miss them. Just follow the stalls, the lights, the music and the smell of delicious food and mulled wine.
The market has plenty to offer to both children and to the kid at heart. In fact, you could spend and entire day (or two) at the market and not be bored. You can eat to your heart's content. You can buy unique Polish artisan gifts. And, you can even taste delicious local mulled wine called grzaniec. Kids can enjoy many fun rides and even watch popular kids stories like Pinocchio or Hansel & Gretel performed in Polish by mechanized wooden figures set up in wooden kiosks.
Wroclaw Old Town Winter Guide
I don't think you could run out of things to see in Wroclaw, but if you are only there for a few days, you will have to pick and choose. We have visited as a family with our 10-year old and he very much enjoyed everything about our sightseeing. Definitely, don't miss the Wroclaw Town Hall. This majestic 13th century Gothic structure stands proudly in the centre of the Market Square. The structure took 250 years to complete and each century brought with it additional changes. Inside the Town Hall, you will also find the Museum of Bourgeois Art and a restaurant.
It's impossible to miss the Wroclaw Market Square if you are visiting the Town Hall. And even if you choose not to enter the Town Hall itself, we highly recommend visiting the square. As mentioned before, in the weeks preceding Christmas, this square houses most of the Wroclaw Christmas Market. There is a big New Year's Eve celebration that takes place here. The year we were there, the event was called Wroclaw Respect and it focused on diversity and inclusiveness of all people. And fittingly, the Village People were scheduled to ring in the New Year.
But if you are here during other winter months, there are many other exciting events that take place besides the Wroclaw Christmas Market. Just look up here to see what interests you for when you visit Wroclaw.
Wroclaw Market Hall is another interesting place to visit. It's an indoor market that runs all year round. The hall was built in the early 20th century when Wroclaw or, at the time Breslau, was part of Germany. It's an easy walk from the Market Square, about 10 minutes on foot. It is located on the northeastern edge of the Old Town.
There are many other sights in the Old Town but these three you should not miss. We will mention other places in the following sections.
Krasnale of Wroclaw
In 2005, a fun tradition started in Wroclaw. Small metal gnomes (or krasnale as they are known in Polish) began to appear all over the city especially in the Old Town. There are apparently over 300 of them. We managed to locate 58, just by walking around town. Our son wants to come back to this beautiful city just so that he can find them all.
If you are worried about sightseeing with your young kids, do not fret. Looking for dwarfs makes an awesome game and you will be surprised how well your kids will handle walking around all day, without fussing. No matter what we were doing, our little guy was always on the lookout for more krasnale. Each time we found a new one, he wanted to have a picture taken with the little krasnal, to keep track of the ones he saw. I don't know what was more fun for him, the search for new gnomes or the Wroclaw Christmas Market.
The Wroclaw Lamplighter
The first recorded settlement in the area of Wroclaw, was Ostrów Tumski, which at one time was an island. The island was also a site of first human settlements dating back to at least the 6th century, long before the founding of the city of Wroclaw. And as of the early 14th century, the island has belonged to the Church.
When you visit the island today, you will note its very ecclesiastical nature. The Wroclaw Cathedral and the Archbishop's Palace are the main architectural marvels here. But we ventured here for quite a different reason. That reason was catching a sighting of the Wroclaw lamplighter, apparently only one of two remaining in Europe (the other one can be found in Brest, Belarus). In fact, catching a glimpse of this man in action was second on out list right after the visit to the Wroclaw Christmas Market.
Let me tell you, the task was not easy. First, you have to show up a bit in advance of sundown. In December in this part of Europe, that meant well before 4 PM. By the time we arrived (on foot from the Wroclaw Christmas Market across the Tumski Bridge), some lamps were already lit. We then had to figure out which path the lamplighter would take around the cathedral and how deep into the island he had ventured. Remember, this was December and the temperature hovered around freezing. So standing around waiting is not very fun at this time of year. Luckily for us, we soon spotted the dark cloaked figure carrying a long pole with a butane cartridge (no longer the old fashioned gas lighter).
Catching this man in action was not easy once we located him. He is quite speedy in performing his duties, briskly walking from lamp to lamp. We had plenty of photos of him whooshing by and as a result we only have a few good ones that we can show you.
One thing we learned from our experiences chasing after him is this – when you come, watch the lamps on the street going towards the cathedral. If they are not lit, just wait there by an unlit lamp and he will eventually come. But have your phone or camera ready. He is one speedy man!
Tumski Bridge
This gorgeous bridge will take you from the Old Town into the island of Ostrów Tumski. It's a 20 minute walk from the Wroclaw Christmas Market. But don't worry, there are plenty of gorgeous views along the way of beautiful Wroclaw architecture, some dwarfs to add to your list and the Oder River.
The Tumski Bridge was built in the 19th century to replace the old wooden bridge. Its steel structure is strong enough to support the many love locks that have been placed there by hopeful lovers. The love lock obsession has earned the bridge a nickname of the Lovers Bridge. If you are going to place your love lock here, be aware of the local tradition which requires you to toss your lock key into the Oder River.
Museums in Wroclaw
While you might never want to leave the Wroclaw Christmas Market, we highly recommend that you do. Wroclaw has no shortage of museums, but since we only spent three days there, we only made time for a handful. Our absolute favourite was the Racławice Panorama Museum.
This museum's sole raison d'être is to showcase a giant painting in a circular fashion representing one of the most important battles in the Polish history during the Kościuszko Uprising. Our photos don't do it justice and you should definitely visit. Our son enjoyed this museum tremendously, both the painting itself as well as the figures of the soldiers in a smaller room and the mock up of the battlefield.
We also visited the Museum of the University of Wroclaw. The city of Wroclaw is a university town and you will find faculty buildings all over the Old Town. This particular museum is located within the Old Town. School-age kids and beyond will be interested in this museum. Our son loved the science rooms, showcasing old specimens. We, grownups found the history of the university fascinating. And for the old art enthusiasts, you will find amazing Baroque rooms to feast your eyes upon.
Foods To Try in Wroclaw
I was born in Poland but have lived away most of my life. However, when I visit, there are several types of foods I must have. In fact, there are quite a lot, and so I will only mention my favourite winter foods. You can find these at the Wroclaw Christmas Market or elsewhere in the Old Town.
Pierogi
These Polish dumplings are a must try. Find a "pierogarnia" and go to town. There are so many varieties out there, I won't be able to mention them all. There are both savoury and sweet kinds.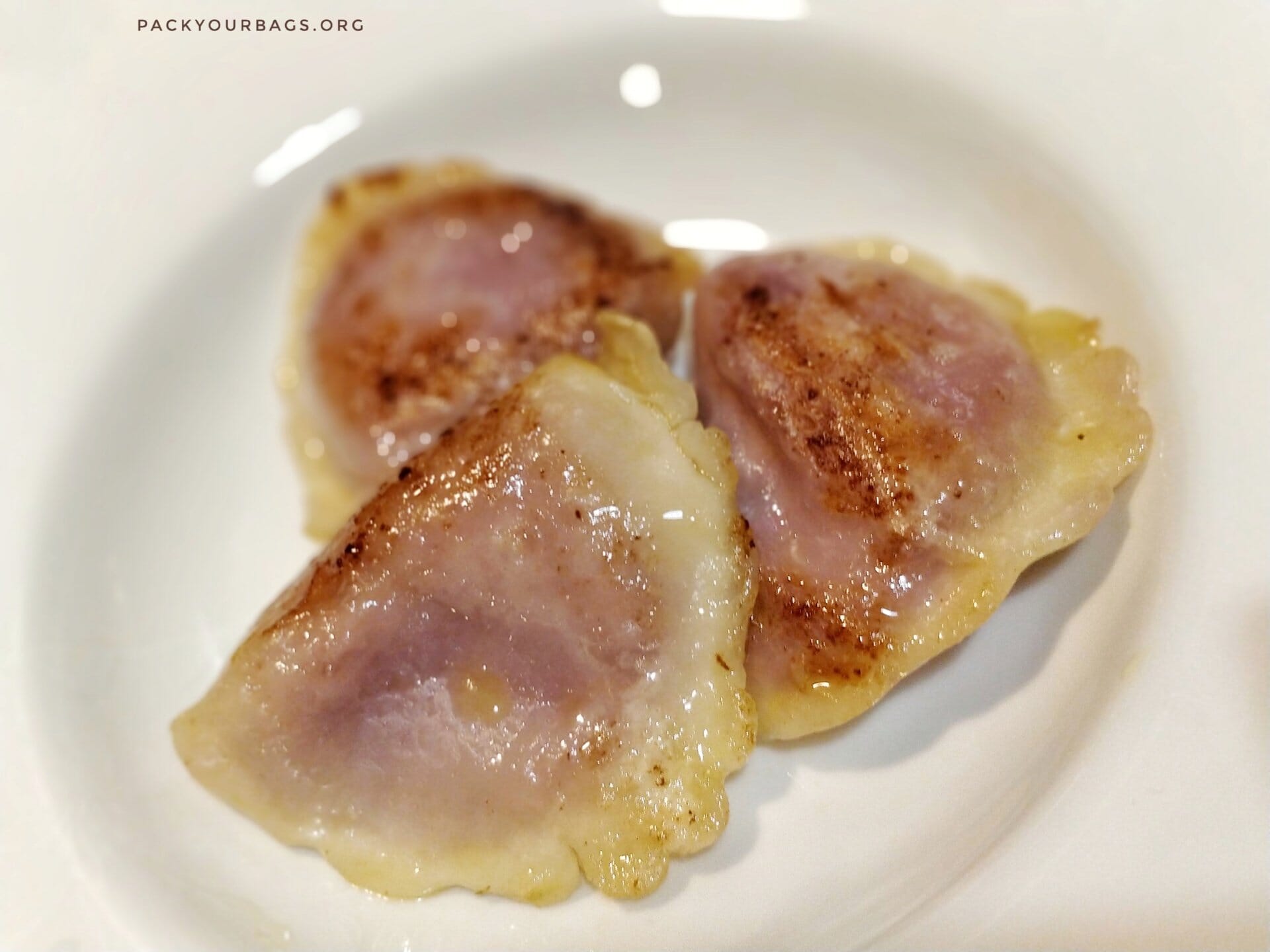 Pączki
A cousin of the Western donut, these delicious pastries win my vote over the donut any day. Again, there are so many kinds, you will have to decide what you are in the mood for. My favourites are wild rose jam ones (photo below), but I also love blueberry jam ones. Our son is in love with chocolate filled ones. Find a "pączkarnia" and I dare you to try not to buy more than one a day. They are not waistline friendly.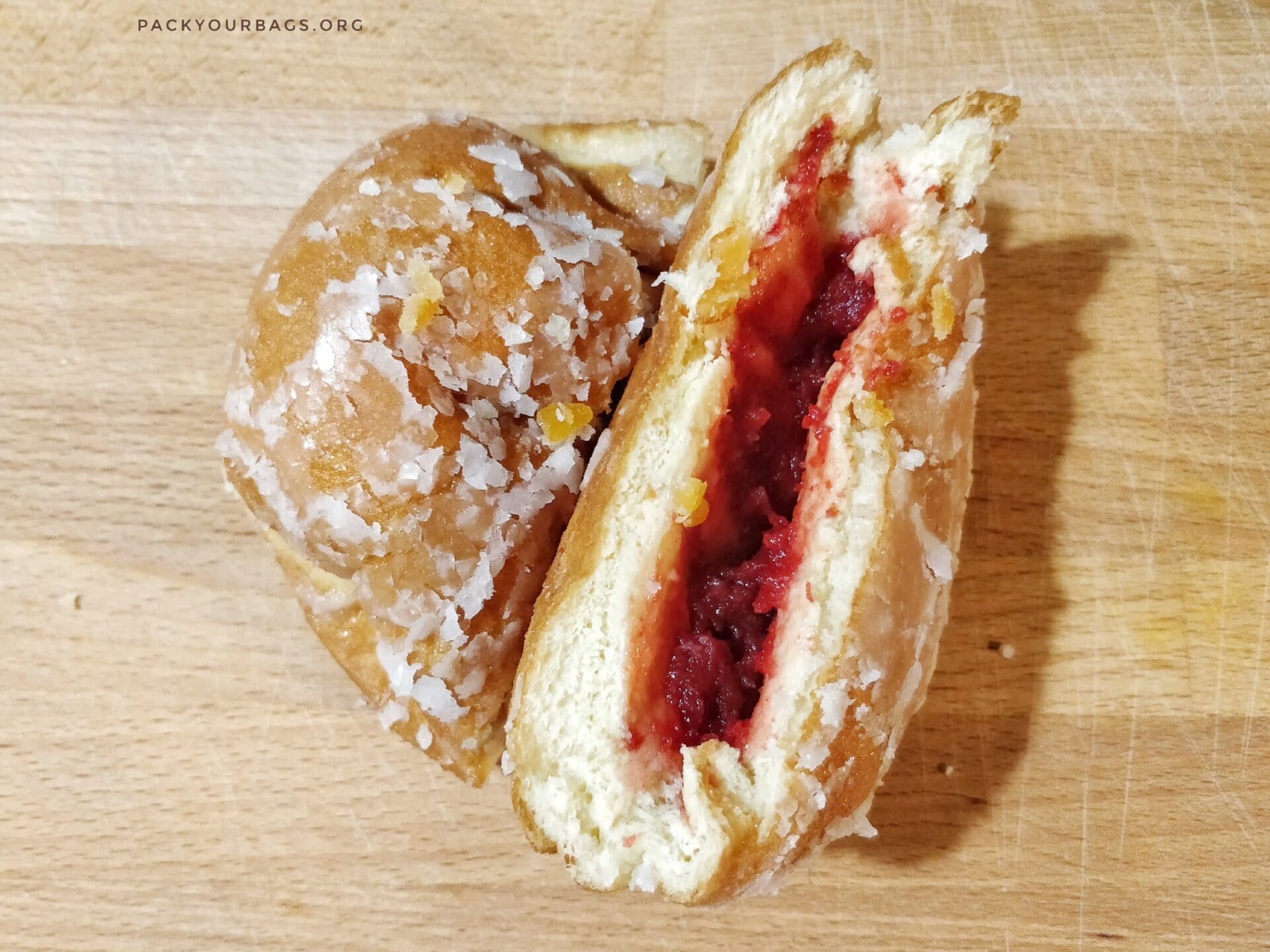 Grzaniec
Grzaniec is the Polish version of mulled wine and you must have it, especially at the Wroclaw Christmas Market. If you are not a wine lover, there is also a mulled beer version and hot chocolate for the kids.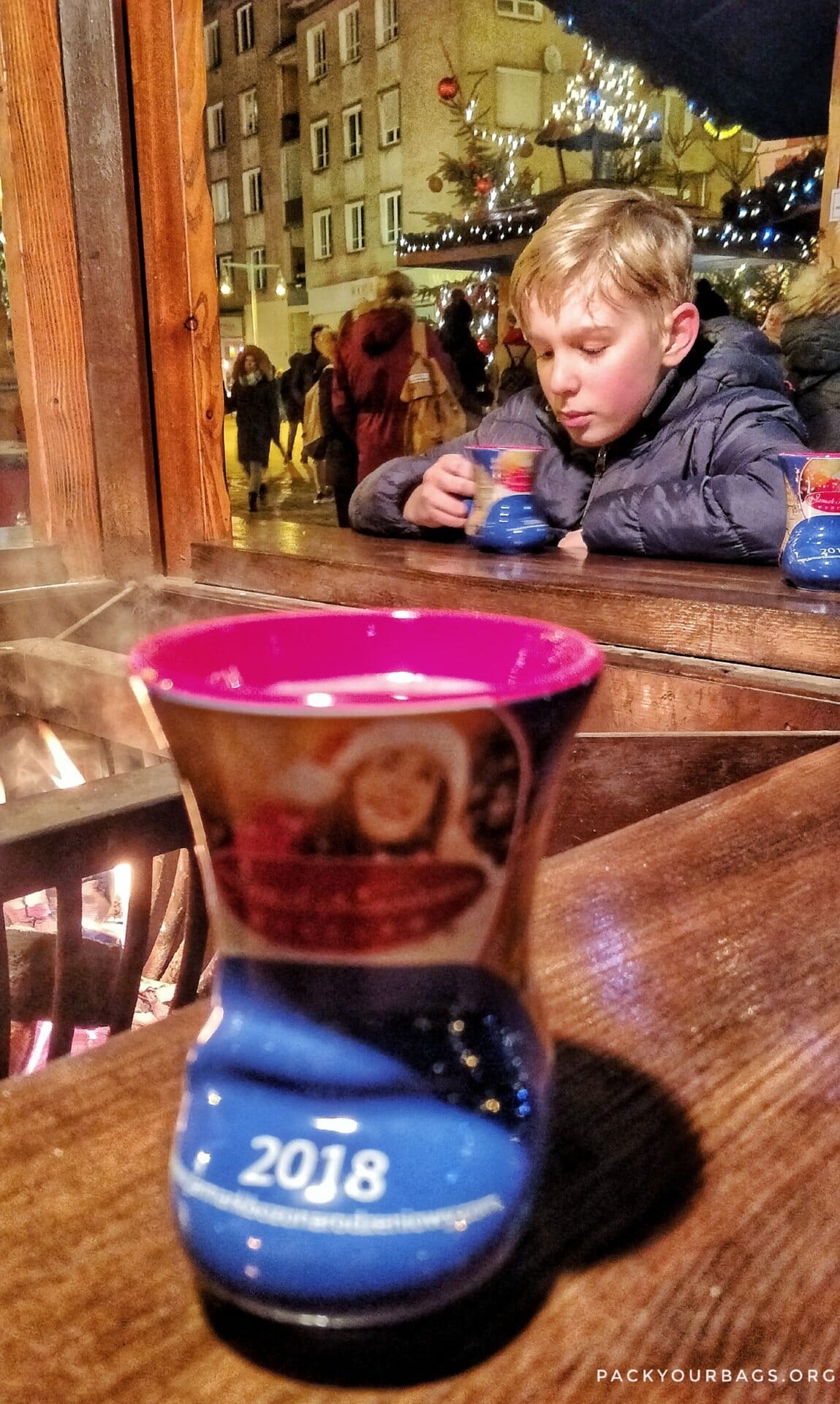 Restaurants & Cafes in Wroclaw
We tried a few places in the Old Town and we will tell you about the ones we loved. Our favourite was an Indian Restaurant called Masala. The food was tasty, the atmosphere very family friendly. So friendly in fact, that they offer babysitting onsite on weekends so that parents can enjoy their lunch in peace. We only found out when we were reading the menu. Even though our son is so no longer at the age of needing to be babysat, it really struck a chord with me that a restaurant like that exists. And, if that is not enough, the restaurant donates money from every meal to a kids' charity.
Another great place we stumbled upon was Bema Cafe. There, we enjoyed delicious coffee, hot chocolate and an awesome sandwich with orange flavoured mayo. Yum! Highly recommend it.
And probably our favourite coffee shop was a place right across from the Law Faculty Library, called FC Caffe. It was cute, trendy and delicious. And I loved their mugs!
And finally, I left the best for last. If you like history and home cooked hearty meals, then search out a "bar mleczny" (or milk bar) next time you are in Poland. You will pay pennies for a delicious dinner in an austere cantine-like atmosphere. Literally, my hearty dinner of pork schnitzel, potatoes and cabbage (a Polish staple dinner) at Bar Mleczny Miś cost the same as my espresso at FC Caffe.
Milk bars are traditional cafeterias that were created in the late 19th century to serve working classes. These cafeterias gained in popularity during Communist times. Since the fall of Communism, they have mostly fallen in disfavour, however a few hundred still remain in Poland. Today, they are mostly frequented by people on low fixed incomes, like retirees and students. It's a dying tradition and you must make it your mission to dine in one at least once before they become extinct.
Practical Info about Wroclaw
Where to Stay in Wroclaw
Whether you prefer hotels or holiday rentals, we highly recommend staying in the Old Town. You will be close to all important sights we mentioned before. We rented a little apartment right in the thick of things and we loved it.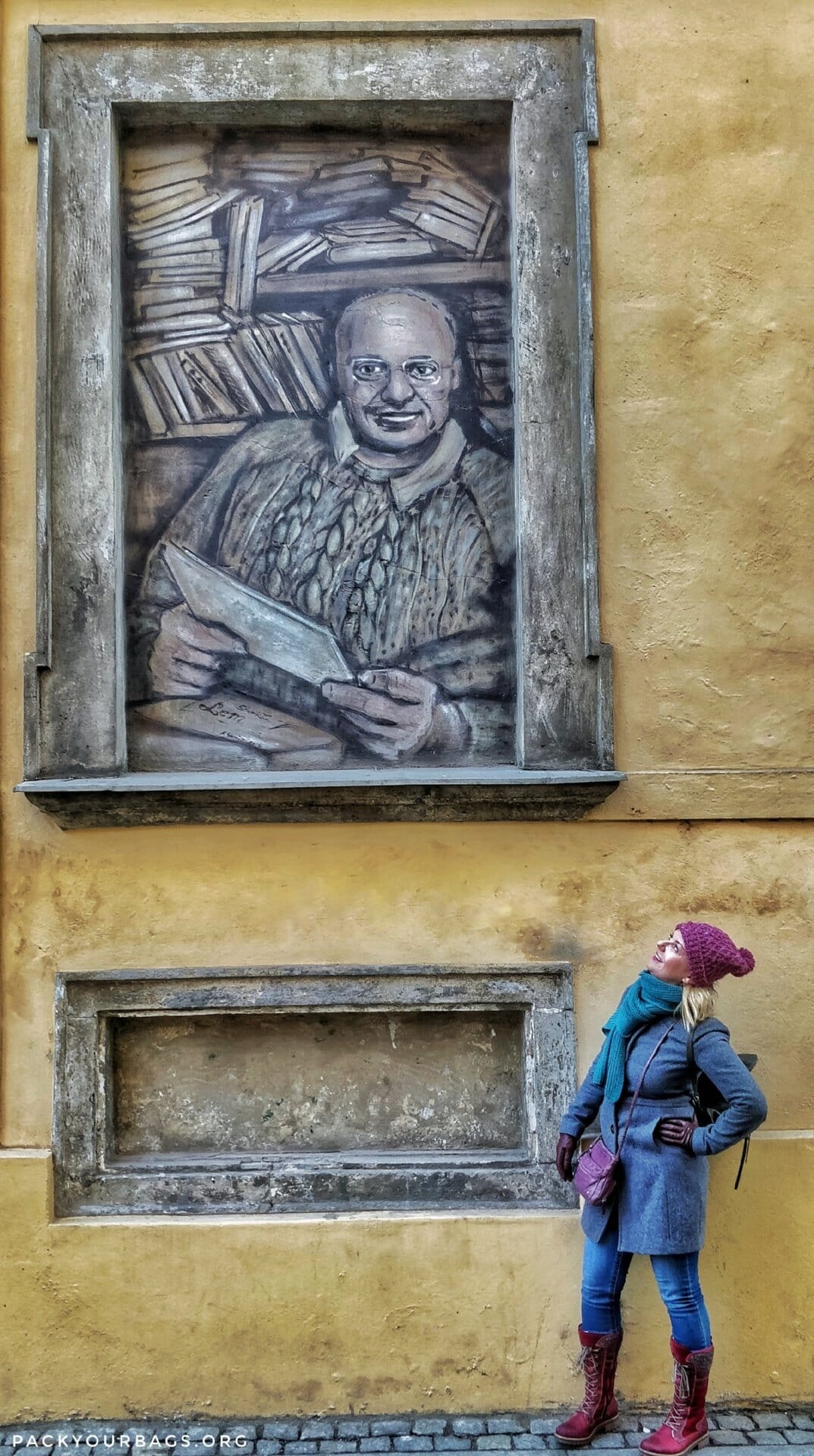 How to Get Around Wroclaw
If you stay in the Old Town and plan to mostly sightsee in and around that area, you can walk everywhere. For those who wish to get around quickly, there is an network of electric scooters you can rent. If you want to rent one, first download this app onto your phone.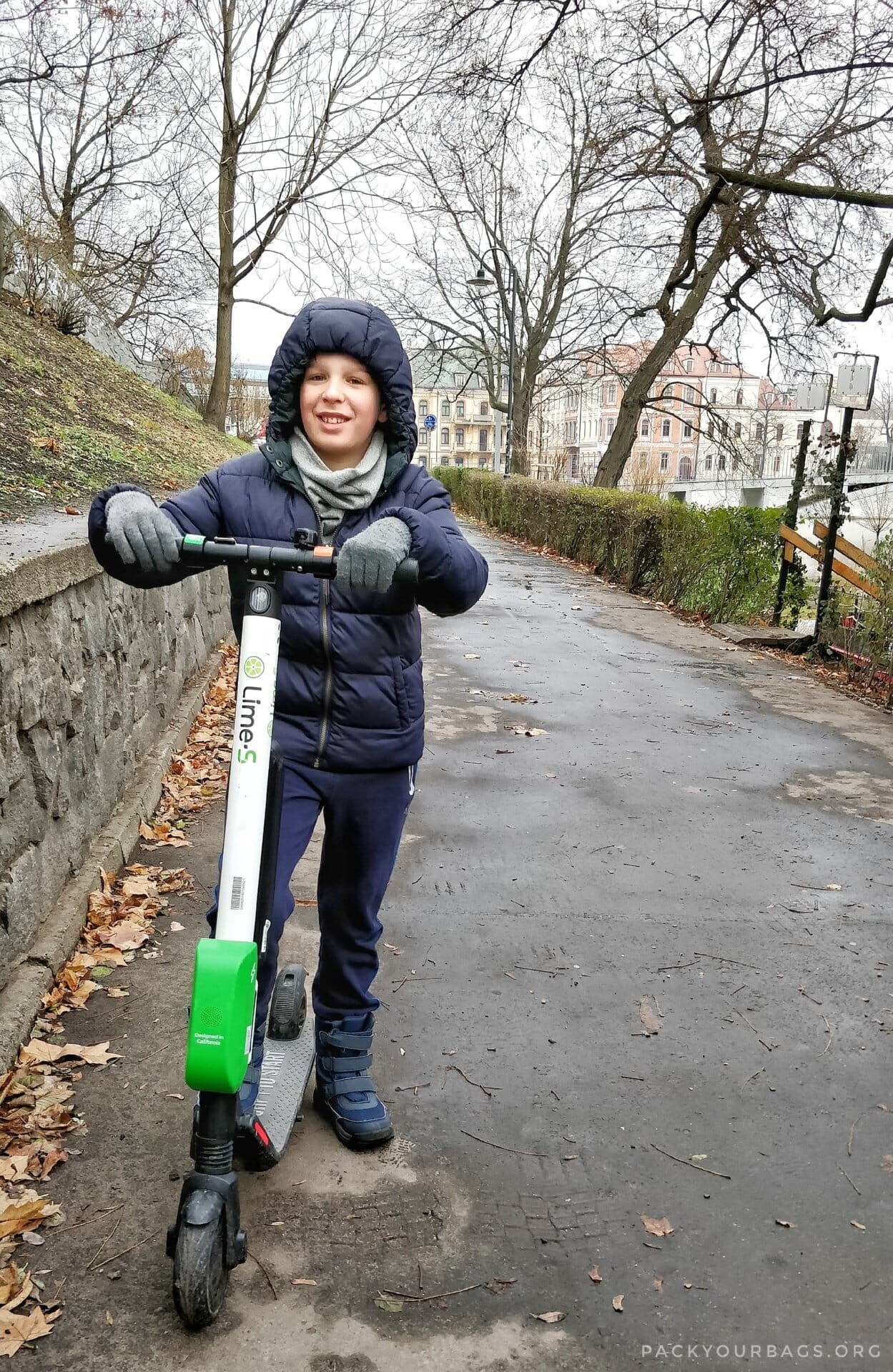 Wroclaw also has a network of tramways and buses to take you where you need to go. For more info, see this site.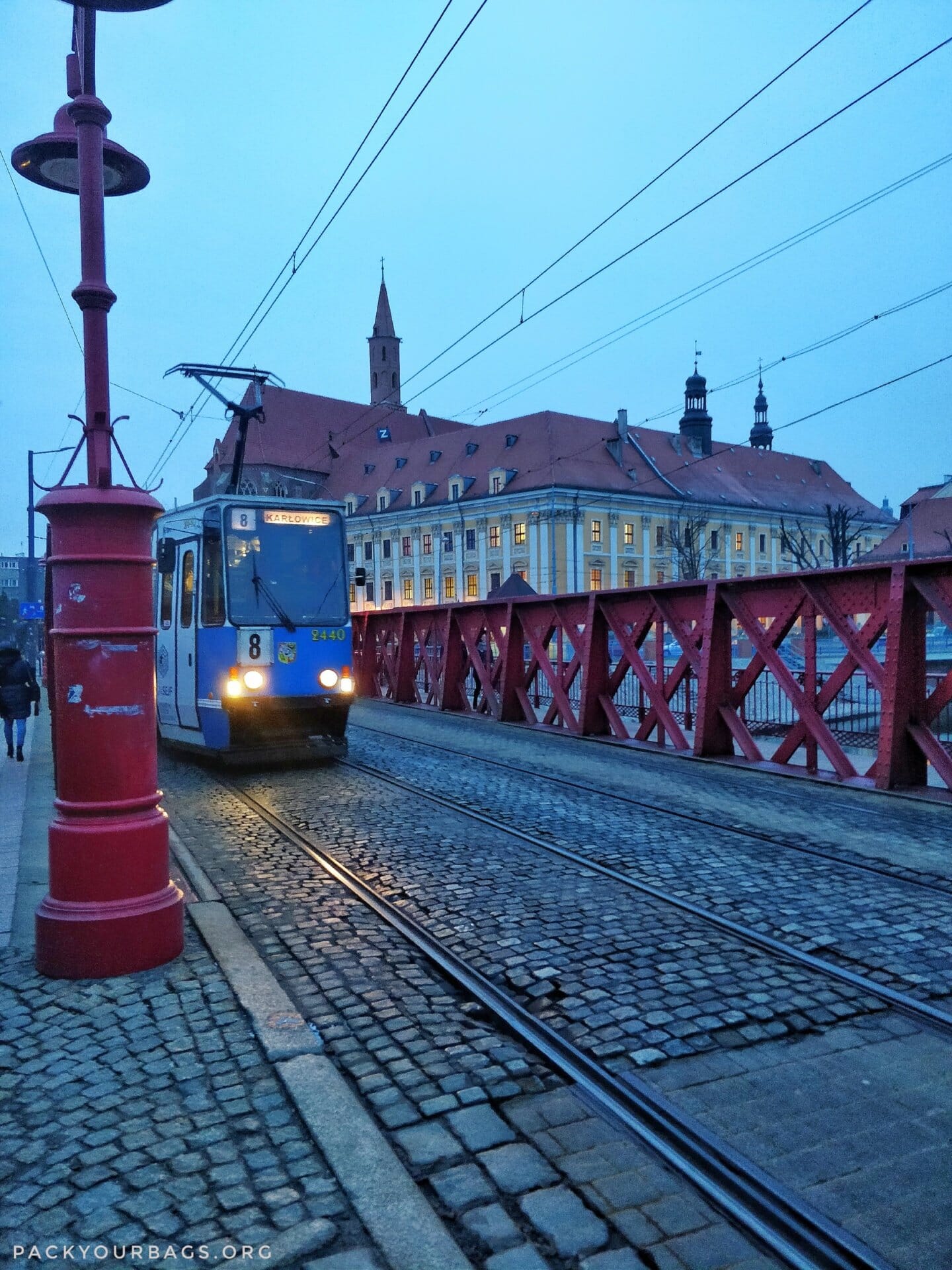 And, you can also drive, of course, if you have a vehicle with you. However, beware, that parking is not easily found nor is it cheap in Old Town Wroclaw. We did arrive by car and luckily our rented holiday apartment provided a parking spot on the premises. We parked it for the whole duration of our visit and walked everywhere.
Kids Activities in Wroclaw
Wroclaw is a kids' paradise and we honestly don't think you have to seek out special activities, especially in wintertime. During Christmas, the entire Old Town becomes a playground with the Wroclaw Christmas Market in the Market Square and the Christmas Lights on every street and corner.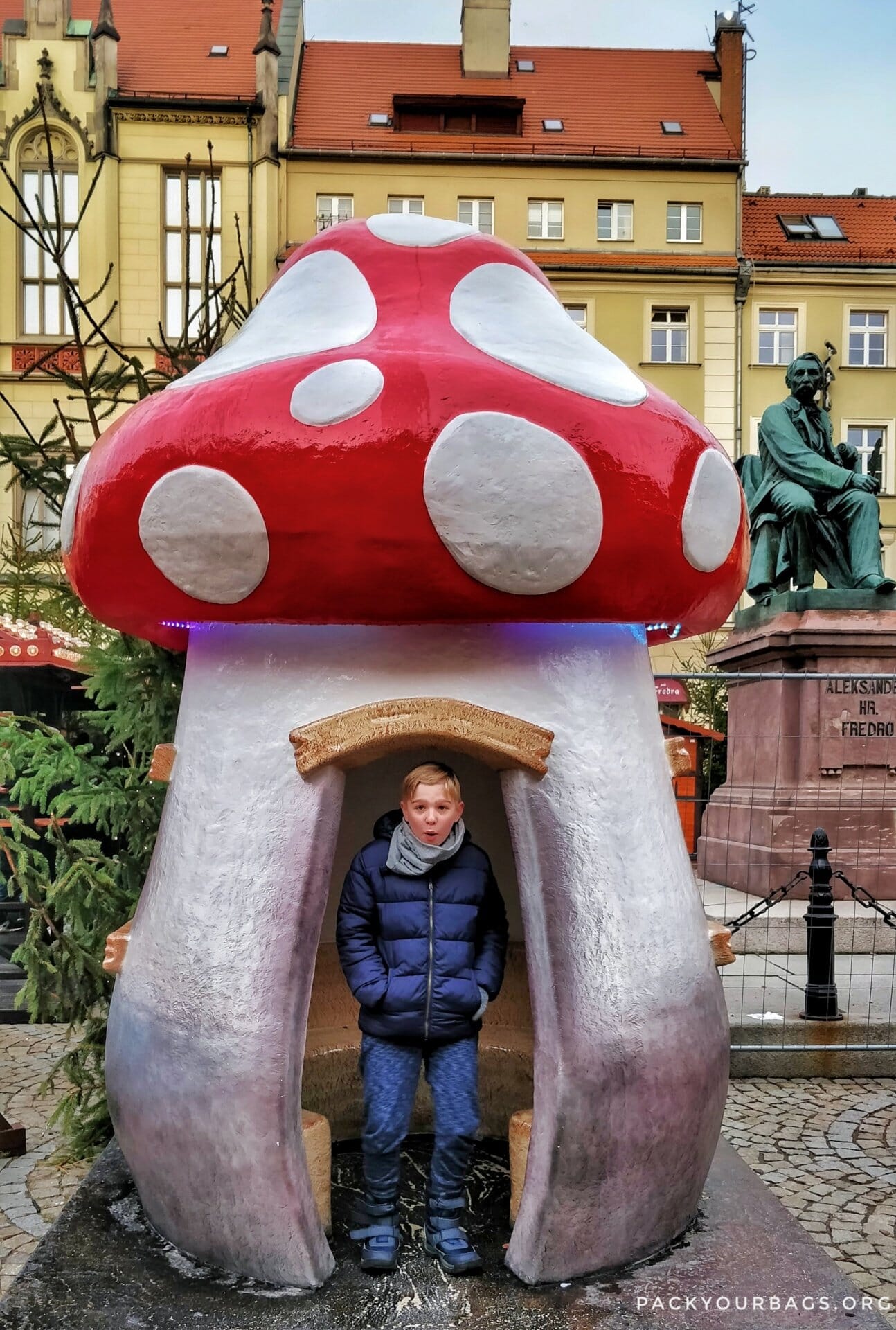 And let's not forget Gnome hunting throughout the town. Searching out these little guys will turn your grown up sightseeing into a kids' game. And for school age kids, the museums we mentioned provide additional entertainment.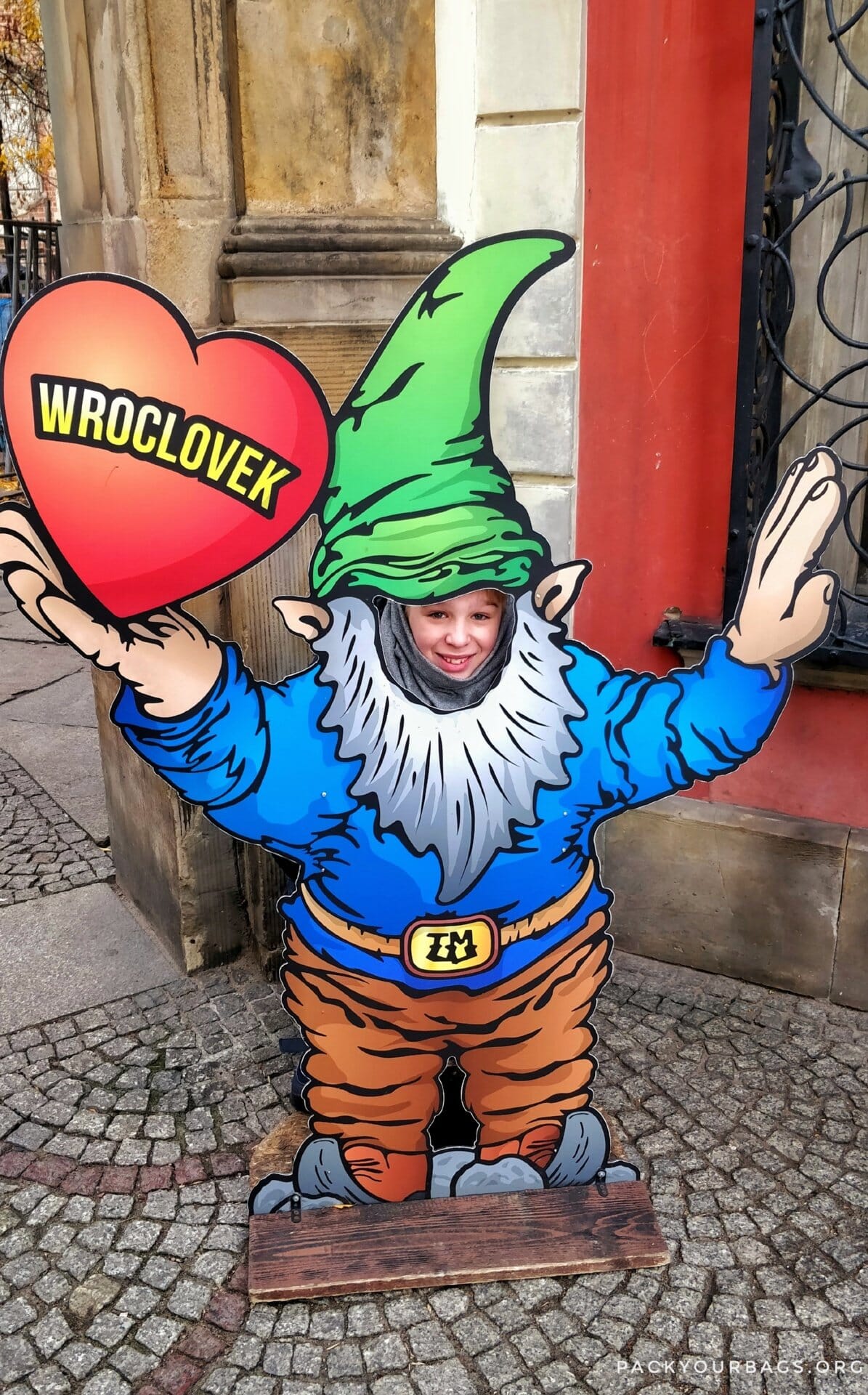 Our 10-year old also spied out a virtual reality gaming place while we were buying groceries at Feniks Department Store. It's located on the top floor above the store and called Magic VR and located at Rynek 31. For a very reasonable price, our son enjoyed 30 minutes of VR games.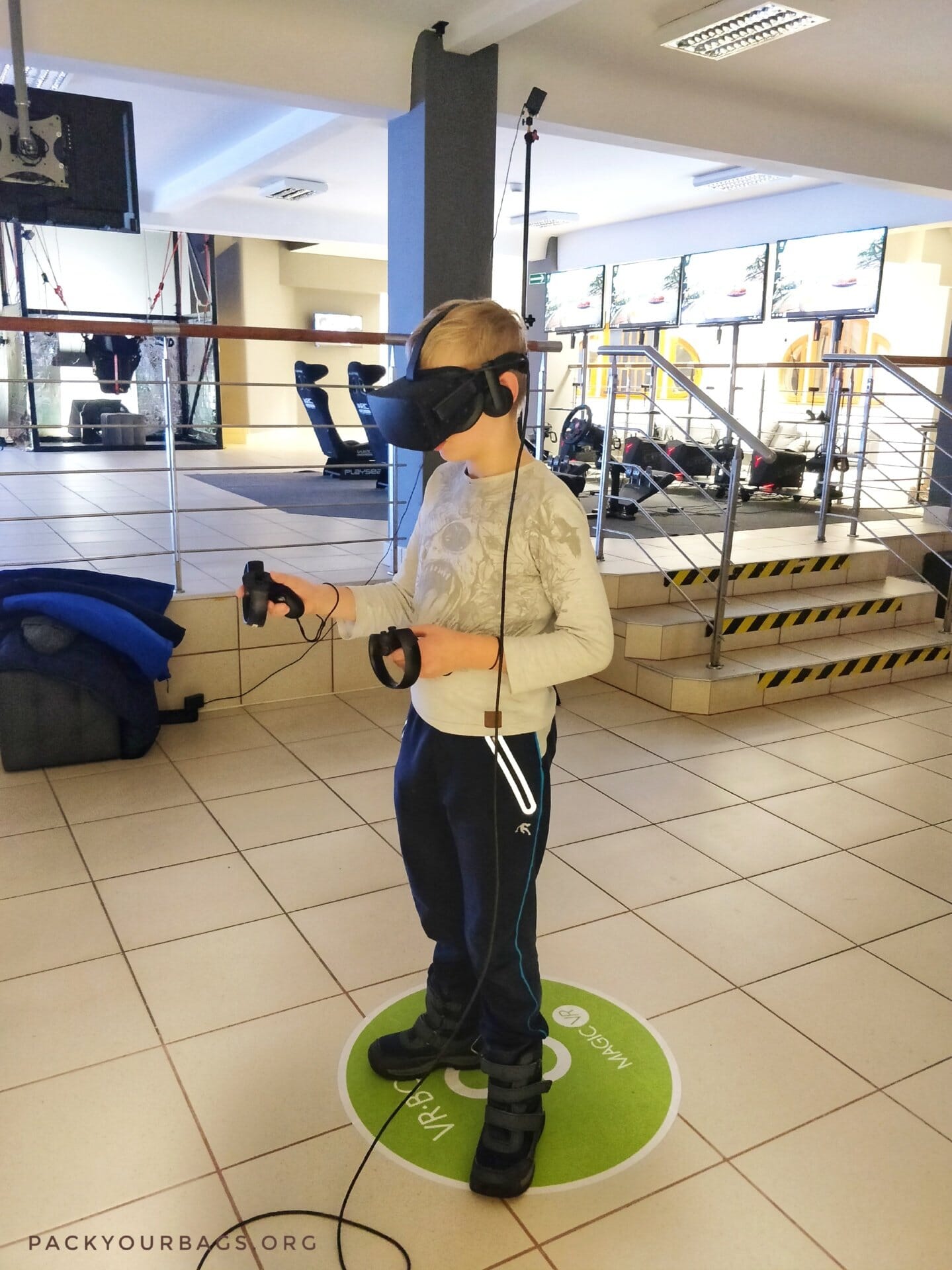 Winter Weather in Wroclaw
When we were there the temperature hovered around zero Celsius (32 Fahrenheit) although on a warm day, it reached + 7 (44 Fahrenheit). So dress appropriately for walking around the Old Town. January and February have similar temperatures. There was no snow (which was a bummer). The Christmas Market would look significantly more romantic had there been snow.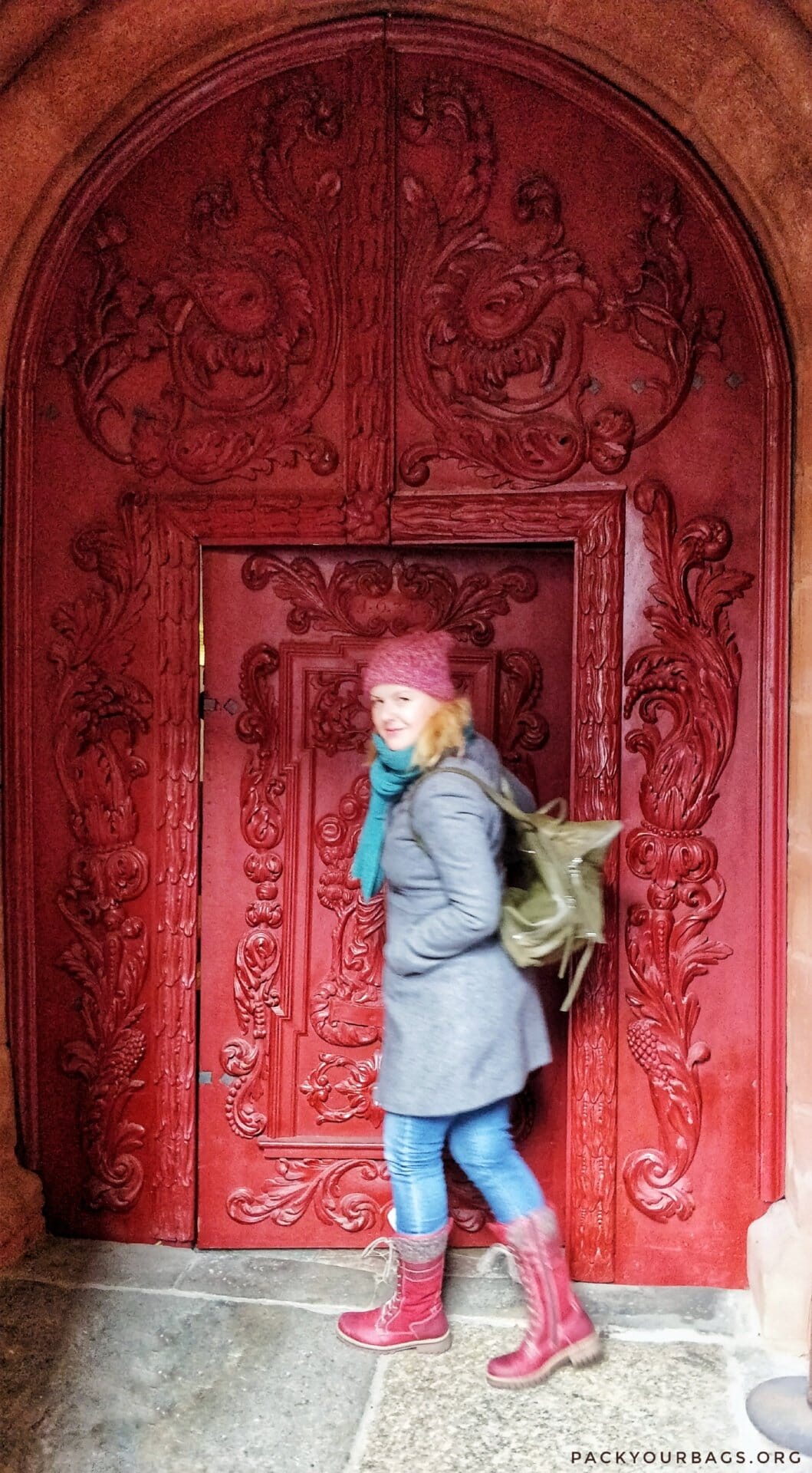 Money & Prices
Despite being a member of the EU, Poland uses its own currency called the złoty (meaning golden). Because of this, prices of food and attractions are quite affordable for Westerners.
Visas for foreigners
European Union passport holders can move freely through the Schengen Zone including Poland. If you hold a passport allowing you to enter the zone without a visa than you don't need one for Poland either. All others need to apply for a Schengen visa.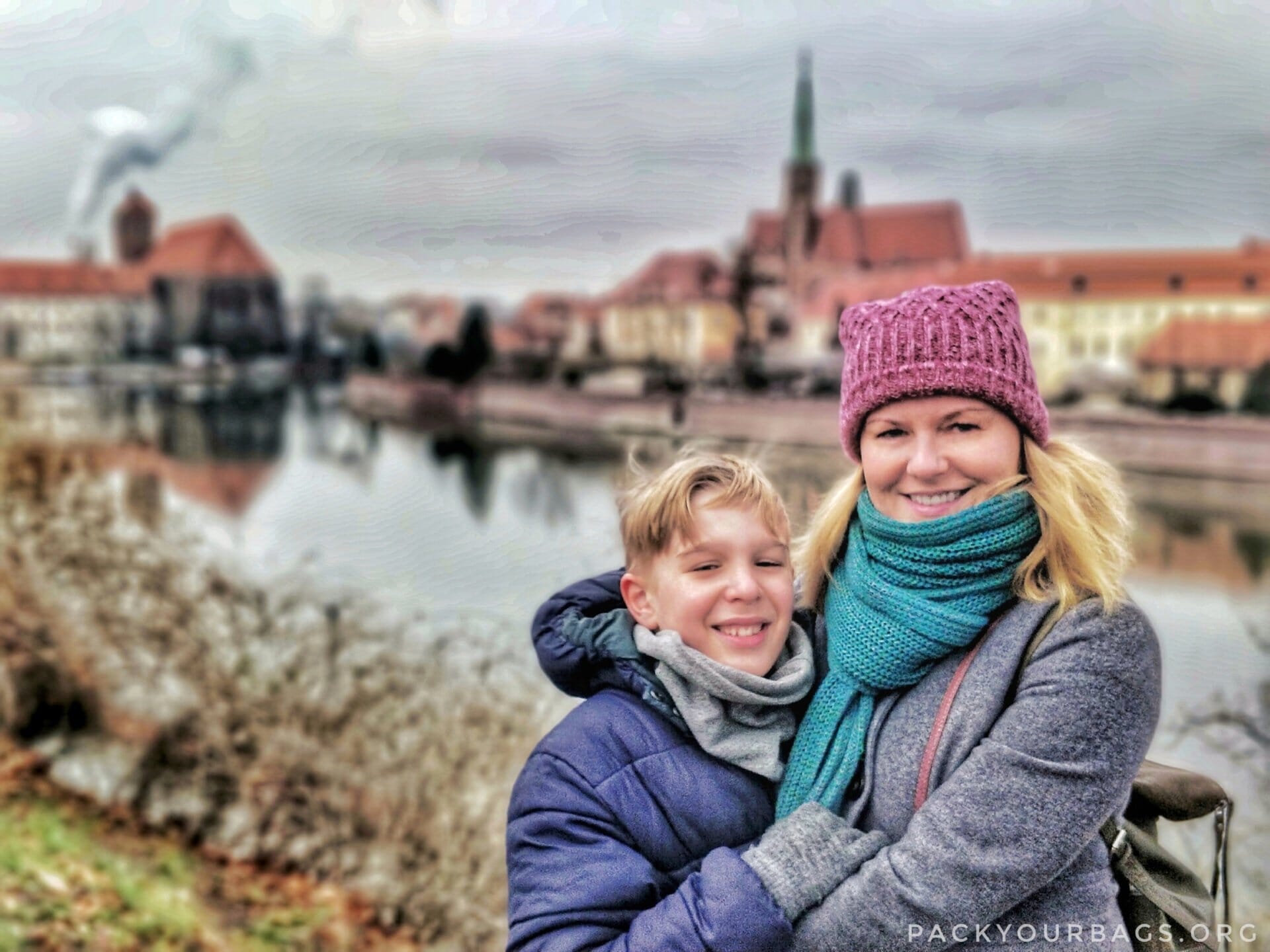 Basic Words in Polish
Most Polish people up to the age of 45 or so speak good English. Beyond that, you might have difficulty communicating. So why not learn a few basic phrases to get you into the good graces of the locals? We'll give you ten super basic phrases, but make sure you are armed with your offline Google Translate for Polish.
Dzień dobry! – Good day!
Do widzenia! – Good bye!
Dzięki – Thanks
Tak – Yes
Nie – No
Nie mówię po polsku. – I don't speak Polish.
Mówisz po angielsku? – Do you speak English?
Gdzie jest …? – Where is …?
Nie rozumiem. – I don't understand.
Na zdrowie! – Cheers! (when clinking glasses of alcohol).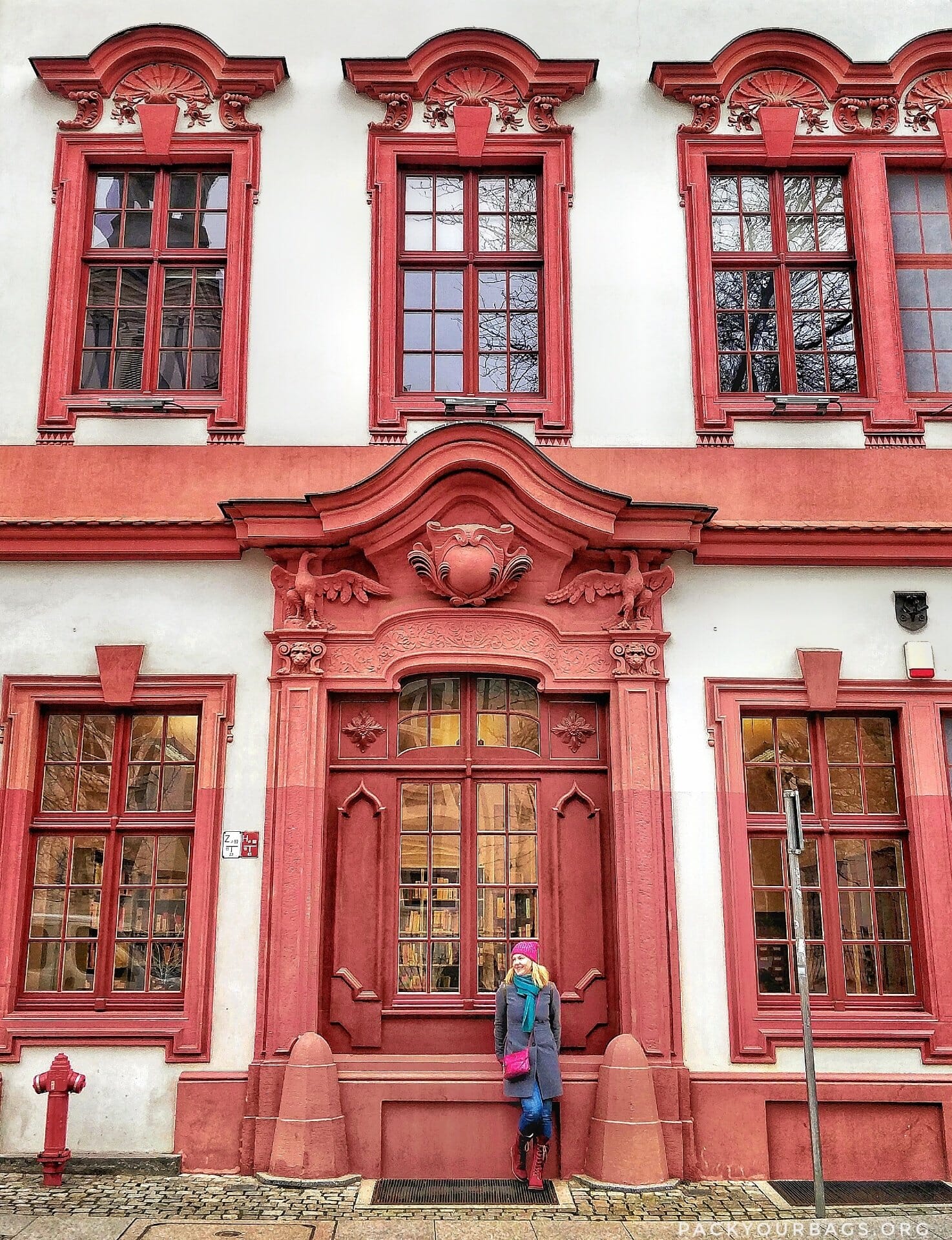 Final Word about visiting Wroclaw in December
We did all this in a three-day stint through Wroclaw at a very relaxed pace. So you could probably condense it to a couple days if you were in a rush. Our main reason to visit Wroclaw was to see the Christmas Market there. Everything else was icing on the cake. We plan on coming back one summer to experience the city in a different way. When we come back, we plan on seeing many other amazing sites of Wroclaw and finding the remaining dwarfs. By our calculation we have almost 250 to go. And when we do come back, we'll be sure to write a summer guide to Wroclaw for you.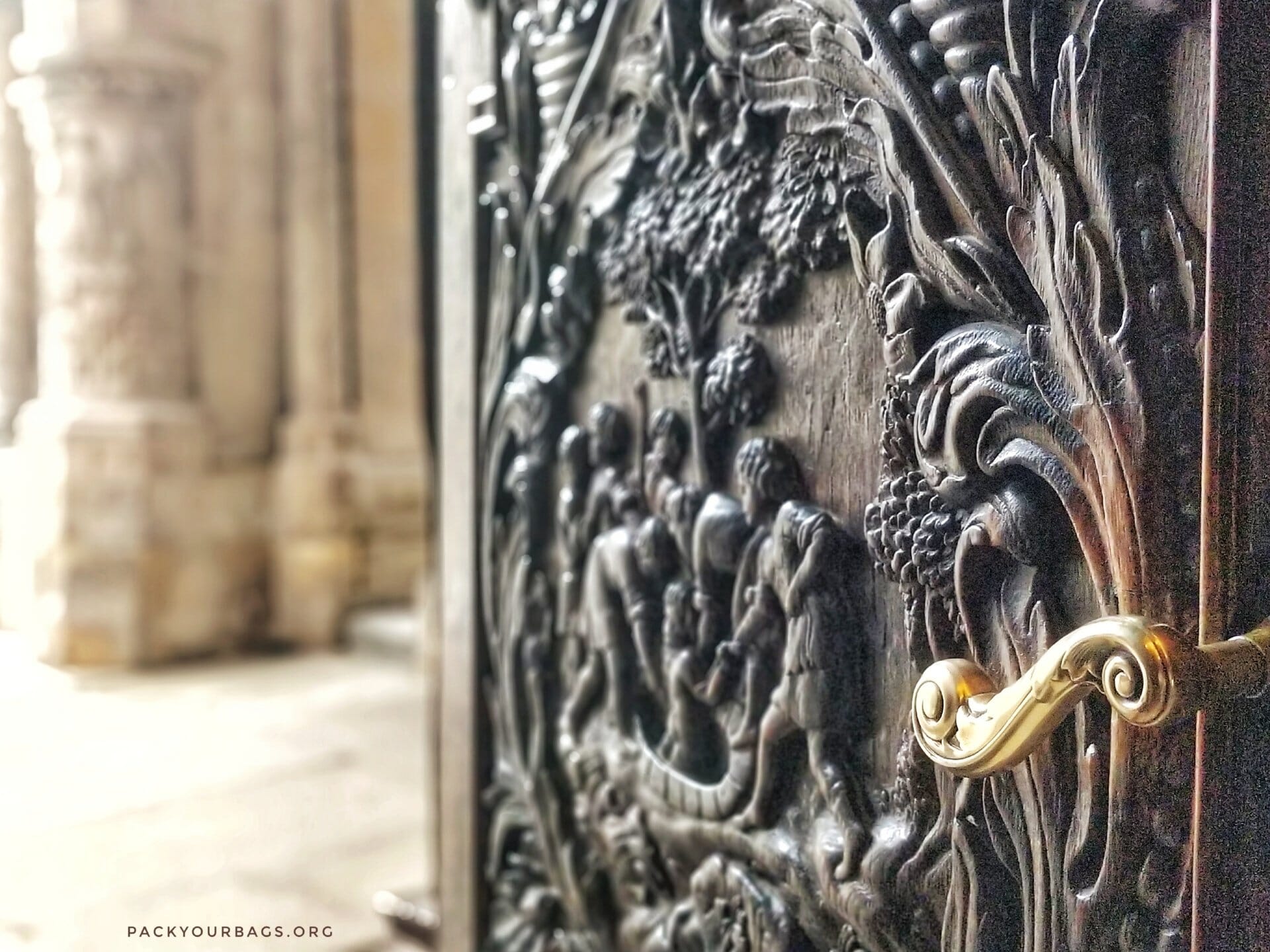 Have you been to Wroclaw? What has been your favourite thing about it? Let us know in the comments.
Szerokiej drogi!
P.S. And if you are looking for other fun things to do in Poland, see our post about staying at a Hobbit House in the village of Krzywcza.
Pin It!