If you plan on visiting Austria, make time for Salzburg. This alpine city has several claims to fame, a few of them musical. For one, it was the birthplace and hometown of Wolfgang Amadeus Mozart. Secondly, the famed Salzburg Festival takes place here every summer. And the famous film "The Sound of Music" was filmed here in the 60s. Furthermore, this city is also a UNESCO world-heritage site.
We visited Austria two summers ago on our European family road trip through eight countries. In fact, we stopped in two Austrian cities that have long been on our bucket list: Innsbruck and Salzburg. See our Innsbruck blog post for itinerary ideas. After visiting Innsbruck, we spent a day and a half in Salzburg with our 8-year old son. Below are seven items that can help you build your own itinerary based on your tastes and time constraints. So without further delay, we present to you:
7 Things to do in Salzburg:
1. Aldstadt (Old Town) of Salzburg
The Old Town of Salzburg is beautiful and full of history. We started our day here. All the sights we describe here are part of the Old Town, which makes sightseeing convenient and easy. The entire time we were in this beautiful city, we walked everywhere with our 8-year old.
2. Salzburg is all about Mozart
I think it's safe to say that Mozart being born in Salzburg is the city's main claim to fame. So make sure you visit Mozartplatz (Mozart Square) with his famous statue. We only had to walk for five minutes from the statue is Mozart's birthplace and first home, Mozarts Geburtshaus. And a further 5-minute walk, this time across the Staatsbrücke bridge, we ended up at the Mozart-Wohnhaus or the Mozart residence, where the composer lived as a young adult.
3. Mirabell Palace & Gardens
This palace and its gardens are a UNESCO heritage site. So obviously we couldn't not visit this place. It is iconic of this city and its story is a sordid one. Constructed in the 17th century, it was a gift from the Catholic archbishop and prince of Salzburg, Wolf Dietrich Raitenau to his mistress Salome Alt with whom he had 15 children. The gardens of this property were prominently featured in "The Sound of Music". Admission into the Mirabell is free.
4. Walk along the River Salzach
The name of the river comes from the word "salt". Shipping salt on this river had been one of the most important parts of the local economy until the 19th century. We enjoyed a leisurely stroll along the shore admiring the city views.
5. DomQuartier Salzburg (Cathedral District)
Visit the cathedral quarter to be awed by the power and wealth of the bishop princes who used to rule ths city. If you don't have time to visit all museums in this tour (palace, cathedral and St Peter's Abbey), at least visit the cathedral. It is here that Mozart was baptised. Come in to view the font used in his baptismal ceremony. You can also visit the crypt and the chest containing relics of St Rupert and St Virgil.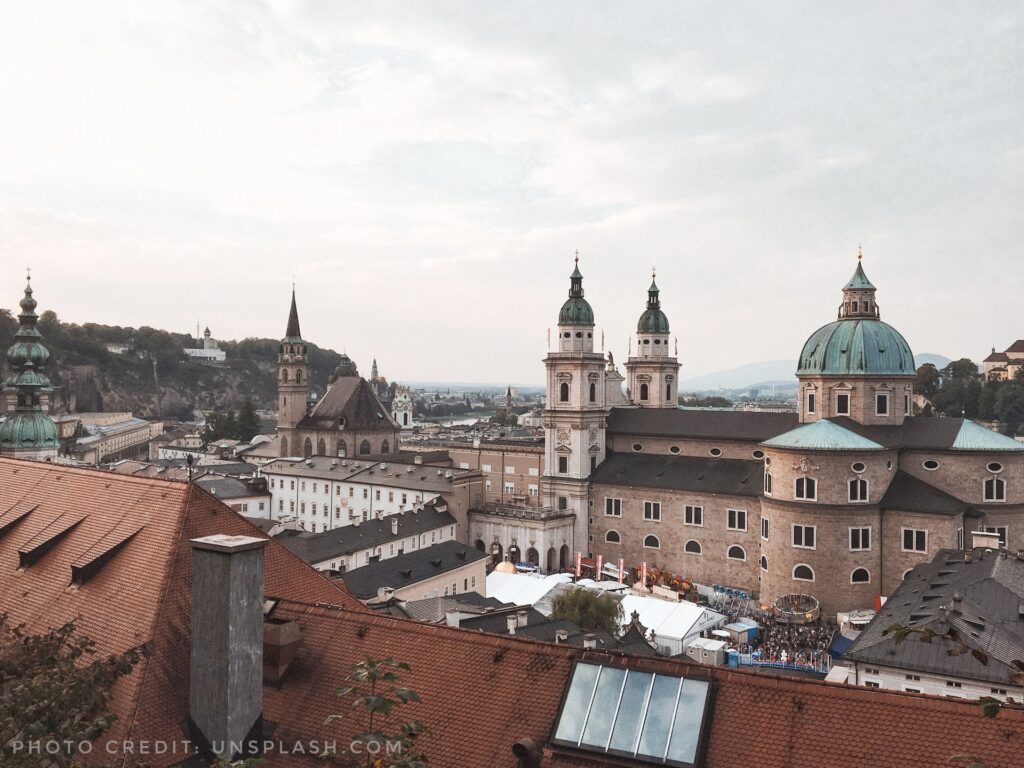 6. Hohensalzburg Fortress
The High Salzburg Fortress is another must see. Its construction began in the 11th century at the behest of the then ruling Prince-Archbishop of Salzburg. It sits atop a hill above the city and defines its skyline. We hiked up on foot. But if you are not up for walking, you can also ride the Festungsbahn up to the fortress.
7. Petersfriedhof (St Peter's Cemetery) in Salzburg
This is the oldest cemetery in Salzburg dating back to the 8th century. It was established at the time of the creation of the adjacent St Peter's Abbey. The oldest tombstone still standing dates back to the 13th century. Many notable people have been buried here, including Michael Haydn and Maria Anna Mozart. I am a sucker for old cemeteries. I love reading old tombstones (if readable) and trying to imagine what kind of lives these people led when they were alive.
This is how we spent one day in this beautiful city. Of course, there are many other sights to visit in Salzburg if you have the time. No matter how long you stay, it is not possible to get bored here. So, what are you waiting for? Start planning your trip to this iconic Austrian city.
Auf Wiedersehen!
Pin It!