Do you want to know how to do Canary Islands on a budget? If you've read our Canary Islands posts and saw all the amazing things we did there, you are probably thinking we have either won the lottery or we broke the bank. Neither one of these scenarios is correct. We almost always travel on a budget and are always cost-conscious. Let us assure you we found a way to spend fabulous two weeks on this archipelago while keeping our costs very low.
First of all, let us begin, by telling you that although we do have a bucket list of places we pine for, we don't always choose when we go to visit them. It's more like these places choose us. Basically, we mostly go where there are deals to be had. What do I mean by that? Let me explain.
We are currently based out of the south of France. Our closest airport is in Marseille. We knew we wanted to travel approximately end of February and the beginning of March. And since it was the winter school break in this part of France at that time, it meant that flight prices in France were rather expensive. However, we are Canadian and therefore used to driving long distances to get places, we don't mind driving to other countries for a deal. If a European is reading this right now, they may be wondering what the heck we're on about here. But since Canada is the second largest country in the world, Europe feels rather small to us. We have flown from Spain and Italy before (and other countries) to fabulous locations for prices so low, no one in Canada is probably going to believe us.
We always look for deals going anywhere out of airports in neighbouring countries. Lo and behold, we found ridiculously low prices to Canary Islands from Barcelona. Before you dismiss this as absurd and costly in itself, trust us, we've done the math and even driving to and from Barcelona, paying for highway tolls and parking our car at the BCN airport for two weeks, was significantly cheaper than if had we flown out of the closest airport.
But without further ado, let us show you how we hacked our Canary Islands costs.
Canary Islands on a Budget:
We flew to Canary Islands for €17 per person:
That's right. You're not seeing things. That was the price of our flight each way. How did we manage this? Well, you have to be flexible in your timetable and change your way of thinking about travel. You might also have to forgo some convenience. Let us illustrate.
As we said before, our closest airport is in Marseille. And because we wanted to travel during winter break, all flights were ridiculously expensive compared to airports in neighbouring countries. When we looked for deals leaving from Barcelona, we found this amazing €17 per person flight with Ryanair to get us there. And well below our budget! And we booked our return ticket from Canary Islands back to Barcelona also for €18 per person but with Norwegian Air. Even with the cost of driving there (4 hour drive from our doorstep) for gas, highway tolls and airport parking, we saved over 60% had we flown directly from Marseille.
We rented amazing houses for €56 per night:
Can you get a hotel room for this price on Canary Islands? You bet. But why pay this amount for a small hotel room when you can have an entire house for the same budget? On Gran Canaria we lived in a rural community in a big house with a pool, complete with lemon trees, a chicken coop and a puppy. Why would we want to get cramped into a small hotel room when we can have our own garden and a private pool?
On Tenerife, we rented a house in a small town on a quiet street. Here we did not have a pool but we did have a big terrace with an amazing view of the Atlantic and the island of Gomera on one side and rocky cliffs on the other.
You can eat well on €5 a day:
Are you rolling your eyes in disbelief? Well, if you are renting a place with a kitchen, you can make your own food. For the two weeks we stayed on the two islands, we spent €5 euros per person per day on groceries. We did go out to eat three times, which of course cost a lot more. But you don't have to eat out every day, do you?
We rented a car for €5 a day:
That's our entire price, all in. Is that crazy? Well, believe it or not that is not the lowest car rental we have come across on our travels. How to get this amazing price? If you are flying Ryanair, they have now partnered with CarTrawler to provide the lowest possible car rental. Didn't fly with Ryanair? Don't worry, you can access this pricing by entering any Ryanair flight number.
All attractions cost us nothing:
Canary Islands are filled with magnificent natural beauty and luckily Mother Nature does not charge a fee to see it. We love hiking and that's mostly what we did on the two islands. We did want to spend money on two activities but due to weather they did not work out. One was a camel ride on Gran Canaria and the other was a cable car to the top of the volcano Teide. Next time! If you love hiking like we do, see our posts about hiking on Gran Canaria and hiking on Tenerife.
Additional cost saving strategies we used on this trip:
You can save up to 75% on your parking costs at the BCN airport. If we were just to show up and park our car there for two weeks, our cost would be €260. But instead we signed up for a free AENA membership and booked our parking ahead of time. This way we only paid €67 for two weeks. Here is the link to sign up for AENA and pre-book your parking at the Barcelona airport.

Do you pay for insurance on your car rentals? Consider instead getting a credit card that offers built in car insurance on rented vehicles on your travels. You will save a lot of money this way.

Always search out free things to do with kids whenever you travel if you can't find any on your own. And don't feel guilty about it. Kids will remember the amazing time they had with their family, hiking, climbing a mountain or running through dunes. Simple does it. See our post on why we love traveling with our son.
Pin It!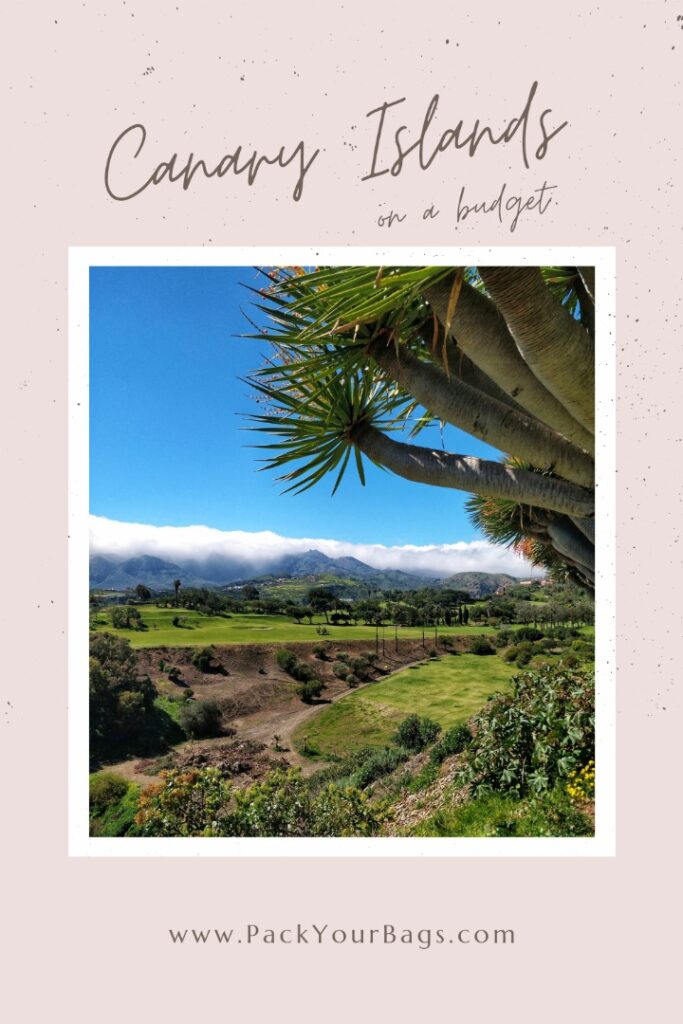 For more details about Canary Islands, visit our other posts: