Gran Canaria is more than just beer and resorts. It is very popular with sun-seekers from northern Europe. And for good reason. It has fairly good weather throughout the year. Most people who visit the island, usually purchase pre-packaged all-inclusive holidays at major hotel chains. We've tried these types of holidays a few times in other parts of the world but we much prefer to build our own eclectic holidays away from tourists and resorts. And so, we would like to share with you our idea of a perfect holiday on Gran Canaria.
Gran Canaria: a guide to perfect family holiday
How we got to Gran Canaria
We flew from Barcelona to Gran Canaria. There are plenty of flights available from that city. And we found Ryanair and Norwegian Air to be the most affordable choices.
How we got around Gran Canaria
We rented a car for an unbelievably low price. But be careful when renting and read the small print. Some prices seem too good to be true and they may be when you add extra fees some companies charge.
Where we stayed on Gran Canaria
We don't usually stay at big resorts. We much prefer renting from locals away from tourist hubs. In fact, we love to immerse ourselves in local culture and see what life feels like for the people who live there. So we rented a lovely house for a lot less than a hotel room would cost us. The house was actually big enough to sleep six people and it had a garden and a pool. It was located in a sleepy village on an orchard complete with a chicken coop and a puppy.
Where we ate on Gran Canaria
Since we had a fabulous home and a kitchen we mostly made our own meals. But one morning, the owners of our rented house surprised us with fresh eggs from their hens. And one rainy evening, they brought us a delicious local soul food dessert. Because we hiked a lot, we had a lot of picnics in beautiful outdoor settings.
What we did & saw on Gran Canaria
Gran Canaria has a lovely mix of landscapes. So don't spend all your time on a beach or you will miss out on some amazing variety of sights. Here is what we saw and did:
Sand dunes of Maspalomas
Statue of Triton
Playa de la Laja beach walk
Basilica de San Juan
Tower of San Cristobal
Las Palmas de Gran Canaria
We hiked a lot on Gran Canaria
Explored the village we were staying in
Enjoyed our private pool
Held foosball tournaments
We island-hopped on Canary Islands
After a week on Gran Canaria, we took an inter-island flight (30 mins) to Tenerife where we spent another fabulous week.
Cool fact: there are also camel rides available on Gran Canaria if that is something you are interested in doing.
Why we love Gran Canaria
We have been on many islands but we have never encountered one so versatile when it comes to landscapes and microclimates. Because of this versatility, Gran Canaria is sometimes called "the little continent". In fact, in a space of one hour, you could drive through a lush place, an arid desert and an alpine forest.
Pin It!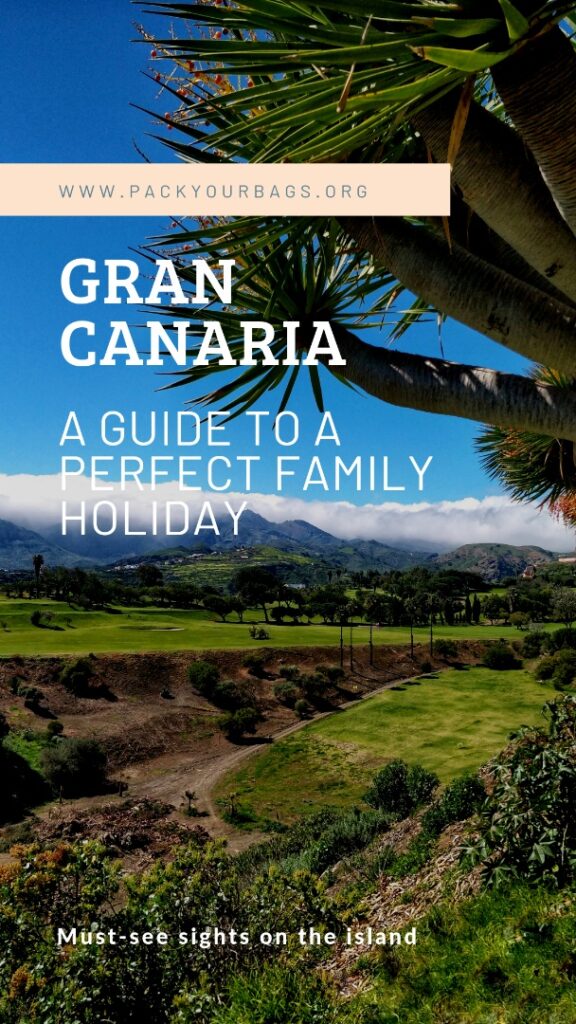 For more detail about Canary Islands, visit our other posts: