An Interview with artist Margot Gunta Delhomme
People travel for many different reasons. This past weekend, I traveled to Paris for the sole purpose of meeting with one of my favourite artists, Margot Gunta Delhomme. Margot was at Art Shopping Paris (May 25-27, 2018) expo at the Carrousel du Louvre presenting her work.
Not only was I able to admire her unique and beautiful pieces of art but I also had the privilege to interview Margot who grew up in Latvia. I met this artist a few years ago in Provence. She was just at the beginning of her career. What drew me to her collage portraits, was her use of vivid colour and how alive with emotion they were. Aside from her lovely work, I also admire her very real talent and her drive to work and create.
My interview (below) with Margot Gunta Delhomme can also be read in French (version française). All and any translation and interpretation errors are my own.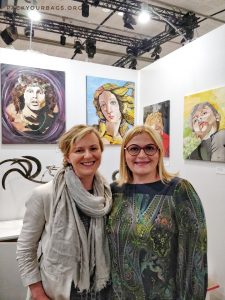 Q: When did you know you wanted to become an artist?
Becoming an artist was my childhood dream … eventually forgotten, instead I focused on beauty and professional make up, body painting. I even got a few prizes in international contests. Recently, once I turned 40 I returned to my childhood dream. It was now or never. I went back to school to study graphic design. At the beginning, my focus was on artistic technique.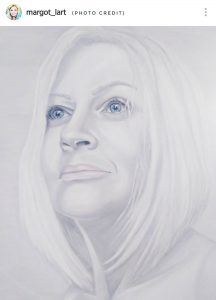 Q: Why did you choose collage as your preferred expression in art?
During my first year as an artist, I tried a lot of techniques including my first collage portrait using mosaic technique from old ripped magazines. Even though it was my very first time, I felt incredibly comfortable with the exercise … As if I had had always known how to do it, without being aware of it. This first portrait of my son, evoked a lot of powerful emotions for me. One day, my mother-in-law who is an artist herself, came over for dinner and when she saw this piece, she also found it very moving. She was getting ready for an exhibition of her sculptures made from old metal tools, and she suggested I join her. I was completely unprepared for that. I had a month to create six more portraits of my son.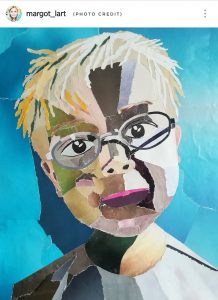 Q: Describe your work process for a collage piece?
Typically, for a portrait, I first draw on paper or canvas, (I prefer canvas). Then I rip pages from magazines and sort them by colour. I have a lot of magazines in my workshop and it is quite messy. I start the process with the background, sometimes I paint it, sometimes I use collage. The very first thing I do on a portrait is the eyes, as it does give life to the portrait instantly. As a result, my communication with the artwork begins at this moment. I then continue with the face, and finish with the hair (if any).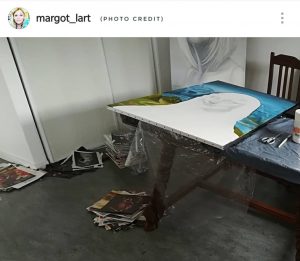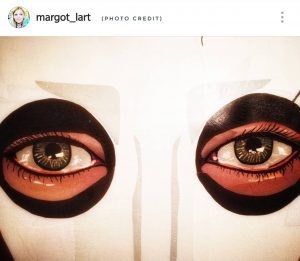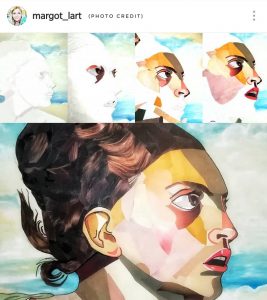 Q: You mostly create portraits. What fascinates you so about the human face?
The reason for my love of portraits is simple : I love people and faces, my challenge is to communicate emotions. And that's why eyes are key.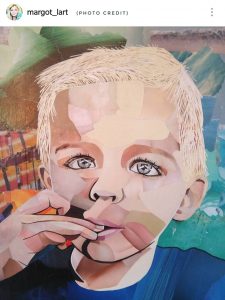 Q: Which artists inspire you?
In my childhood, the artist I felt the strongest connection to, was Auseklis Baukšķenieks (1910–2007), a Latvian painter. I had a book with photos of his art, which I loved to look at. This artist's works have a unique style, a combination of naïve art and surrealism.
My inspiration also comes from Tetsugorō Yorozu, One of the early 20th-century pioneers of modern Japanese painting. He himself was influenced both by Fauvism and Cubism.
And Picasso, of course. When I was studying in Paris, I often visited the Picasso Museum. I learned to understand his art. One Picasso quote is engraved in my memory forever: "Every child is an artist. The problem is to remain an artist once we grow up." I'm still trying to remain an artist despite being an adult.
I also want to mention René Magritte with his surreal works. I feel very close to his universe.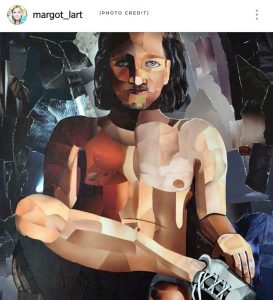 Q: What projects are you working on right now?
My next two projects are:
(1) Revisiting major art pieces, I just did The Mona Lisa, The Venus by Botticelli and The Orphan Girl by Delacroix. By doing so I learn from major artists, and it is quite challenging. It is difficult to make small details in a collage.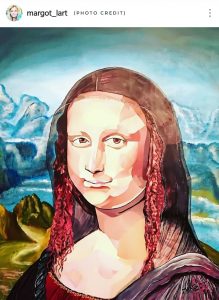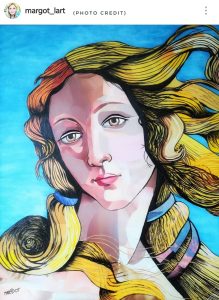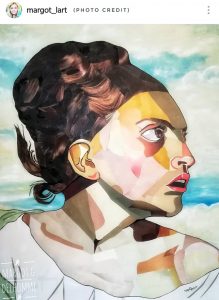 I also do collages of famous singers: Freddy Mercury, Jim Morrison, Amy Winehouse (in progress) and so on. I want to have a collection of all my favourites singers.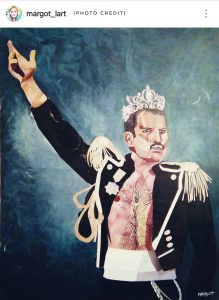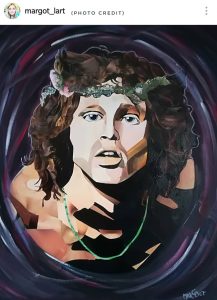 (2) And my latest project is a big format canvas that will be exhibited in the streets of Carpentras in the south of France in July and August for the Papillons Festival.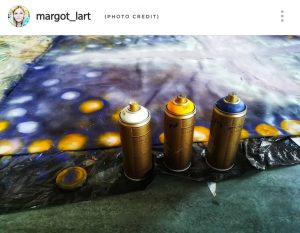 Q: What is the most indispensable item in your studio?
The most important things for me when I work are a quiet room where I can be alone, listening to the music of the singer I am doing the portrait of (if applicable), scissors, glue … and a cup of coffee on hand.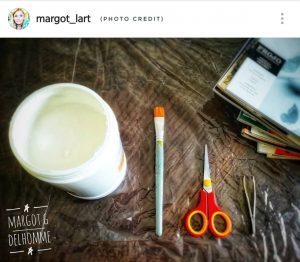 Q: If you could own any piece of art in the world, what would it be and why?
That would be a Matisse portrait (Henri Matisse, Large Odalisque in Striped Pantaloons "1925, lithograph) of a nude woman which I would love to have in my bedroom. Reaching this level of artistic expression is my ultimate goal. It was in 1906 when Matisse discovered the process of lithography. The lithographic pencil reflects the softness of the different materials: velvet, silk and skin.
Q: This weekend, you are showing your art at an expo only a few steps away from the Louvre. How exciting is that?
I am of course very excited to exhibit in such a prestigious place. Imagine my version of The Mona Lisa will be displayed a few meters away from the original. Being surrounded by the works of major artist does make it very special.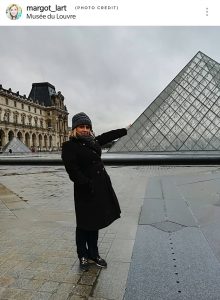 Q: What is your advice for artists who are just starting out?
My advice would be to follow your intuition and not to listen to destructive and negative critiques. Try, explore, experiment, play, be curious.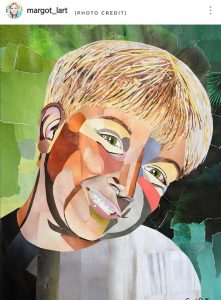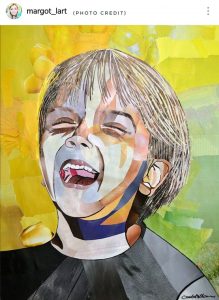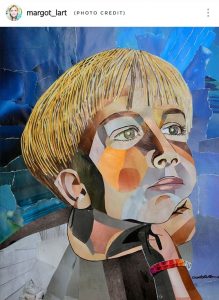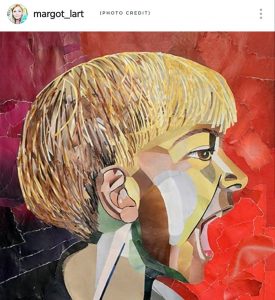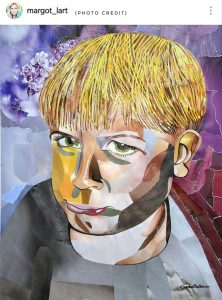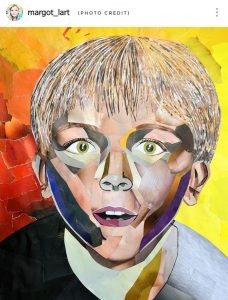 To see more of this artist's work, follow Margot Gunta Delhomme on any of these:
Thank you! Merci! We'd love to hear from you, so please leave any comments below. And don't forget to subscribe to our blog (form below blog). Au revoir!
BPK
~~~~~~~~~~~~~~~~~~~~~~~~~~~~~~~~~~~~~~~~~~~~~~~~~~~~~~~~~~~~~~~~~~~~~~~
  Une interview avec l'artiste Margot Gunta Delhomme
Les gens voyagent pour de nombreuses raisons. Le week-end dernier, je me suis rendue à
Paris
dans le but de rencontrer là une de mes artistes préférées, Margot Gunta Delhomme.
Margot
exposait ses œuvres à l'Art Shopping Paris (25-27 mai, 2018) au Carrousel du Louvre.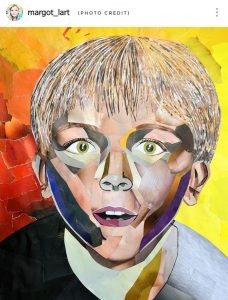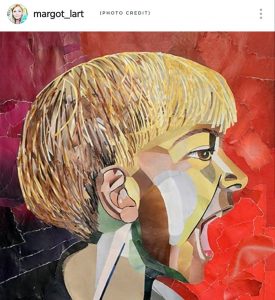 En plus de pouvoir admirer ses œuvres d'art uniques et magnifiques, j'ai aussi eu le privilège d'interviewer Margot qui a grandi en Lettonie. J'ai rencontré Margot il y a quelques années en Provence. Elle était juste au début de sa carrière artistique. Ce qui m'a attiré vers ses portraits collage,
c'est l'
utilisation
qu'elle fait 
de couleurs vives et
toutes les
émotion
s qu'ils communiquent
. En plus, j'admire son talent véritable et son envie de travailler et de créer.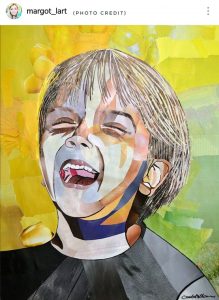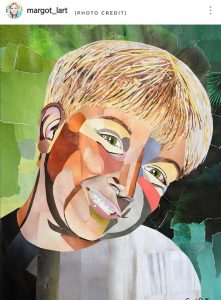 Cette interview (ci-dessous) avec Margot Gunta Delhomme peut aussi être lue en
anglais (English version).
Les
éventuelles
erreurs de traduction et d'interprétation sont les miennes.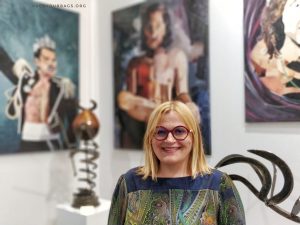 Q: Quand avez-vous su que vous vouliez devenir un artiste?
Margot Gunta Delhomme: Devenir artiste c'était mon rêve d'enfance … finalement oublié, … je me suis concentrée sur l'esthétique et le maquillage professionnel, la peinture corporelle. J'ai même eu quelques prix dans des concours internationaux. Récemment, une fois que j'ai eu 40 ans, je suis retourné à mon rêve d'enfance. Le sentiment que c'était maintenant ou jamais. Je suis retourné à l'école pour étudier le graphisme. Au début, je me suis concentré sur la technique artistique.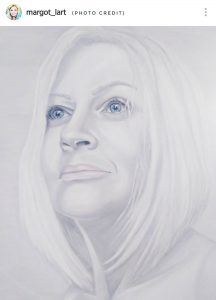 Q: Pourquoi avez-vous choisi le collage comme expression préférée dans l'art?
Margot Gunta Delhomme: Pendant ma première année comme artiste, j'ai essayé beaucoup de techniques, y compris mon premier portrait de collage en utilisant la technique de la mosaïque à partir de vieux magazines déchirés. Même si c'était ma toute première fois, je me sentais incroyablement à l'aise avec l'exercice … Comme si j'avais toujours su comment le faire, sans m'en rendre compte. Ce premier portrait de mon fils, a suscité beaucoup d'émotions fortes pour moi. Un jour, ma belle-mère, artiste elle-même, est venue dîner chez nous et quand elle a vu ce tableau, elle l'a aussi trouvé très puissant. Elle se préparait pour une exposition de ses sculptures faites à partir de vieux outils en métal, et elle m'a invitée à la rejoindre. Je n'étais absolument pas prête pour ça. J'ai eu un mois pour faire six autres portraits de mon fils.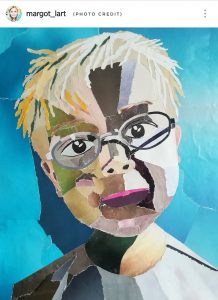 Q: Décrivez votre processus de travail pour un tableau de collage?
Margot Gunta Delhomme: Typiquement, pour un portrait, je dessine d'abord sur papier ou sur toile, (je préfère la toile). Ensuite, je déchire des pages de magazines et je les trie par couleurs, j'ai beaucoup de magazines dans mon atelier et c'est assez désordonné. Je commence le processus avec le fond, parfois je le peins, parfois j'utilise le collage. La première chose que je fais sur un portrait, ce sont les yeux, et cela donne vie au portrait instantanément. Et une communication commence avec l'œuvre à ce moment. Je continue ensuite avec le visage, et je termine avec les cheveux (le cas échéant!).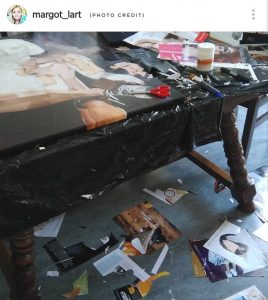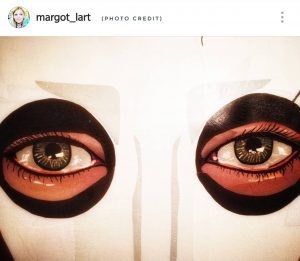 Q: Vous créez surtout des portraits. Qu'est-ce que vous fascine tant dans le visage humain?
Margot Gunta Delhomme: La raison de mon amour pour les portraits est simple: j'aime les gens et les visages, mon défi est de communiquer les émotions. Et c'est pourquoi les yeux sont la clé de tout.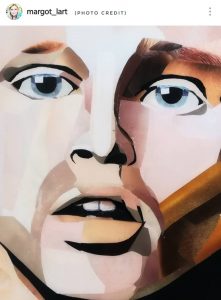 Q: Quels artistes vous inspirent?
Margot Gunta Delhomme: Auseklis Baukšķenieks (1910-2007), un peintre letton, était l'artiste avec lequel je me sentais le plus fortement lié dans mon enfance. J'avais un livre avec des photos de son art, que j'aimais regarder. Les œuvres de cet artiste ont un style unique, une combinaison d'art naïf et de surréalisme.
Mon inspiration vient aussi de Tetsugorō Yorozu, l'un des pionniers de la peinture japonaise moderne du début du XXe siècle. Il était lui-même influencé à la fois par le fauvisme et le cubisme.
Et Picasso, bien sûr. Quand j'étudiais à Paris, je visitais souvent le musée Picasso. J'ai appris à comprendre son art. Ma mémoire est gravée d'une phrase Picasso: "Dans chaque enfant il y a un artiste. Le problème est de savoir comment rester un artiste en grandissant." J'essaie toujours de rester une artiste; et d'être une adulte aussi.
Je veux encore mentionner René Magritte avec ses œuvres surréalistes. Je me sens très proche de son univers.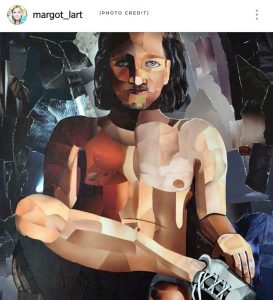 Q: Sur quels projets travaillez-vous en ce moment?
Margot Gunta Delhomme: Mes deux prochains projets sont:
(1) Je revisite des œuvres d'art majeures, je viens de faire La Joconde, La Vénus de Botticelli et La Jeune Orpheline de Delacroix. En faisant ça, j'apprends de grands artistes, et c'est assez difficile. Il est difficile de faire de petits détails dans un collage.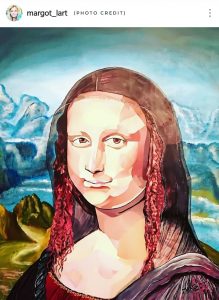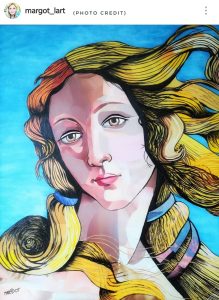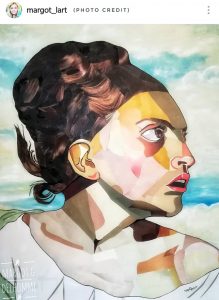 Je fais aussi des collages de chanteurs célèbres: Freddy Mercury, Jim Morrison, Amy Winehouse (en cours) etc. Je veux avoir une collection de tous mes chanteurs préférés.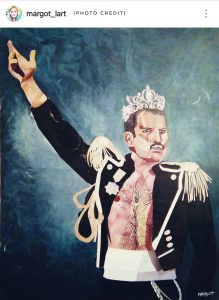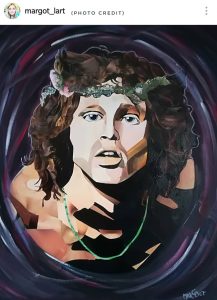 (2) Mon dernier travail est une toile grand format qui sera exposée dans les rues de Carpentras dans le sud de la France en juillet et août pour le Festival International d'Art Contemporain Les Papillons.
Q: Quel est l'objet le plus indispensable dans votre studio?
Margot Gunta Delhomme: Les choses les plus importantes pour moi quand je travaille sont une pièce tranquille où je peux être seule, écouter la musique du chanteur de qui je fais le portrait (le cas échéant), des ciseaux, de la colle … et une tasse de café.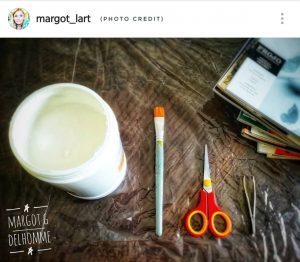 Q: Si vous pouviez posséder n'importe quelle œuvre d'art dans le monde, laquelle ça serait et pourquoi?
Margot Gunta Delhomme: Ce serait un portrait de Matisse "Grande Odalisque à Culotte Bayadère" 1925, lithographie d'une femme nue que j'aimerais dans ma chambre. Atteindre ce niveau d'expression artistique est mon but ultime. C'est en 1906 que Matisse découvre le processus de la lithographie. Le crayon lithographique reflète la douceur des différents matériaux: velours, soie et peau.
Q: Ce week-end, vous exposez votre art à une expo à quelques pas du Louvre. C'est excitant?
Margot Gunta Delhomme: Je suis bien sûr très contente d'exposer dans un endroit si prestigieux. Imaginez que ma version de La Joconde sera affichée à quelques mètres de l'originale de Léonard de Vinci. Être entourée par le travail de tous ces grands artistes rend l'expérience unique.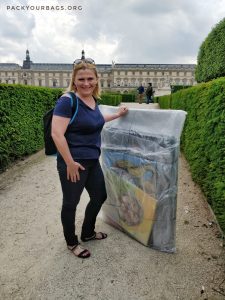 Q: Quel est votre conseil pour les artistes débutants?
Margot Gunta Delhomme: Mon conseil serait de suivre votre intuition et de ne pas écouter les critiques destructrices et négatives. Essayez, explorez, expérimentez, jouez et soyez curieux.
Pour voir plus d'œuvres de cette artiste, suivez Margot Gunta Delhomme:
Merci! Thank you!
BPK